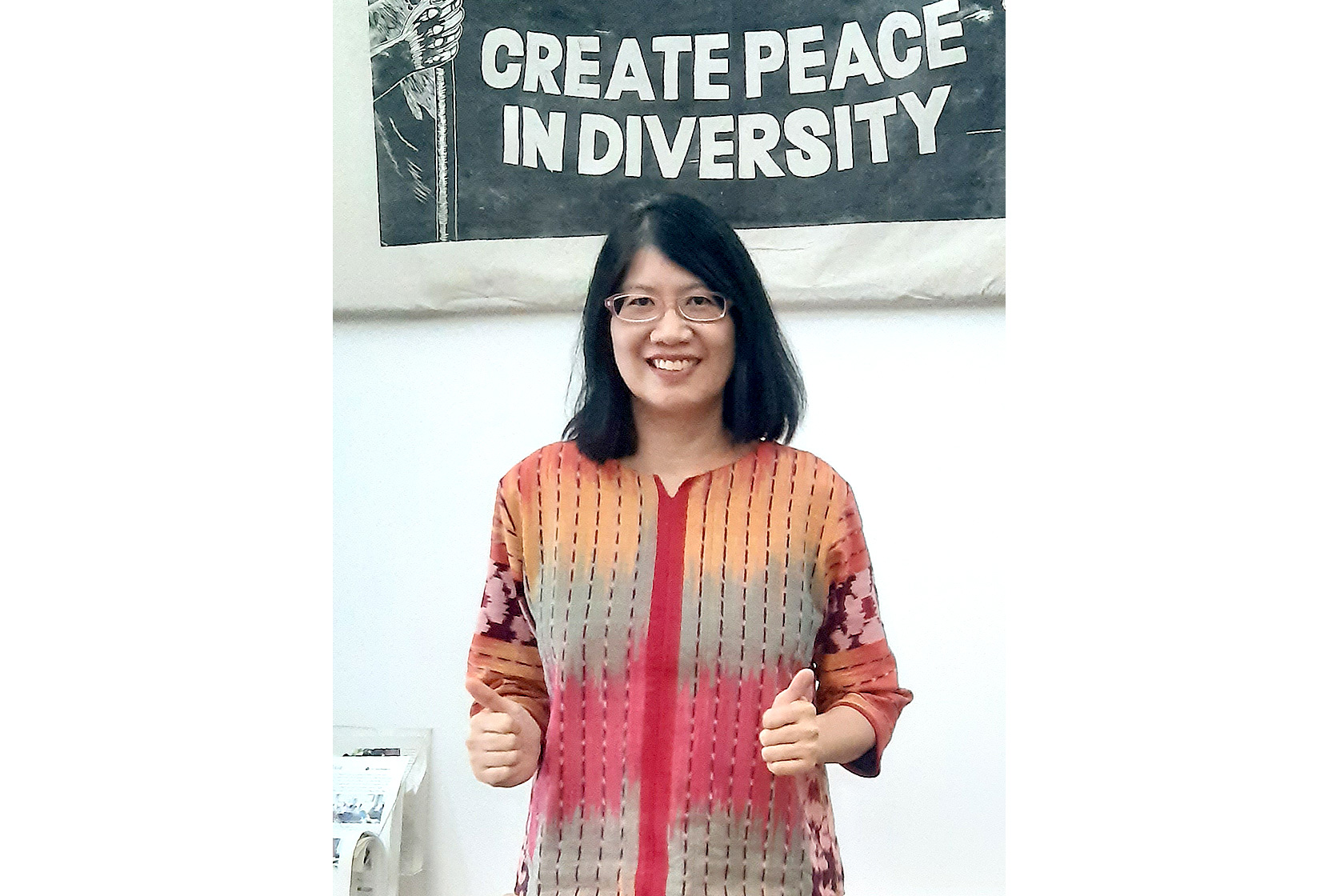 09 Mar 2023
Carolina Martha Sumampouw and the Relentless Fight toward Restorative Justice
On 12 April 2022, women's rights advocates collectively cheered as Indonesian lawmakers passed the Sexual Violence Crimes Law. This was a welcome development as the deliberation took no less than 15 years, despite the government statistics showing that three women in Indonesia experience sexual violence every two hours.
Carolina Martha Sumampouw was among the ones who breathed a sigh of relief with the passing of the Law as she took part in the advocacy for the Law. As the Program Officer of the Law and Justice Unit at The Asia Foundation (TAF), she has been working and managing the Australia-Indonesia Partnership for Justice (AIPJ) programs specifically for the criminal law reform programs, among others, as a peer reviewer for one research project of INFID on the Law's implementation and operation which she did it pro bono as her contribution to the gender and social inclusion studies.
Many women's rights advocates believed the Law was watered down to appease conservative groups. Martha said there is still much homework to be done in the Law implementation.
"We still have a long way to go in terms of the Law's implementation and understanding among law enforcers. We need to improve the understanding of the judges in implementing the law. But the fact that this Law exists is something to celebrate," said Martha, who is also the Deputy Head of Research, Division of Studies, Research and Training at the University of Indonesia's Law Faculty Alumni Association.
"The Law has some breakthroughs. One of them is the stipulation on the victim trust fund, which is very good, as it is required for victims' recovery."
The 43-year-old advocate and mediator has had an interest in gender issues since she worked at the Indonesian Legal Aid Institute Foundation (YLBHI) in 2008, where she was introduced to the practical side of women's rights. She has been working alongside women activists, developing legal aid guidelines with legal aid workers, including for women who are facing legal cases.
At the AIPJ program, she is focusing on the pillar of criminal justice reform, among others, promoting the restorative justice approach so that the law system does not centre too much on the punitive aspect but on the recovery and rehabilitation of the victims, including on restorative condition of the crime-affected community.
"I'm assisting the government in the program implementation, one of which is taking part in drafting regulations or policies that are supported by TAF so that the law has perspectives in terms of gender, disability, social inclusion and restorative justice issues," said Martha, who obtained a Master of Laws from the University of Melbourne in 2013 through an Australia Awards Scholarship.
Maintaining communication in the Australian network
Martha has just returned from legal training in Europe, where the principles of restorative justice apply to every legal case.
"This is good for the victims. The focus of the legal process here in Indonesia is punishing and rehabilitating perpetrators, but then who handles the victims? We have the institution to protect witnesses and victims, but legally, it is only limited to heeding the witnesses and protecting them and victims who appear the court. There is limited support for referral services based on victims' needs, not only in terms of funding and restitution but also psycho-social counselling and rehabilitation," she said.
With so many obstacles and challenges, advocating for women's rights in a largely patriarchal society is like being in an Ixion wheel. Martha said gender issue is a sensitive topic as it also touches upon sexual minority groups, which remains controversial in the country. The law enforcers are mostly men and have conservative views on this matter.
Martha said that working in this field always feels like walking two steps forward and ten steps back, but one must be optimistic as progress has been made in terms of women's legal rights. She reminded herself to always be strategic and not be pushy, otherwise it will push stakeholders away. Another important strategy, according to Martha, is having a champion in many institutions that can help accelerate the programs. This is where the Australian network is proven beneficial, as it opens access to alumni in government ministries, institutions, and civil society organisations.
Marthat gives huge credit to her Australian education for broadening her knowledge and horizon through unlimited access to academic resources. Australia has become a reference for many legal reform issues, given its proximity and progresses in the field.
"Australia becomes a reference not only for restorative justice but also for alternative sentencings. We have a stipulation on alternative sentencing in our Criminal Code (KUHP), such as social work sentencing. We learn this, among others, from Australia," Martha said.
"The same thing with disability issues; we learn a lot from Australia, where everything is accessible for all," she added.
Share this article on:
Related Article

Back to Top