Targeting of Awards
Australia Awards Scholarships in Indonesia are offered in two main categories: Targeted" and "Non-Targeted" Categories.
Applicants from the Targeted category include:
Geographic focus areas (GFAs): any candidate working in one of the provinces/geographic focus areas nominated under the GoA/GoI development partnership program. These are: Aceh, East Nusa Tenggara, West Nusa Tenggara, Papua, West Papua, Maluku and North Maluku;
Government of Indonesia (GoI) agencies: any candidate from a government agency (including central, provincial or local), but not extending to employees of state-owned enterprises or state universities.
Applicants from Non-Targeted include those public servants and non-public servants outside the above category.
Scholarships are for full-time study for a Masters or Doctoral degree from Australian tertiary institutions. The scholarship provides up to nine months of full-time language and academic preparation in Indonesia. Students must achieve satisfactory results in this training to be able to continue their scholarships.
Gender, Disability and Other Cross-Cutting Issues
AAI seeks to attract eligible applicants from a broad and diverse range of backgrounds. To support diversity, AAI encourages eligible applications from women and from people with disabilities, people from DFAT Geographic Focus Areas and other disadvantaged groups. AAI's Gender, Disability and Social Inclusion Strategy adopts an approach that considers multiple identities, seeks to address potential discrimination points, and favour solutions that are aligned with the concept of intersectionality when possible.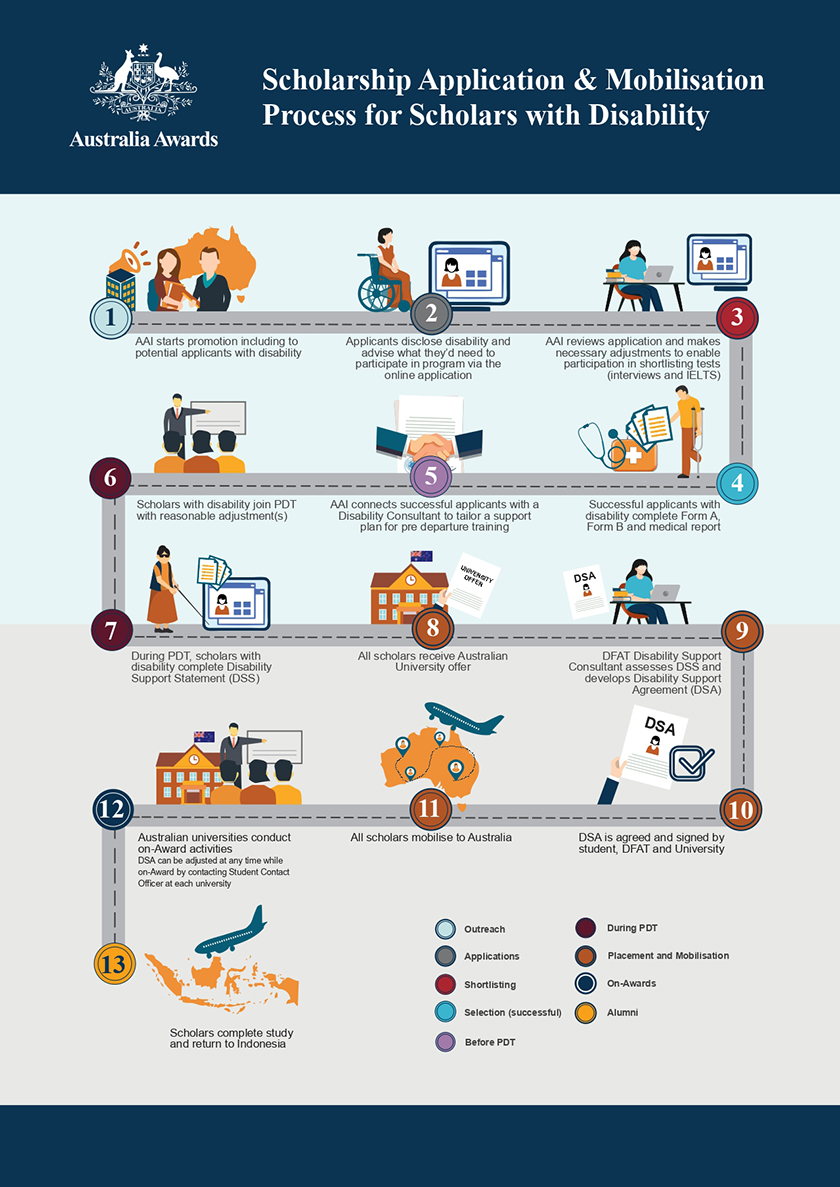 For a plain-text version of the above steps, please click here.
Supplementary programs
There are a number of supplementary programs associated with Australia Awards Scholarships in Indonesia including the Allison Sudradjat Prize and Hadi Soesastro Prize.