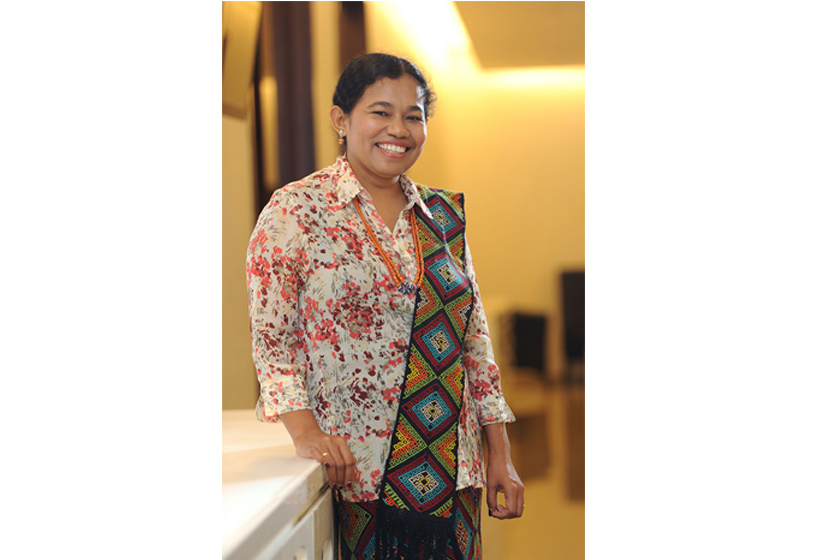 16 May 2018
How an urban planner empowers women in Nansean village through weaving
Indonesia's cultural heritage of traditional weaving is fast disappearing in many parts of the country. The painstakingly slow process requires great skill, patience and precision, and is losing its appeal to the younger generation. The existing weavers are also competing with modern factories that can churn out textiles with ikat patterns faster and at cheaper prices.
This is the sad reality in Nansean village on Timor island in East Nusa Tenggara province, where Australian alumna Selfina Naibobe was born and raised. After returning from Australia in 2016 with a Master degree in Urban Planning from the University of Melbourne, Selfina received funding from the Alumni Grant Scheme (AGS) last year to introduce entrepreneurship skills to women weavers in her home village.
Selfina is determined to go back to the roots of this tradition, putting traditional weavers in the limelight and reviving the beautiful and ancient weaving techniques.
"As time goes by and sales of cheap textiles become widespread, women's interest in weaving continues to dampen and the number of weavers is declining, even though weaving is our heritage and part of local culture," 39-year-old Selfina said.
"Initially, woven crafts were used for traditional ceremonies, social and community activities. If weaving culture isn't introduced to the next generation, weaving practices such as dyeing, traditional patterns and weaving techniques will perish."
Selfina collaborates with the Nansean Weaver Group, an initiative that aims to provide capacity building and workshops to the village's women by introducing weaving entrepreneurship. The group introduces the pattern, the elements used, and techniques through workshops and exhibitions supported by the AGS and in collaboration with the government of Timor Tengah Utara regency as well as other stakeholders. It introduces traditional weaving skills to the young generation through workshops and exhibitions that are attended by high school and university students at Timor Tengah Utara regency.
Under the project, weavers are divided into small groups. Each group receives knowledge on traditional weaving, raw materials such as yarn and sewing kits, including sewing machines, as well as entrepreneurship training.
Up to 10 elderly weavers share their knowledge with 27 women participants. Members of the group and young learners will be able to produce woven handicrafts with the support of a marketing network and if possible, external working capital assistance.
"We chose this model because it's simple and it can be implemented amid various limitations in the village," said Selfina. Other benefits of the model, Selfina said, are empowering women by giving them the opportunity to increase their household income, and supporting gender equality.
"The project motivates the men in the village to support their spouse with their weaving activities. Weaving can become an additional source of income to help the men provide for the household," said Selfina.
Apart from creating ikat fabric, the project also provides advanced sewing training to make bags, passport covers, ties and scarves, as well as workshops and exhibitions, including one at the Australian Alumni Gala Dinner in April this year.
For Selfina and the traditional weavers, there is more work to be done. Lack of working capital and market access are two main problems faced by the project. One move to expand its marketing network is to collaborate with Koperasi Bangun Jaya, a cooperative owned by the East Nusa Tenggara Regional Planning Agency (Bappeda), where Selfina works.
"We have promoted the products through Twitter, Instagram and WhatsApp but so far consumers prefer to check and buy the products directly at exhibitions," said Selfina.
Selfina hopes she can continue the program in collaboration with AGS, and get support for registering patents for the weaving patterns with the Timor Tengah Utara Industry Office. Patent rights will prevent the traditional ikat patterns, as cultural heritage, from being plagiarised.
Are you an Australian alumnus who is keen to create your own impact and apply your studies to the real world? Send your proposals for the Alumni Grant Scheme Round 2 2018 before 28 June 2018.
For more information and the application form, please visit: https://www.australiaawardsindonesia.org/content/169/15/alumni-grant-scheme?sub=true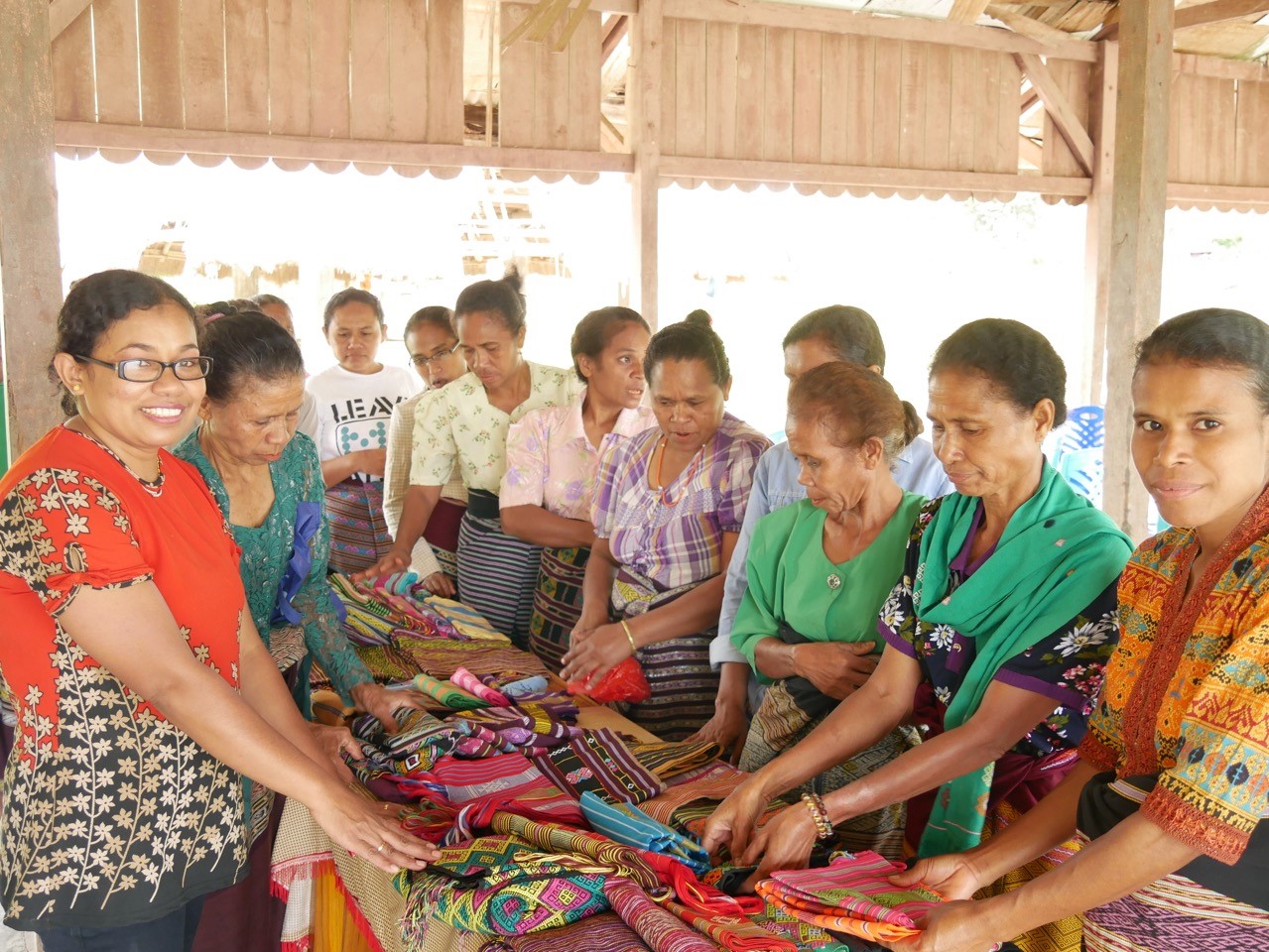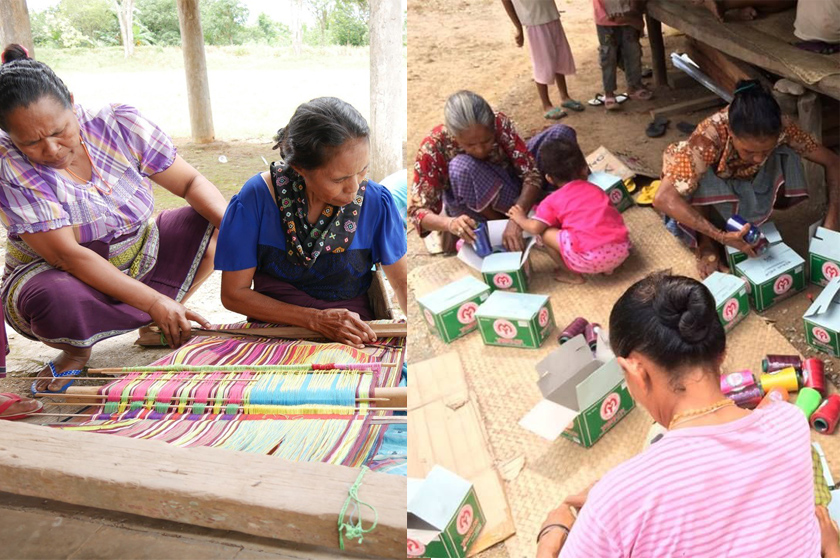 Share this article on:
Related Article

Back to Top