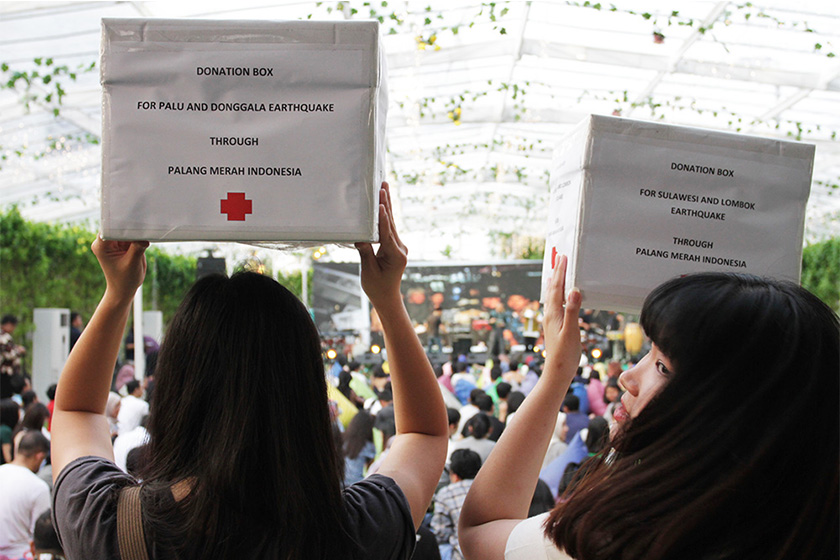 14 Jun 2019
Highlights of the 2018 Gig on the Green
More than 500 Australian alumni and their friends came together for the Gig on the Green – a mini music festival and disaster relief fundraiser in the Australian Embassy in Jakarta on Saturday, 6 October 2018.
Hosted by Chargé d'affaires Allaster Cox, the event provided an opportunity to bring our community together to show support for Indonesia's relief efforts in Central Sulawesi and Lombok by collecting donations on the night to go towards Palang Merah Indonesia.
Mr Cox emphasised the strength of alumni network and friendships between Australians and Indonesians at difficult times we're seeing and to support of those affected by the devastating disasters in Palu, Donggala and Lombok. In the wake of the Central Sulawesi earthquake and tsunami, the Australian government has provided $10.25 million package of humanitarian assistance to support Indonesia and humanitarian partners.
"We hope that this event could help collect donations and support relief efforts through the Indonesian Red Cross," Mr Cox said. "This is also an opportunity for alumni who have studied in Australia to give back to the community in Indonesia and make our connections even stronger. We are very proud."
The Gig on the Green event featured alumna Kelly Tandiono and Boy William as MCs, who kept the energy high at the fundaiser gathering as alumni reconnect with old friends under the banyan trees covered with twinkle lights.
Special guest Isaiah Firebrace, winner of the X Factor Australia 2016, who recently came to Indonesia to release his new single 'Close to Me' as well as Indonesia's renowned artists DIAA, R&B/neo soul singer Teza Sumendra and pop band RAN, entertained guests that turned into a sing-along moment.
Throughout the night, talented entrepreneurs who studied in Australia provided delicious food, and tasty coffee from Let's Go! Chicken, Gudi Kopi, Combi Kopi, Bi Be Bi Cakes and traditional ice cream 'es lilin' from Denz's Food Products, who is an alumna from International Business Readiness for Women in Global Business: Food Production and Processing Short Course, under the Australia Awards Scholarships.
Congratulations to all the winners of Selfie/Wefie, Favourite Moments in Australia competition, door-prize winner, and hip-hop artist Yani "Yacko" Oktaviana, who won first prize in the inaugural Australian Alumni Music Talent Competition.
Check out the highlight video of Gig on the Green 2018:
Share this article on:
Related Article

Back to Top