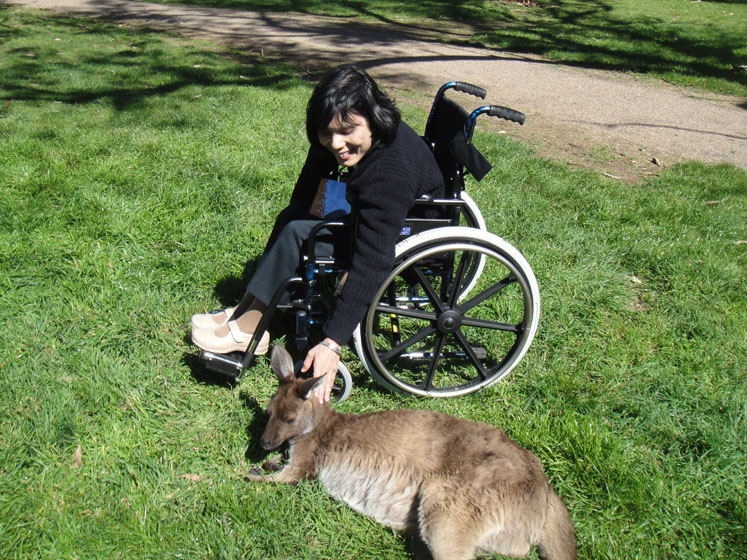 30 Apr 2016
A Call for Rights and Respect for Disabled People
Eva Rahmi Kasim is an unstoppable force. She has advocated for the rights of disabled people for 10 years. She joined Indonesia's Social Affairs Ministry in 2008 and now she wants to help to improve the country's policies affecting people with disability (PWD). "Real change is needed to ensure that the rights of people with disability are protected in the same way that other citizens' rights are protected so they can also enjoy the same benefits," said Eva, who graduated Deakin University in Melbourne.
She is a 2012 winner of Inspirational Award Alumni for her relentless work for Indonesia's PWDs.
A nervous disorder related to meningitis left Eva paralysed when she was 13 years old. She relies on crutches or a wheelchair for mobility. She understands the challenges faced by disabled people and their longing to be self-reliant and integrate and fully participate in the community.
In Indonesia, the majority of physically-disabled people still have difficulties living independently because of discrimination and constrained access to public transportation services and employment. Based on the 2010 census, the national statistics agency said that there are at least 10.4 million disabled people in Indonesia, or around four percent of the country's population,
"Disability means people have special needs but it doesn't mean exclusivity. Their rights have to be fulfilled and guaranteed by the government," Eva said.
By Indonesian law, disabled people have the right to education and to the support that is appropriate for them to get an education. They also have the right to guidance and assistance in finding suitable employment, she added.
When Eva applied to Deakin University with an Australia Awards scholarship, she was surprised that disability studies were among the Masters degrees offered by the university. "In the beginning I didn't apply for disability studies because I didn't know that it existed. When I found out that it did, I immediately changed my course to disability studies," she said.
Disability studies "offers cross-cutting knowledge from political, legal, philosophical, cultural and behavioural perspectives. This has not been considered in Indonesia. It was an invaluable experience for me. Now three more people from the Social Affairs Ministry are taking Master's degrees in disability studies in Australia."
Eva said that her efforts to refine her skills have not ended with a Master's degree. With the help of the Australian government, officials from the Social Affairs Ministry along with activists and NGO staff members participated in a program at Flinders University to improve the quality of services for PWDs. The program began in 2012 and ended in October 2015. She also participated in a course on managing mental health issues at the University of Melbourne earlier in 2015.
Over the past few years, Eva has seen a significant improvement in access to Australia Awards for PWDs. "Now many students with disabilities get extra support from AAI, such as attendant care, equipment and tools for study. More efforts are needed in disseminating information to disabled communities and providing accessible venues for English training for PWDs."
On a larger scale, there has been progress on disability issues in Indonesia over the last decade. In the past, a disabled person who requested a wheel chair to aid in air travel needed a formal letter stating that he or she was "ill." Now Indonesian airlines provide wheelchair assistance by request. It was an important step in recognising the universal right to dignity among all Indonesians. But many public buildings still don't enable wheelchair access or services to disabled members of the public.
Eva pointed out that more needs to be done. This requires a collaborative commitment to equality and inclusion particularly within the Free Trade Agreement between Indonesia and other members of Association of Southeast Asian Nations (ASEAN). Disabled people should not be left behind even during these more competitive times, said Eva.
Share this article on:
Related Article

Back to Top