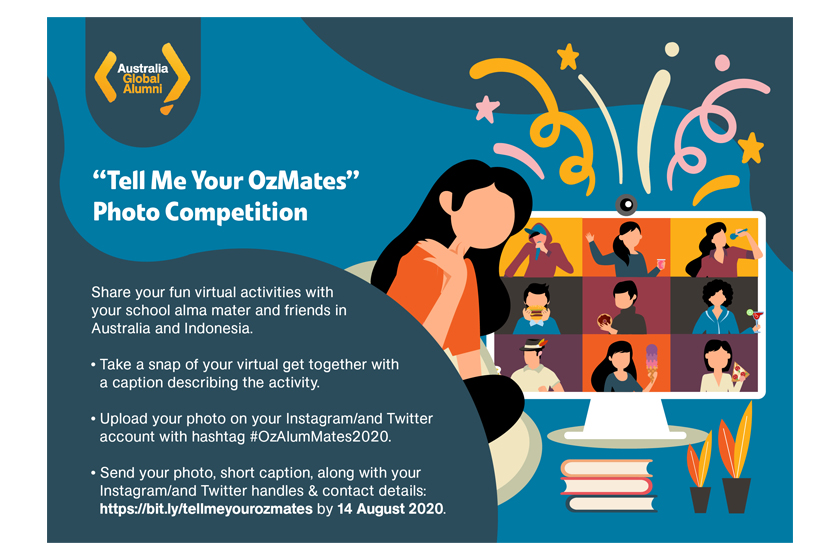 20 Jul 2020
"Tell Me Your OzMates" Photo Competition
We all know how coronavirus has kept us apart – at least 1 metre apart – and for some people, much more. For those of us whose best friends are in different parts of the world, this has been a really challenging time.
So, how have you been keeping in touch? We want to see how coronavirus has brought you closer. Who do you turn to when you need to share laughs and ideas, or just simply share what your day looks like?
How is technology helping you relieve your stress and boredom, or express yourself in this moment? Has it helped you stay connected, or even reunite with old friends in Indonesia and Australia?
This competition is your opportunity to share how you are reconnecting and strengthening your bonds virtually with your alma mater and friends in Australia and Indonesia.
Maybe you're catching up for Zoom/Skype drinks, binge-watching a TV series or gaming together. Perhaps you had your birthday party online or hosted virtual karaoke!
How does it work?
Take a snap of your virtual get together with a caption describing the activity.
Upload your photo on your Instagram/and Twitter account with hashtag #OzAlumMates2020.
Send your photo, short caption, along with your Instagram/and Twitter handles & contact details to https://bit.ly/tellmeyourozmates by 14 August 2020.
This competition is open for Indonesians who have completed their studies in Australia or are currently studying in Australia. All entrants must complete form and abide by the terms and conditions provided. The winners for the best photo competition will be announced on 25 September 2020.
Share this article on:
---
Related News

Back to Top