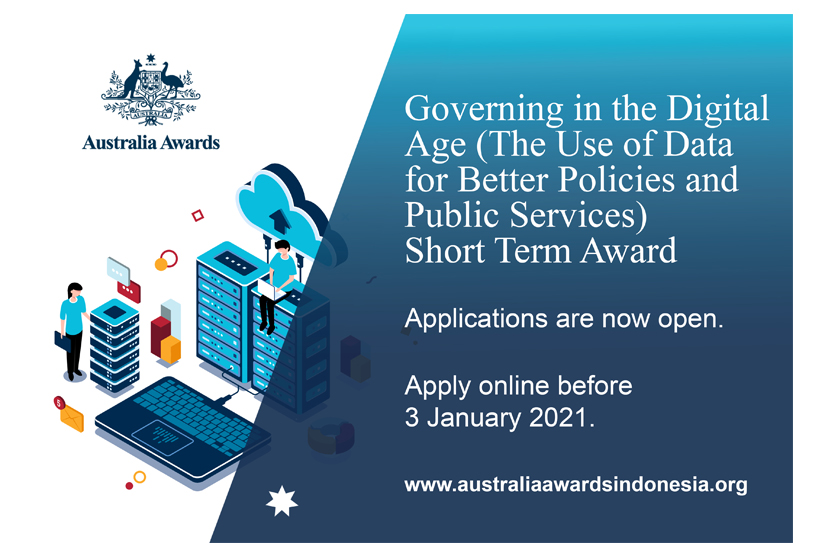 22 Oct 2020
Applications Open for the Governing in the Digital Age (The Use of Data for Better Policies and Public Services) Short Term Award
Are you keen to learn about the use of data for better policies and public services? If you currently work in a relevant role in a national or subnational Indonesian Government agency or a research institution, apply for the Governing in the Digital Age (The Use of Data for Better Policies and Public Services) Short Term Award.
The course aims to strengthen the capacity of government (both national and subnational) in producing, analysing and using data to inform policy decisions. The course will provide examples, strategies and tools utilised by international, Indonesian and Australian agencies on the use of data, including big data for policy making and implementation. The course will contribute to inform Indonesia's response to COVID-19 especially in analysing and using data
This is a fully funded course. Women and people with disabilities are encouraged to apply. All applications MUST be submitted online before 3 January 2021 via this link.
For further information about application requirements, course schedule and course structure, please visit this page or email shorttermawards@australiaawardsindonesia.org
An information session will be held virtually by Australia Awards in Indonesia on 26 November 2020 at 10 AM WIB. This session aims to guide applicants on the application procedures, including the online application system, selection scheme and interview process. RSVP before 24 November 2020 at this link.
Share this article on:
---
Related News

Back to Top