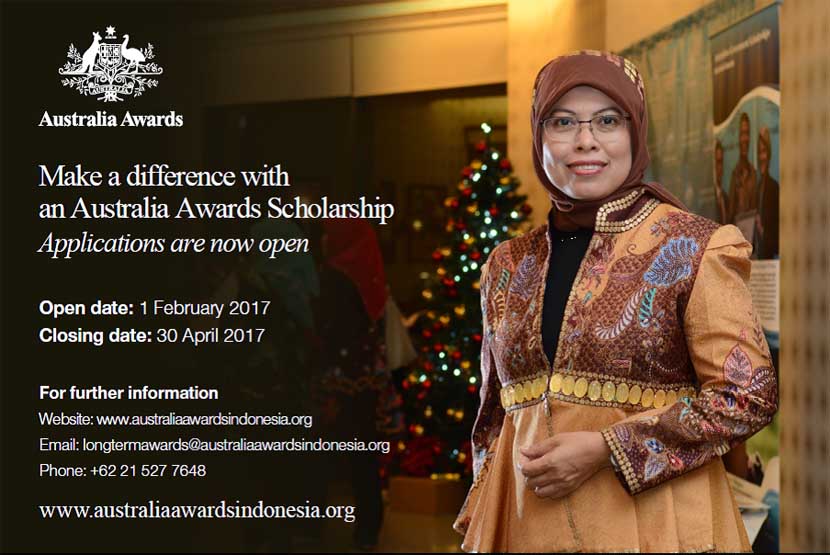 13 Apr 2017
Applications for Australia Awards Postgraduate Scholarships are Now Open
The applications for Australia Awards Postgraduate Scholarships (Long Term Awards) open on Wednesday 1 February 2017, and close on Sunday 30 April 2017.
Australia Awards Scholarships provide opportunities for Indonesians to gain an internationally recognised master or doctoral qualification from an Australian university and have the chance to pursue a career that makes a difference.
The best and the brightest candidates will be selected on the basis of academic achievement, leadership qualities, English skills and their potential to contribute to development in Indonesia.
The scholarship recipients will have the chance to study and experience life in Australia, to gain the skills and knowledge to drive economic and social development in Indonesia, and to build people-to-people links with Australian.
For more information about the scholarships, please visit https://www.australiaawardsindonesia.org/content/12/long-term-awards
All applicants are required to apply online at: https://oasis.dfat.gov.au
When applying online, all essential supporting documents must be uploaded on OASIS to meet the specific requirements for Indonesia (Long Term Awards Brochure)
We advise applicants submitting online to do so well before the closing date. The online application facility (OASIS) experiences peak usage in the days leading up to the closing date and applicants may experience delays.
Applicants who apply online (through OASIS) must also complete an additional online form - "the additional information for online application form" at the following link: https://australiaawardsindonesia.smartygrants.com.au/Intake2018
Share this article on:
---
Related News

Back to Top