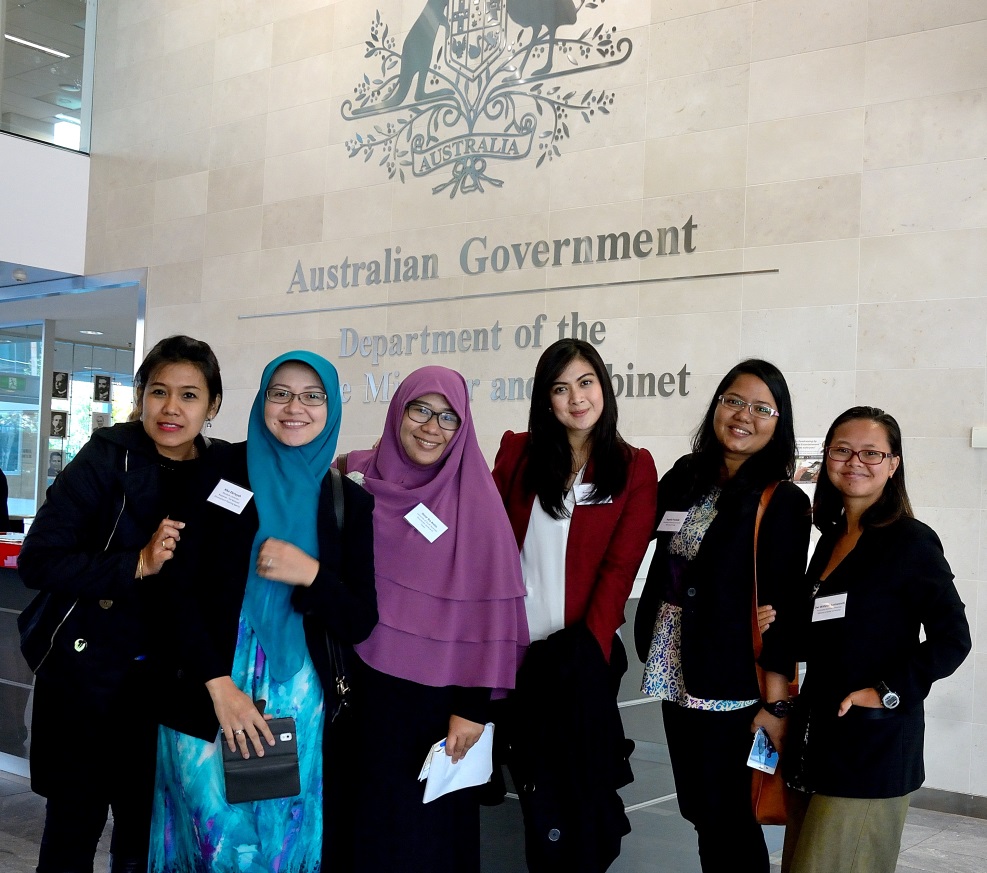 20 Apr 2016
Dreams don't become reality through magic—it takes sweat, determination and hard work, says Angelia Pardede
Newly graduated with a Masters degree in Public Policy and Government from the Australian National University's Crawford School of Public Policy, Angelia hasn't let the grass grow under her feet.
Since arriving in Canberra in January 2014, Angelia has seized the opportunities that have come her way to enrich her scholarship experience, both on-campus and off-campus.
Angelia has made many friends and developed new networks. "I learned so many things through interactions with people at the university, with lecturers and friends. Having lots of friends from all over the world is surely a treasure for me!" she said.
She also took part in Australia Awards on-Award enrichment activities in 2015, including the BAGUS program (Bringing Australian Government Understanding to Students), DFAT's CAFE program (Connection-Association-Friendship-Exchange), and a pilot workshop called PKP (Perempuan Kebijakan, Pemberdayaan, or Women, Policy, Empowerment).
Under the three-day BAGUS program, 30 Indonesian Australia Awards scholars came to Canberra for presentations on Australia's parliamentary and government systems from senior government officials including the Commonwealth Ombudsman and the Integrity Commissioner. The scholars also visited Australia's Parliament, the Public Service Commission and other key institutions.
The informal CAFE peer-to-peer mentoring program connects Indonesian civil servants studying in Australia with their local counterparts. Angelia was full of praise for her CAFE mentor, senior DFAT official Julie-Ann Guivarra, a former Geneva-based Agriculture Counsellor who is now Assistant Secretary of the Department's South-East Asia Analytical and Effectiveness Branch.
"We had a great time during the CAFE program. Julie-Ann and I got to know each other and had lunch and coffees together and she invited me to visit her office in DFAT, to meet people related to my job at the Indonesian Government Ministry of Trade".
For the foreign policy analyst from Indonesia's Ministry of Trade in Jakarta, her Australia Awards scholarship was a long-time dream come true. "I have a passion for public policy, and I chose a foreign trade career because I want to help open up more opportunities for exports from Indonesia".
In the future, Angelia also wants to continue volunteering work teaching disadvantaged children. "Inequality is a big development issue in Indonesia, and many people don't get the same opportunity I got. One of my commitments is to help and teach children in need—it is my 'giving back' commitment to other people".
The original article was published on http://australiaawards.gov.au/news/Pages/Dreams-don't-become-reality-through-magic,-says-Indonesia's-Angelia-Pardede.aspx
Share this article on:
Related Article

Back to Top