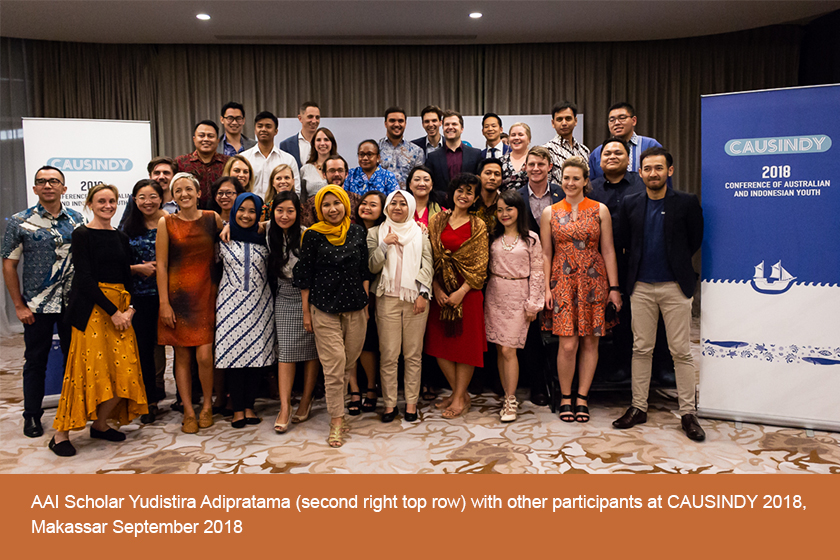 18 Sep 2018
Yudistira Joins CAUSINDY 2018 in Makassar
CAUSINDY 2018 took place at the Melia Hotel in Makassar, Indonesia, from 5-8 September 2018 and Master of Laws Australia Awards scholar from Indonesia Yudistira Adipratama crammed in a quick visit to Indonesia away from his studies at the University of Melbourne as a CAUSINDY guest delegate. Yudistira explained that he had responded to the call for entry to participate in CAUSINDY 2018 and was selected as one of the 30 participating delegates (15 Indonesian and 15 Australian).
'CAUSINDY' which stands for Conference of Australian and Indonesian Youth is a volunteer youth-led organisation based in Australia. Founded in 2013, CAUSINDY seeks to provide a platform for youth dialogue, shape new ideas about the Australia-Indonesia relationship, and to act as a catalyst for change. This year's four day program themed 'Connected by Sea' consisted of panel discussions, individual speakers, and special events. Yudistira worked with other delegates to explore new opportunities for collaboration and cooperation in the maritime sector between Australia and Indonesia and participated in a panel discussion focusing upon the Indonesia-Australia bilateral business relationship, with colleagues including AAI alumnus Vonnie Opier (Leader of ERP Oracle under Kalla Group) and Noke Kiroyan, President of the Indonesia Australia Business Council. Other sector discussions covered education, environment, culture and politics. Apart from discussion panel sessions, delegates were also involved in the CAUSINDY Engaging Future Leaders session. This session involved local students taking part in a one-day language exchange program led by the delegates, aimed to strengthen cross-cultural understanding between young future leaders from Australia and Indonesia.
Yudistira would highly recommend CAUSINDY to other AAI scholars and suggests to look out for opportunities to participate stating "CAUSINDY is an effective way to meet a great range of exceptional individuals in Indonesia and Australia who without a doubt will play a part in future decision making on issues affecting the bilateral relationship between Indonesia and Australia".
Share this article on:
Related Article

Back to Top