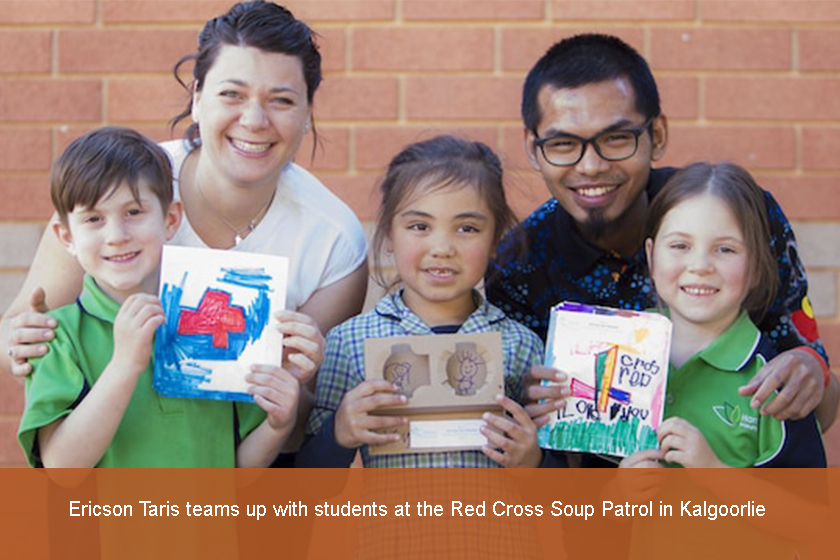 25 Sep 2018
Ericson Taris and students bring smiles at the Red Cross Soup Patrol
Kindergarten and pre-primary students from Hannans Primary School have been busy decorating cup holders and paper bags to donate to the Kalgoorlie Red Cross Soup Patrol team.
The students have drawn designs and messages of love and friendship on the bags and holders to put a smile on the faces of people accessing the charity food service.
Students presented Red Cross Soup Patrol volunteer Ericson Taris and Kalgoorlie-Boulder Volunteer Centre co-ordinator Marta Perona with the decorated items that will be used to serve soup and bread to homeless and needy Kalgoorlie-Boulder residents in coming weeks.
Pre-primary teacher Renae Chapman said the students had been learning about different roles in the community this term and the students were excited to give back to people in need.
"The kids really got on board with the activity.
"There were lots of love hearts and kisses, and some wrote 'we love you' on the bags," she said.
"We were learning we can help people if they get lost, be kind to others and if we see people who are hungry, we can help give them food."
Mr Taris said the donation was a wonderful opportunity for the students to be involved in giving back to the community at a young age and would make the residents who utilise the Soup Patrol smile.
"This donation means a lot, they'll be delighted," he said.
"By doing this positive thing, we can involve the students to do something good for the homeless and teach them about helping the community."
This article was first appeared on Kalgoorlie Miner newspaper.
Share this article on:
Related Article

Back to Top