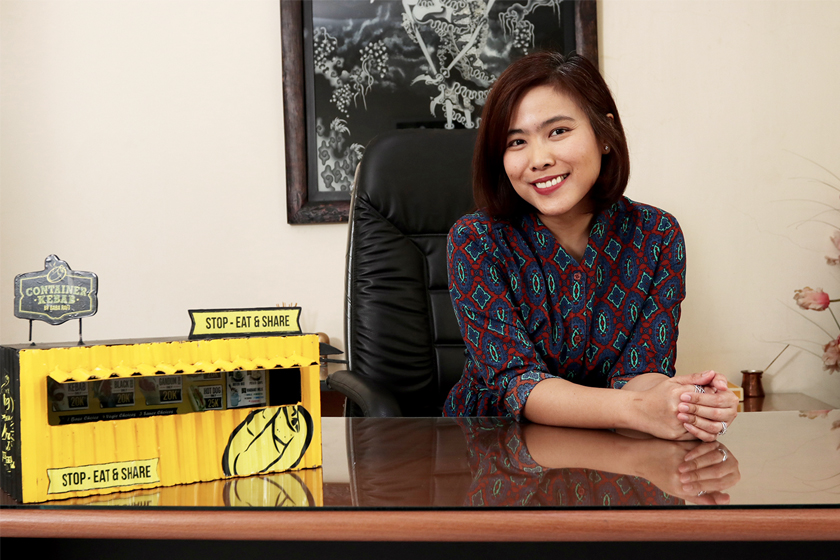 17 May 2019
Nilamsari Sahadewa supporting women's financial empowerment one kebab outlet at a time
Winner of the 2019 Promoting Women's Empowerment Award
Nilamsari Sahadewa, an alumna of Australia Awards Scholarship, has been awarded the 2019 Promoting Women's Empowerment Award, which recognises alumni who are doing exceptional work for women in their communities and professions.
When she started her own business at the age of 19, Nilamsari, the founder and owner of Kebab Turki Baba Rafi, had only wanted to become financially independent.
"My mother always says that a woman should be independent, should be able to make her own decisions and have her own money," Nilamsari said in an interview.
Despite coming from a family with no business background and having little experience herself, Nilamsari dived into the business world.
Her first business was a burger kiosk called Yummy Burger in her hometown of Surabaya in East Java. She chose burgers because they were easy to prepare. "I cannot cook," Nilamsari confessed. Within a year, Yummy Burger grew from one outlet to six.
But she experienced fierce competition and her burger business was short-lived. In the second year, competitors entered the market. One by one, her burger kiosks shut down.
Not wanting to give up, she searched for another business. During a visit to Qatar, Nilamsari saw kiosks selling kebabs dotting every corner of the Gulf state. She instantly fell in love with the Middle East fast-food. The combination of grilled meat rolled inside a flat bread with fresh vegetables and savoury sauce was a unique taste.
With just AU$396 in her pocket, she opened the first Kebab Turki Baba Rafi in Surabaya in 2003. Sixteen years later, Baba Rafi, which sells Indonesian-style Turkish kebabs, has grown from a single pushcart into one of the country's leading food franchise companies, with 1,300 branches in nine countries. Her business is not only the bread-and-butter for her family, but also for her 400 employees.
Like many women around the world, pursuing a career or developing a business while raising a family was a herculean task for Nilamsari. Wanting to share her experience, in 2016 Nilamsari launched her first book, titled "Womenpreneur". After the book launch, Nilamsari was approached by many women who wanted to expand their professional networks, and she was inspired to establish the Womenpreneur Group with fellow women in business.
"The book aims to increase the awareness that we, as women, can reach our highest potential. Whether as a housewife or a worker or an entrepreneur," said the 36-year old mother of three.
The Womenpreneur Group was designed to empower women financially through addressing issues that often face women who are starting out in business. Now, it is also helping women living with domestic violence.
"Some women, when they are experiencing domestic violence, are afraid to make a decision (to leave the situation) because they don't have any income or their spouse threatens to take away their kids," said Nilamsari. "So, we decided to empower women from the financial side."
Through the Womenpreneur Group, Nilamsari, a winner of Swa Magazine's Indonesia Women Future Leaders, and the Young Caring Professional Award in 2012, also gives business mentoring and training for female inmates in the hope that they will set up their own businesses when they are released.
"Women don't have the freedom to pursue their careers like men. They have responsibilities to take care of their children, their households and many other things," said the alumna of the 2016 Food Production and Processing Short Term Awards at Griffith University.
"In our mentoring, we try to understand the challenges for women or housewives who want to do business. It is talking woman-to-woman."
Working with various groups and government institutions, such as the Indonesian Business Woman Association (IWAPI) and the Creative Economy Agency (Bekraf), the Womenpreneur Group has reached out to nearly 3,000 women through various activities, including seminars. It has also provided direct business mentoring for nearly 50 women, who are able to be financially independent despite facing myriad challenges, said Nilamsari.
"It's important for women to be financially independent so that we always have choices in life," Nilamsari said. "If we empower ourselves, we can bring a lot of impact on our society and our families."
Share this article on:
Related Article

Back to Top