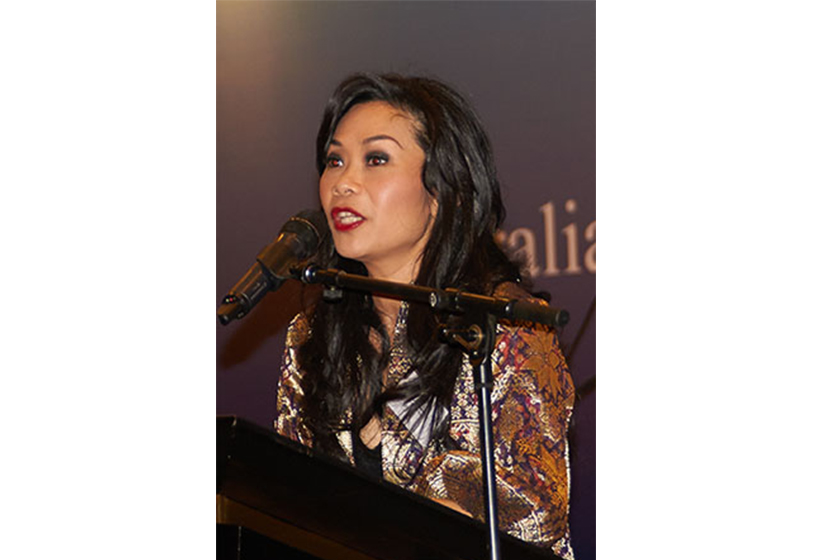 06 May 2016
Women in Leadership: Insights from President Director, Blue Bird Group
Those who attended the Australian Alumni Gala Dinner in Jakarta on 5 March had the pleasure of hearing from the inspirational Noni Purnomo, President Director of Blue Bird Group. An Australian alumnus, Purnomo, followed in her grandmother's footsteps as a woman to enter a traditionally male-dominated industry, to support her family. Her grandmother started with two cars, working from the family's home garage, more than 40 years ago. Now, Blue Bird has become Indonesia's biggest taxi operator with over 34,000 vehicles and 38,500 drivers across Indonesia, transporting more than 8.5 million passengers each month.
"I learned from my late grandmother being the female to establish a transportation company in Indonesia, it was a male dominant industry even up till now. She always told me each time you always have to be able to look down and up. It is a challenging thing to do, why do we have to look down? Because every second there's always someone who is unlucky, who is less fortunate than us. So we have to be grateful of what we have at this moment," said Purnomo, speaking at the Australian Alumni Gala Dinner on 5 March in Jakarta.
"But at the same time, we also have to look up. There is always someone who is more successful than us" she added, emphasising the importance of continuous improvement and growth.
Graduated from the University of Newcastle, Purnomo recalled her time studying industrial engineering degree in New South Wales. Being one of four women in her class of 180 did not deter her, she made a choice that it would empower her instead.
"We have to see every challenge and turn it into an opportunity. I learned not just to be a good engineer, I learned how to become a good business person and most importantly that I learned how to appreciate other people and other cultures"
"Don't limit ourselves just by learning at the university. Don't limit ourselves just by grouping with other Indonesians. Because it is very important for us not only to introduce our own culture but also to learn about other people's culture. Because if we aspire to be a global leader, that is the thing that is very much needed because nowadays there are no boundaries. More and more we face international people working in the company, so being able to adapt and learn and understand and respect other cultures is a very good personal trait. I got all that from studying in a small town in Newcastle," said Purnomo.
At Blue Bird Group, Purnomo worked her way up the ranks and created the Company's Business Development Division which focuses on corporate strategy, public relations, business process improvements, quality control, marketing, and information technology. In late 2014, Blue Bird Group made its debut of first initial public offering totaling US$230 million.
Purnomo is also the President of Blue Bird Peduli (Blue Bird Care – the company's philanthropic arm) which recently launched the 'Women Empowerment Project,' an initiative for more than 30,000 wives of Blue Bird Group employees and drivers. Among a list of prestigious recognitions, she was recently voted as one of 2015 Power Business Women in Asia by Forbes Asia.
Share this article on:
Related Article

Back to Top