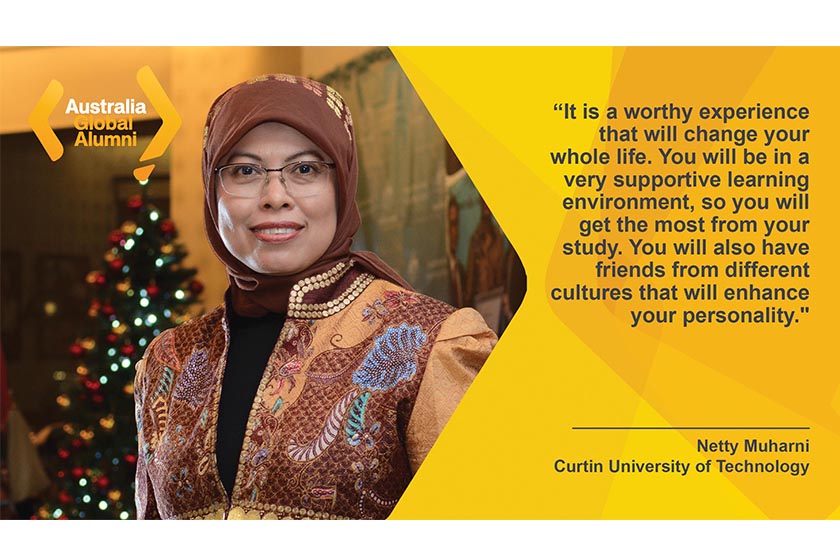 22 Jun 2016
Netty Murhani
Netty Murhani has received numerous awards both in Indonesia and Australia. Netty achieved her undergraduate degree from the Chemical Engineering Department, Engineering Faculty, at Universitas Syiah Kuala, Banda Aceh. Now Netty is the Deputy Assistant for Regional and Sub-Regional Economic Cooperation in Indonesia's Coordinating Ministry for the Economy, and completed her Masters of Urban and Regional Planning at Curtin University of Technology in 2007.
In February 2008, Netty was honoured with two awards from the School of Built Environment, Art and Design, Curtin University of Technology.
The first award was the Planning Institute of Australia (WA Division) Prize for the student with the highest academic achievement in the Master of Urban and Regional Planning Course. The second, the Australian Association of Planning Consultants (WA) Award for the best planning project (dissertation) in all Urban and Regional Planning Courses.
She also led the promotion division in the Aceh Investment Coordination Board where she successfully worked with Australian investors in cattle and fishing, weaving stronger ties between Australia and Indonesia. Her achievements were recognised with the Curtin University Distinguished International Alumni Award in November 2014.
Share this article on:
Related Article

Back to Top