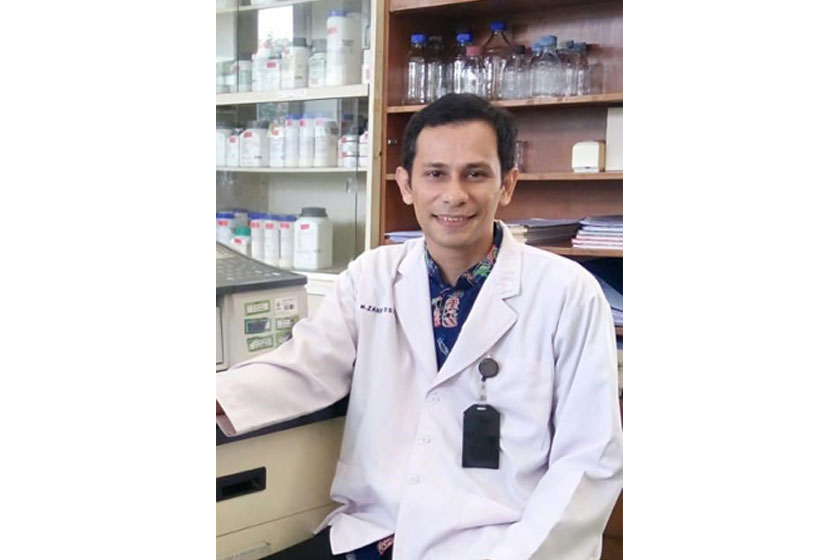 06 Aug 2019
Bioassay for Better Food Safety
In the past few years, Indonesia has seen increasingly better food safety thanks in part to a more efficient bioassay method in detecting antibiotic residues in animal-based food products. Bioassay is an analytical method that determines the concentration or potency of a substance by its effect on living cells or tissues.
Muhammad Zahid, Head of the Certification Section at the Directorate General of Livestock and Animal Health, Ministry of Agriculture, developed an Enzyme Linked Immuno Sorbent Assay (ELISA), a commonly known bioassay method, that specifically detects fluoroquinolone antibiotic residues in chicken liver, prawn, and milk products with Dr N. Alice Lee, his supervisor when he obtained his Master of Science in Food Safety from the University of New South Wales in 2012 under an Australia Awards Scholarship.
"There were ELISA commercially available from other countries, but I wanted to develop one that is specific to the conditions in Indonesia. Having our own independent ELISA would also cut down the cost of licensing and import taxes," Muhammad Zahid said.
He further went on to note ELISA's advantages over other analytical methods, namely that ELISA doesn't require expensive equipment, using simple tools instead. ELISA also allows for analysis of a large number of samples in one sitting. In addition, ELISA detects antigen and antibodies within a product, which requires much less extraction compared to other chemical analytical methods that require a large amount of chemicals and solvents. "In short, ELISA is much more cost effective and practical," Muhammad Zahid remarked.
Upon Muhammad Zahid's return from his studies in Australia, the National Veterinary Drug Assay Laboratory (NVDAL) where he works began implementing ELISA to test for fluoroquinolone antibiotic residues in animal products such as eggs and chicken.
The team conducted studies by collecting samples across provinces in Indonesia and worked together with the Livestock and Animal Health Provincial Offices to determine which sites to collect the samples from. These sites range from farms, slaughterhouses, to market places. Upon completing the bioassay, the team would follow up with recommendations, and if necessary, decide on what action to take.
"We also use the spot sampling and subsequent follow ups as an opportunity to educate the farmers and slaughterhouses regarding food safety," Muhammad Zahid said. "Many of the farms in Indonesia are home industries that implement less strict standards, and many were unaware of the required waiting period (withdrawal time) between antibiotic administration and slaughter." Many of the farmers in remote areas also found the instructions on the labels hard to understand due to jargon.
The NVDAL team worked tirelessly and patiently to educate the farmers on proper and prudent antibiotic administration, antibiotic waiting period, and other related information using simple terminologies that the farmers could understand. Muhammad Zahid found the direct one-on-one approach to be more effective as gathering the farmers together for an information session was difficult.
"It wasn't just about testing the animal products for antibiotic residues, it was about educating the farmers," Muhammad Zahid remarked.
Using the same process, the team focused on a different antibiotic each year, with an increasing percentage of test results coming back negative or with reduced amount of antibiotic residue each subsequent year. Public education efforts and regulations contributed to this encouraging trend.
"By 2017, approximately 90 per cent of the samples came back negative for antibiotic residue. The same year, the Indonesian government also prohibited the use of antibiotics in animal feed," Muhammad Zahid smiled.
Having successfully increased food safety in terms of antibiotic residue elimination, Indonesia is looking to shift its efforts to a worldwide food safety focus. "Currently, the Government of Indonesia is focusing on anti-microbial resistance, which might still be related to antibiotic residues in animal food products," Muhammad Zahid said.
Share this article on:
Related Article

Back to Top