12 Dec 2019
Australian rules football: a gateway to diversity and gender equality
Every two weeks, one can find a unique scene in a field in Salatiga, Central Java.
More than 200 girls in hijabs can be seen laughing as they run, kick and throw oblate-shaped balls. These boarding school students are learning how to play Australian rules football through Footy Coaching Clinic.
The program is spearheaded by Australian alumna Ana Surjanto, funded by the Australian Government through the Alumni Grant Scheme, and is implemented in collaboration with the Australian Football League (AFL) Indonesia and the Krakatoas Football Club in Melbourne.
Australian rules football, officially known as Australian football and fondly called Aussie Rules or footy by its enthusiasts, is a contact sport played between two teams on an oval-shaped field.
More than 300 people attended Footy Coaching Clinic's kick-off seminar in July 2019, including those from other campuses as far as Semarang and the general public. AFL Indonesia helped introduce the game and its history at the seminar.
The bi-weekly training at the Salatiga field isn't just about fun and games, it is a platform for diversity and gender equality. Footy Coaching Clinic aims to introduce first-year female students at the Ma'had Al Jami'ah (boarding school) of the State Institute of Islamic Studies (IAIN) Salatiga to an intercultural experience, giving them the opportunity to interact with people from different cultures and religions.
"Sport has a universal value. Footy is the best way to start up a conversation and mingle with Australians," said Ana, who is a lecturer of English at the Faculty of Islamic Communication at the institute. She was first introduced to footy when she studied for her Masters degree in Teaching English to Speakers of Other Languages from Monash University under an Indonesia Endowment Fund for Education (LPDP) scholarship from 2016 to 2018.
Ana took to the sport and joined the Krakatoas Football Club, the first Indonesian-Australian Aussie Rules footy team in Melbourne and an affiliate of AFL Indonesia, eventually becoming Asia's first female AFL-accredited coach.
"Footy taught me new ways to collaborate and communicate as a team," Ana said. "It is character building to not focus on winning or losing, but on being appreciative and fair. There was an atmosphere of encouragement, support, with people motivating each other. It felt like being part of a family."
The hundreds of female students participating in the Footy Coaching Clinic program share Ana's sentiment. "We're not only staying healthy, we are creating bonds," said Novi Alvia, one of the students.
Lisna Rofiqoh found the experience exhilarating. "We were able to express ourselves freely. It was such a joyful experience." Many of the students now enthusiastically volunteer to lead the warm-up sessions, rejecting the idea that football is reserved for men.
AFL Indonesia helped coach the first training sessions. Later on, three female coaches and one male coach from the Australia-Indonesia Youth Association (AIYA) Yogyakarta Chapter also supported a session. A footy exhibition is scheduled for the end of the year, with two teams from the boarding school set to play.
Eka Nanda, one of the students, found that through footy, she was able to learn more about Australian culture. According to Ana, the coaching clinic is the first time some students have ever met an Australian. "The girls are having fun experiencing sport as part of the Australian culture. Interacting with the Australian coaches has sparked an interest to pursue postgraduate studies in Australia," Ana said.
The Australian Consulate-General Surabaya has posted about Footy Coaching Clinic on its Instagram account and invited Ana to speak about the program during the Australian Alumni Reception and Iftar in May 2019 and the Farewell Reception for the Gold Fields Men's Under 19s team from Western Australia, which toured Surabaya in July 2019.
"Diversity isn't just a word, but real action," Ana said.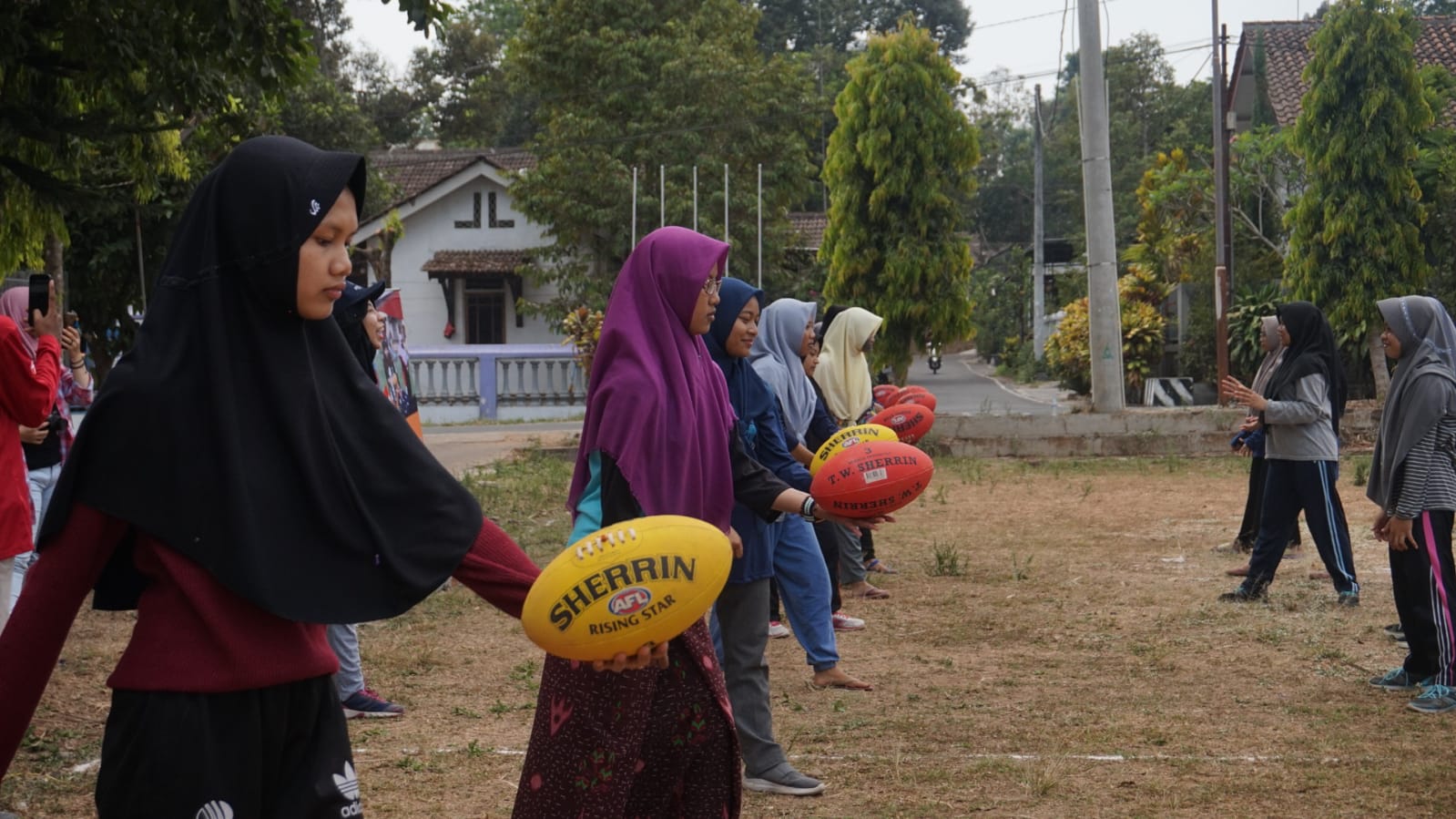 Other photos courtesy of Footy Coaching Clinic
Share this article on:
Related Article

Back to Top