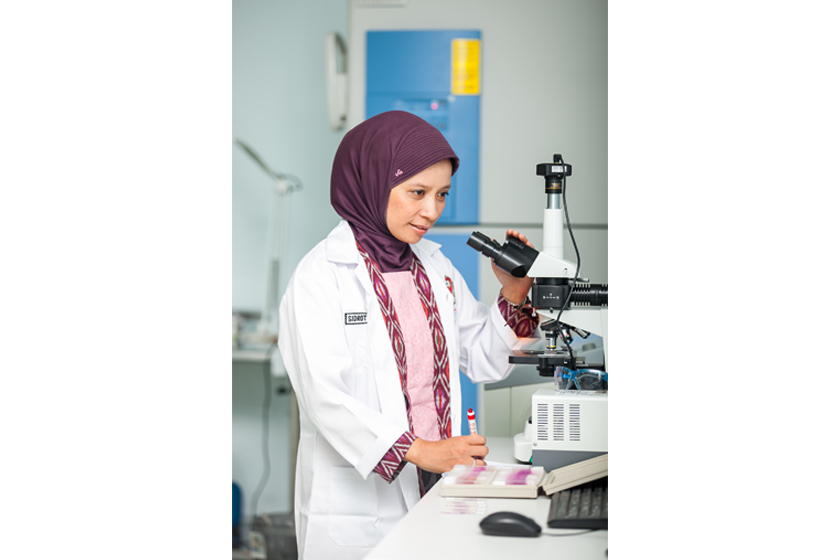 07 Feb 2020
Raising awareness based on facts: the fight against coronavirus hoaxes
Dr Sidrotun Naim has spent the past weeks on Indonesian social media, correcting misinformation and dispelling myths about the novel coronavirus.
The advisory board member and policy analyst at the Indonesia Strategic Institute (INSTRAT) doesn't claim to be a coronavirus expert, but has an understanding of how viruses work due to her extensive research on shrimp pathology and molecular virology.
In early January 2020, a new type of coronavirus was identified as the cause of an outbreak of illness in the city of Wuhan in China. By 6 February 2020, the World Health Organization (WHO) reported 28,276 confirmed cases of the coronavirus across 25 countries.
The rapid spread of the virus caused global concern and panic, fuelled by misinformation and hoaxes shared on social media. Dr Sidrotun, who obtained her Masters in Marine Studies from the University of Queensland in 2005 with an Australian Government funded Australia Awards Scholarship, decided to act.
"I had to write the posts because there were too many hoaxes and conspiracy theories on social media, diverting attention from what we need to focus on," she said. "As a biologist, I touched on the scientific aspects of the issue. We should only speak based on data and facts."
One misunderstanding that the Fulbright scholar corrected was the idea that the novel coronavirus (2019-nCoV) is a mutation of the Middle East Respiratory Syndrome (MERS) and Severe Acute Respiratory Syndrome (SARS) coronaviruses.
"The newest publication showed that the 2019-nCoV genome differs from previously existing coronaviruses," wrote Dr Sidrotun.
Coronaviruses are a large family of viruses that cause illness ranging from the common cold to more severe diseases such as MERS-CoV and SARS-CoV. A novel coronavirus (nCoV) is a new strain that has not been previously identified in humans.
Dr Sidrotun cautioned against panicking. "Indonesia is currently at low risk for the 2019-nCoV, and we should keep it at low risk. The principle of caution has to be implemented while the risk is still low. Virus transmission prevention is a way to keep it so," Dr Sidrotun wrote.
The WHO's standard recommendations to prevent infection spread include regular hand washing, covering mouth and nose when coughing and sneezing and thoroughly cooking meat and eggs. The WHO also recommends avoiding close contact with anyone showing symptoms of respiratory illness such as coughing and sneezing.
In her social media posts, Dr Sidrotun showed her appreciation for the Indonesian Government's efforts. "The serious-mindedness of related Indonesian authorities needs to be appreciated. There is already a guideline for medical personnel in the field. For the general public, there are already informative posters," she wrote.
Dr Sidrotun also expressed her appreciation to the Indonesian Doctors Association and the Clinical Microbiology Experts Association for providing straightforward information to the public.
"In situations like this, information becomes key in curbing mass panic. Not only does it need to be correct information, it also needs to be complete information presented in a way that is accessible and easily digested by the public," said Dr Sidrotun, who was awarded a UNESCO-L'Oréal International Fellowship in 2012 to pursue her work in molecular virology.
Dr Sidrotun also holds a Master of Science in Environmental Science (2010), a Master of Science in Microbiology (2012), and a PhD in Environmental Science (2012) from the University of Arizona, United States. Dr Sidrotun was a post-doc fellow in the fields of virology and immunobiology at the Harvard Medical School in the United States, before obtaining a Master in Public Administration from the John F. Kennedy School of Government at Harvard University in 2016.
Recently, a team of scientists at the Peter Doherty Institute for Infection and Immunity in Melbourne announced they had successfully developed a lab-grown version of the coronavirus in the hope that international labs could help develop a vaccine.
"The lab-grown virus means that the 2019-nCoV and possible treatments can now be studied in detail. The molecular biology modelling can increase our understanding of the virus," Dr Sidrotun said.
Dr Sidrotun credits her passion for public policy as a biologist to her time in Australia. The Queensland Biosciences Precinct, a state-of-the-art research facility at the University of Queensland, had just opened in 2003 when she arrived in 2004. Seeing the multi-disciplinary approach to biology, Dr Sidrotun became inspired to pursue other aspects related to her studies, including the Master in Public Administration from Harvard University.
"Public policy has to be evidence based, and in order to support that, there are technical aspects that scientists need to present in an easy to understand, accessible way. We need to be able to reach out to the public using their language," Dr Sidrotun said.
"The University of Queensland's seriousness with the Biosciences building was the first time I realised the next few decades would be the era of biotech and medical related subjects. I was no longer afraid that biology would have no relevance to daily lives."
"It became so real for me, and for that, I want to thank Australia."
For up-to-date information on the 2019-nCoV, please visit the WHO website at https://www.who.int/emergencies/diseases/novel-coronavirus-2019
Share this article on:
Related Article

Back to Top