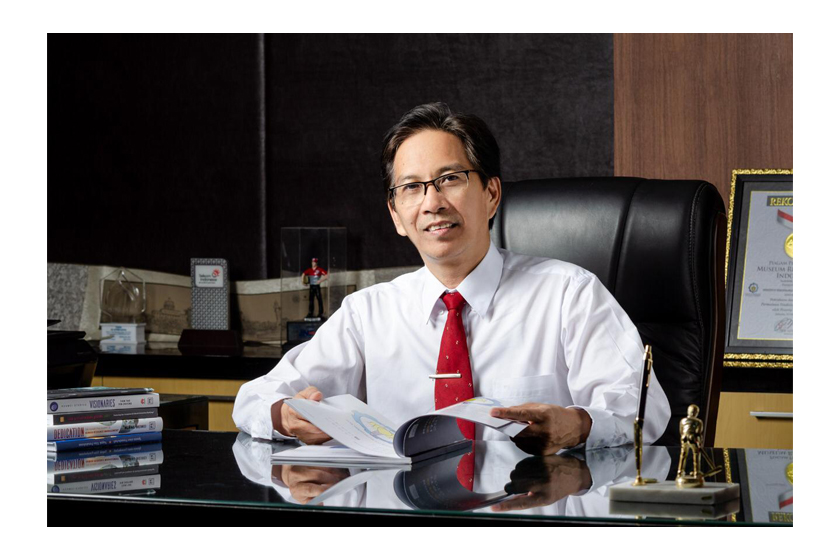 25 Jan 2021
Professor Ashari's tech taskforce teams roll out innovations for the COVID-19 response
Health workers at seven of Indonesia's COVID-19 referral hospitals are receiving support from new virus-proof assistants, with robots joining the frontline response in time to help with a surge in cases.
Each robot has a camera and a small screen monitor, which flashes a blue smiley robotic face, to help medical workers communicate with patients remotely. It also has four trays to bring food, medicines, clothes, or medical equipment to patients.
The 1.5-meter tall robots are called RAISA, or Robot Medical Assistant ITS-Airlangga, named after the institutes that jointly developed them - Teknologi Sepuluh Nopember (ITS) and Airlangga University Hospital in Surabaya, East Java.
ITS Rector Professor Mochamad Ashari said the university innovation centre has delivered a total of 16 RAISA robots so far to the seven hospitals in Surabaya, Malang, and Jakarta since they were launched in April 2020. Some were bought by private companies who later donated them to COVID-19 referral hospitals as part of their corporate social responsibility (CSR) programs.
The Research and Technology Ministry also ordered 10 RAISA robots being delivered to several COVID-19 referral hospitals by the end of December 2020, Professor Ashari added.
"Our innovation centre can make 20 robots per month. We also work with small and medium businesses and workshops to make these robots," said Professor Ashari,
Robots like RAISA have emerged as essential workers in the COVID-19 response as overwhelmed hospitals desperately try to cope with the surge of virus cases.
In Indonesia, COVID-19 continues to claim the lives of health workers at the frontline. The Indonesian Doctors Association reported that more than 500 health workers – including doctors and nurses – have died of COVID-19 by end of last year.
Unlike human nurses, robots do not need to wear protective gear and cannot be infected by the highly contagious virus. Having robot nurses reduces the frequency of direct contact between health workers and patients, lowering the risk of COVID-19 infections among health workers, and helps hospitals save valuable supplies of personal protective equipment (PPE).
From Soccer Robot to Robot Nurse
ITS has developed robotic technology for ten years, mostly for research and for competing in tournaments. The technology used to build RAISA was inspired by the Ichiro soccer robot which won a robotic soccer competition in Singapore in 2019.
To equip RAISA with necessary patient-care functions, ITS teamed up with Airlangga University Hospital.
"The doctors gave input on the functions that the robots needed to have. If we didn't work with them, we wouldn't know what we should put into RAISA," said Professor Ashari.
From the early model, which had only limited functions of delivering food or medicine, the ITS robotic team has continued to improve RAISA by adding more features. The team has made two models. One is a simple model for serving patients who are still able to move around in their room. The second, for patients with severe conditions in intensive care units (ICU), has more features, including a high-resolution camera, which allows RAISA to check patients' vital signs, such as the volume of urine, and to regulate IV drips.
Additional features were added to meet demands from hospitals. "We added functions to take body temperature and oxygen saturation," said Professor Ashari, who graduated with an electrical engineering degree from ITS in 1989. "If a COVID-19 patient has trouble breathing, that means the oxygen level in the patient's body drops. RAISA can help detect this."
For the next upgrade, the ITS team plans to make RAISA an autonomous robot by using artificial intelligence. At present, RAISA robots are operated by humans using a joystick.
Innovations for COVID-19 response
RAISA is just one ITS initiative to help communities and health workers fighting the COVID-19 pandemic. Professor Ashari, who has been rector at ITS since April 2019, formed a COVID-19 taskforce on campus in March 2020 after witnessing an acute shortage of PPE for health workers as the virus became widespread in Surabaya and other cities in East Java.
Apart from the robotic team, the ITS COVID-19 taskforce has four teams leading the production of medical equipment. The ventilator team has successfully developed a simple and low-cost mechanical ventilator, called E-VITS.
Only a handful of hospitals in the country have invasive ventilators because they are costly.
E-VITS can be used for emergency first aid treatments and for short-term use. In May, the Center for Health Facilities Security (BPFK) declared E-VITS met ventilator performance standards and was ready for a clinical trial. ITS has made 10 E-VITS prototypes and recently partnered with a local manufacturer in Surabaya for production.
"When there is a big demand for ventilators, we will be ready," Professor Ashari said.
Throughout the pandemic, the ITS COVID-19 teams have managed to produce 170,000 face shields, 4,500 litres of hand sanitiser, 1,500 hazmat suits and 16 RAISA robots. It did not stop there. ITS has also designed an emergency hospital using shipping containers, with all the standard equipment of a hospital's patient room.
These efforts to innovate the fight against COVID-19 have not gone unnoticed. In October 2020, Professor Ashari received the 2020 Curtin University Alumni Achievement for Innovation. He attributed the achievement to his fellow lecturers and colleagues at ITS who relentlessly research solutions to problems arising from the pandemic.
"I am very grateful to have chosen a career as a lecturer. Lecturers have an extraordinary role because we make great people. The networking is excellent and people respect each other. I wouldn't have this much personal satisfaction if I worked in a private company," he added.
These innovative responses to COVID-19 are part of Professor Ashari's vision to build ITS into a world-class research and innovation university by 2025. When he took the helm as ITS rector, he set a new mission for the university - to turn its research into products that benefit the public, inspired by his time studying at Curtin University, where he obtained a PhD in 2001.
Professor Ashari recalls the technology park at Curtin University serving as a hub connecting research teams with 95 start-up companies. When Professor Ashari finished his research at Curtin, the result would be sent to one of those companies which would make prototypes based on his research. After the prototypes were made, they would be sent back to Professor Ashari for testing.
"Even before I finished my study, my products had been sold everywhere. I was amazed because such a hybrid system did not exist in Indonesia at that time," said Professor Ashari.
Now, decades later, Professor Ashari has the chance to replicate Curtin University's technology park at ITS, and hopes to expand this in 2021.
"We don't want our products to end at research level or competition level," he said. "Products should be made into commercial prototypes, and then eventually mass production – producing innovations that are beneficial for the public and at the same time, generate revenue for the school."
Photos courtesy of Professor Mochamad Ashari.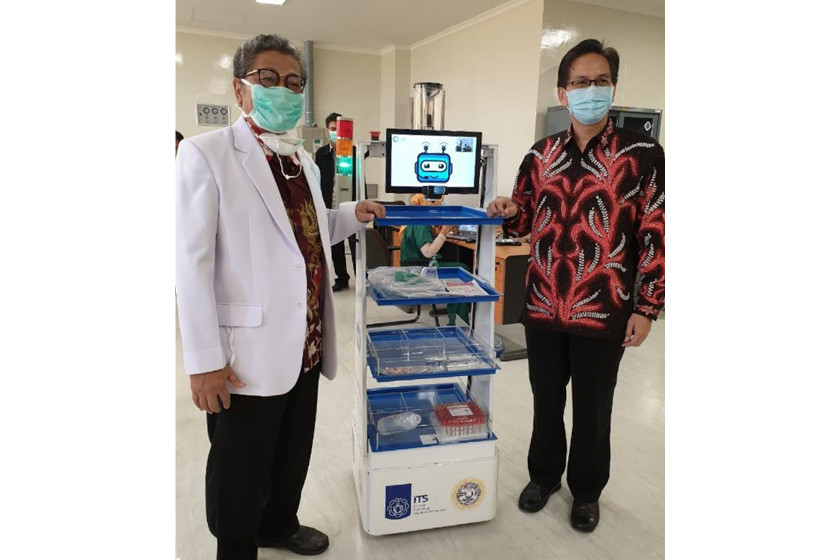 Share this article on:
Related Article

Back to Top