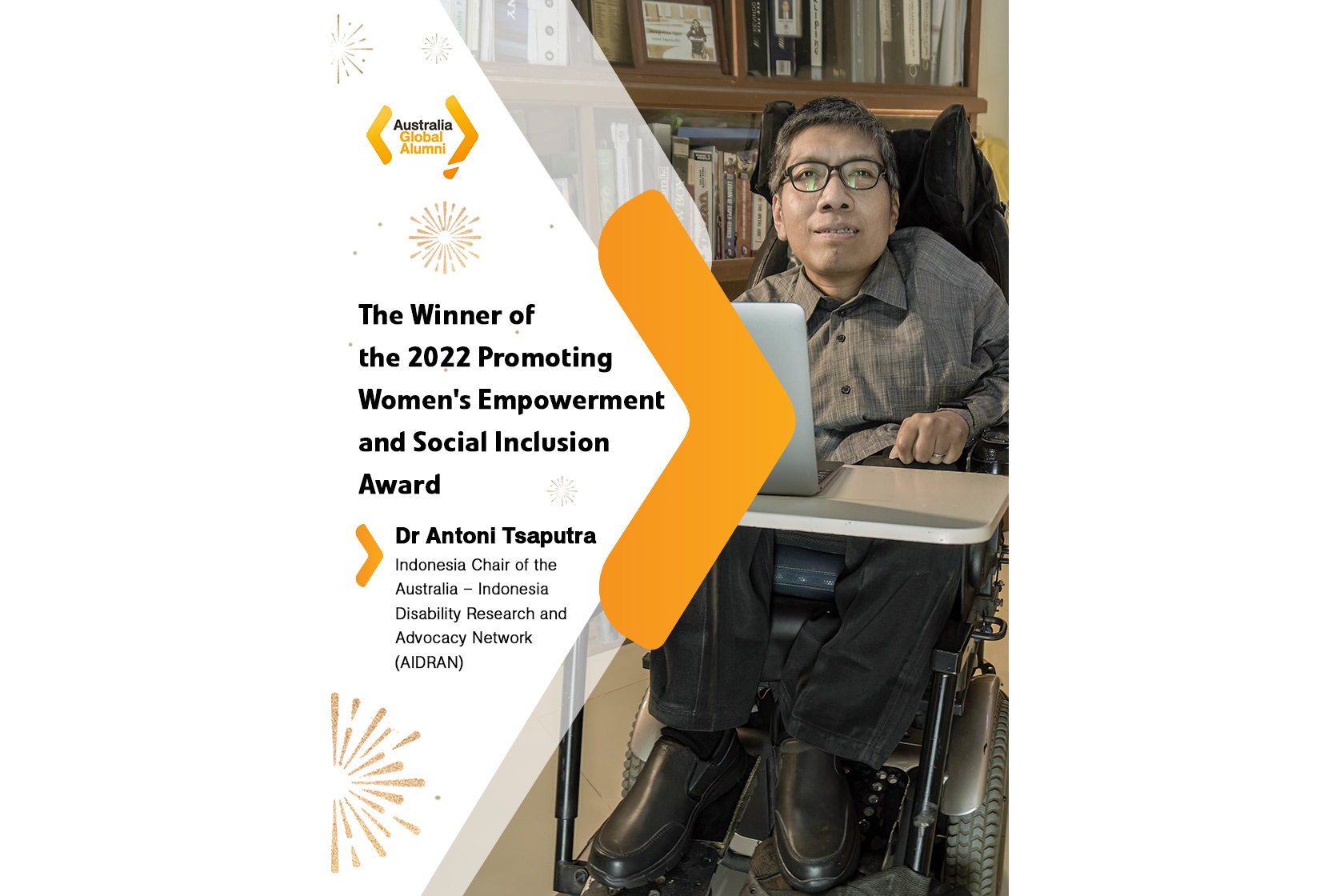 14 Dec 2022
Antoni Tsaputra: A Relentless Advocate for Disability Rights
Winner of the 2022 Promoting Women's Empowerment and Social Inclusion Award
Born with muscular dystrophy, a group of muscle diseases that put him in a wheelchair, researcher Antoni Tsaputra is well-aware of the mounting challenges in advocating for disability rights, but he is relentless.
"The advocacy for disability is a never-ending battle. There is a lot of homework to be done. But I cannot quit this activism," he said.
The same passion is reflected in his persistence in getting an overseas higher education. In 2009, the wish came true: Antoni was awarded an Australian Development Scholarship to pursue a Masters of Arts in Journalism and Mass Communication at Griffith University in Brisbane, Australia.
"Initially, I just wanted to experience studying in a different country. But while there, I joined some organisations that fight for disability rights and I realised how important it is to drive significant changes for disability rights in Indonesia by making a movement and doing activism," he explained.
For the very first time in his life, he said, he encountered an inclusive learning environment and disability service support. These newly found perspectives about disability drove him to do a thesis research about the representation of people with disabilities in the national media.
"The knowledge that I have got is very applicable not only to me but also to my colleagues who advocate for people with disabilities, so we could make relevant public campaigns," Antoni said.
Mounting Challenges
Following his graduation, where he received awards for academic excellence, Antoni returned to his job as a local government officer in Padang, West Sumatra, where he founded the Indonesian Disabled People Association (PPDI).
"The most challenging thing is to change the mindset and paradigm about disability. So many government officers, even policymakers, do not comprehend disability inclusion," he said.
Antoni and his team never lose hope. The local government then involved them in formulating a regulation on disability rights and in 2015, the Bylaw on the Accessibility and Protection for Disability Rights was passed. As the result, the city now has two disability-friendly public areas, built using universal design principles such as disability-friendly pedestrian access alongside monitoring and evaluation systems to ensure long-term inclusive practices are monitored.
To equip himself better in the support for fellow people with disabilities, Antoni pursued a doctoral program at the School of Social Sciences, University of New South Wales, Sidney, Australia through the Indonesia Endowment Fund for Education (LPDP) scholarship. His dissertation focused on the potential of disability-inclusive budgeting to ensure the rights of people with disability in Indonesia.
"We do have a progressive legal framework. We have the national disability law and the implementation regulations. We also have disability regulations in the regions. But the implementation could have been more optimal if the government always involved disabled people as a subject and let them contribute actively," he said.
His educational journey convinces him to further his career as a researcher with a focus on disability inclusion and development, disability and inequality, and disability rights realisation. Antoni then joined the Australia Indonesia Disability Research and Advocacy Network (AIDRAN) in 2019, and was recently named the new Indonesia Chair of AIDRAN. He has collaborated with an Australian researcher at the University of Sidney and the national network of Indonesian disabled person organisations to investigate the impacts of the COVID-19 pandemic on people with disabilities in Indonesia.
In April 2022, Antoni received the Australian Alumni Grant Scheme for his project, the Initiation of Disability Inclusive Kelurahans (InKLUsi) in the city of Padang. This project conducted a workshop with a number of kelurahan (urban wards) on the importance of disability-inclusive development at the administrative level. The outcome of this project is a guideline to collect data on disability to build an information system that can provide accessibility for those with a disability, and how to interact appropriately with people with a disability.
"The manual will be released in December. The primary beneficiaries of this project are staff of 45 urban wards and disability groups from three pilot areas—Purus, Bandar Buat, and Anduring," he said.
Recognising Antoni's expertise and work, the West Sumatra Governor has appointed Antoni to lead the formulation of a five-year disability action plan for the province.
The Importance of Education
Antoni currently teaches at Padang State University, working on a special education program on disability. He aims for the university to have proper accessibility and accommodation for people with disabilities, as stipulated in Government Regulation No. 13/2020 that universities are prohibited from discriminating against people with disabilities
"The university is currently establishing disability service support. We learned it from Sunan Kalijaga Islamic State University (in Yogyakarta) and Brawijaya University (in Malang). It is crucial to have (the support) it if we want to be a world-class university," he said.
Based on AIDRAN research, only eight universities in Indonesia give equal opportunity to people with various disabilities to choose the program they like with proper accessibility.
"There were cases where students were asked to move to the Special Education Program, which is not their passion, due to their disability and the inability of the previous program in the university to provide proper service support. The consequences could be detrimental to students' mental health and hinder their development from getting a bright future," Antoni said.
"I know it takes work to implement the regulation optimally. But we have to remind the institution regularly and monitor thoroughly. I hope that those with disabilities have equal access and opportunity for excellent education and employment to support themselves and contribute actively to society," he added.
Click the video to watch Antoni's story:
Share this article on:
Related Article

Back to Top