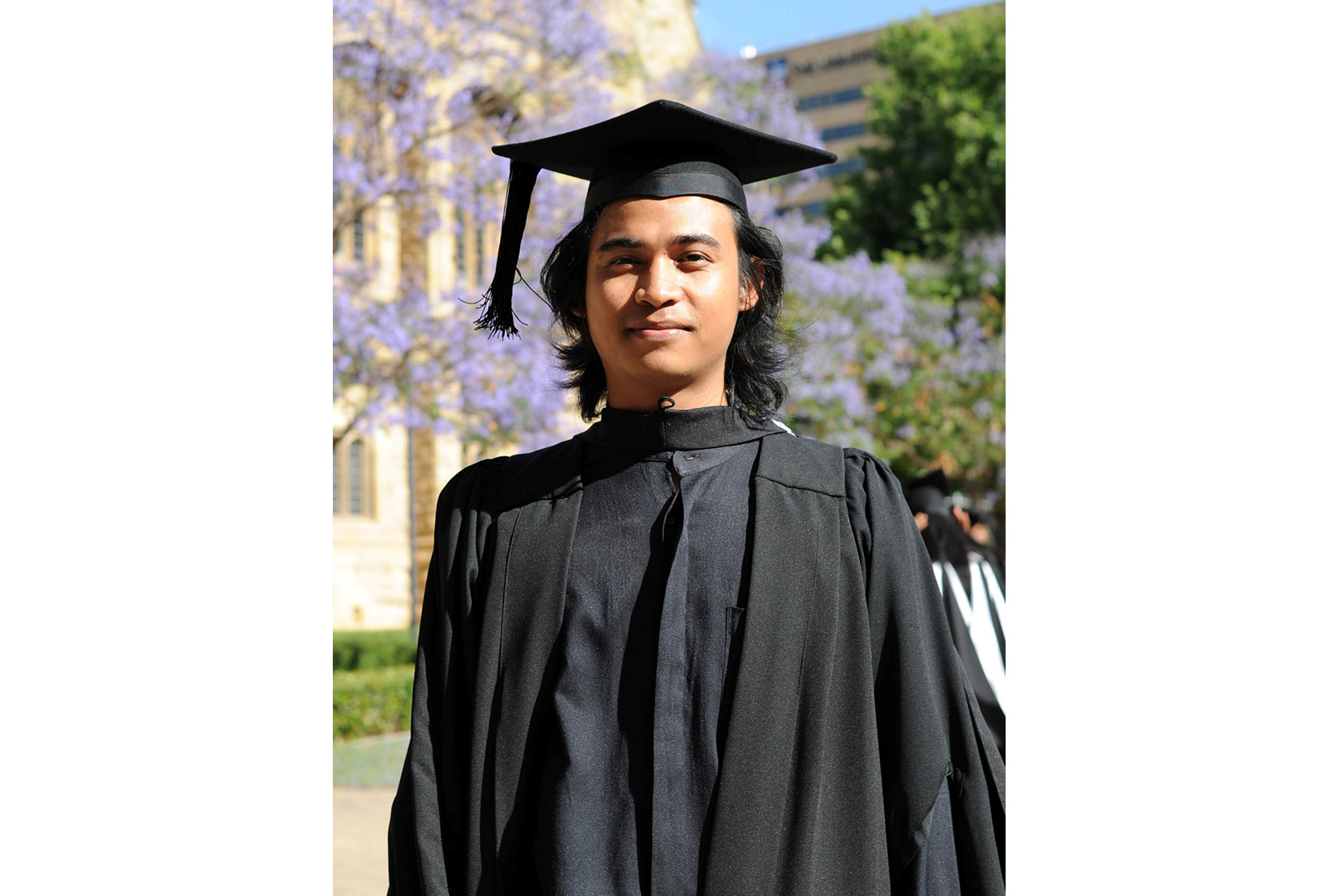 24 Jan 2023
English Teacher Ahmad Junaidi Inspires People to Do Volunteer Work and Dream Big
Ahmad Junaidi, who teaches English at the Faculty of Education and Teacher Training at Mataram University in Lombok, West Nusa Tenggara, felt the calling to be an educator when he was a senior in high school. English was the subject he was fond of, even though he had a rough start in learning it. He scored zero on his English test as he did not know any grammar, but Junaidi has worked hard to make up for it since.
"By my senior year, I joined the English debate team, and we won competitions in the province. I also mentored my friends and wrote in my yearbook that I wanted to be a teacher," said the recipient of double scholarships from Australia Awards for masters and doctorate degrees.
Junaidi was born and raised in Central Lombok to a tight-knit family of modest means. He had planned to join the workforce after high school graduation. However, he ranked fourth in the province's National Exam scores, earning him a partial university scholarship.
"I was offered a full scholarship from a private university. But my father, unable to read or write until now but is very street smart, asked me about the best university in Lombok. When I replied that it was Mataram University, he told me to enrol there instead even if we must pay with our own money," he said.
Junaidi had to depend on scholarships, but he obtained a bachelor's in education and graduated cum laude. The happy moment for the family was made even sweeter as his mother passed a basic literacy class at the same time.
Teaching disadvantaged children
Junaidi is also an education activist. After earning his masters in applied linguistics from the University of Adelaide, he co-founded and became the director of Jage Kastare Foundation in 2013. The community-based organisation supports and advances learning and social development in Ungga Village in Central Lombok and the surrounding areas through English classes for children in disadvantaged schools that do not receive government help. It teaches them the relevant skills for their future needs and develops their interests and talents in local wisdom, culture, and arts.
The foundation is powered through the efforts of its volunteers, which comprise Junaidi's students and friends from Indonesia and abroad.
"The kids here have a problem with basic literacy, and by the time they are in their mid-teens, they have huge problems with their text comprehension skills. This is very saddening. We are leaving these kids behind amid our discourse about 21st-century technologies," said Junaidi, who has just completed the PhD course at Monash University.
People questioned Junaidi and his team for teaching the children a foreign language that they will barely use and is no longer a compulsory subject in elementary schools after being removed by the government in 2013.
"This was also a response to that. We teach them symbols, letters, and literacy skills. We see progress in their confidence, build their mental readiness to learn a foreign language, and not to see English as something scary," he asserted.
The foundation has moved beyond education issues by addressing stunting problems by providing nutrition classes for women.
Inspiring others to dream big
As Junaidi's primary focus is his responsibilities to the university, he wanted to keep the foundation at a manageable size. Employing 10-15 volunteers, the foundation currently teaches around 150 children at three schools and pays for the tuition of four university students.
Ten years on, numerous student volunteers have received scholarships to pursue a masters degree and start learning centres in their own villages. Some children the foundation reached out to are now university students. One particular student was so inspired by the digital camera a volunteer had brought that he is currently studying photography in Yogyakarta.
Gamification is indeed a tool Junaidi uses in teaching children. He usually dedicates Friday afternoons to planning an activity to stimulate both Indonesian and English literacy skills. Volunteer teachers use flashcards; kids participate in games such as scavenger hunts and act in mini-plays.
"Every activity is a learning activity. If they like the learning experience, they will be more motivated. Meeting new people is also an exercise in inter-personal intelligence," he asserted.
When he took up the PhD program, Junaidi continued to assist the foundation remotely, maintaining daily contact with colleagues, students, and teachers.
"After the earthquake in Lombok, I was able to raise nearly Rp600 million in funds. We also organised a symposium for volunteers that 300 people attended," he said.
Junaidi is currently an educational consultant for a Green School in Lombok. His next endeavours are writing essays for a more general audience and initiating innovations for his classes at the university and the foundation.
Junaid is immensely proud to be part of the Australia Global Alumni family. For him, such development-based scholarship is crucial in helping those "who have the most potential to grow and become the changemakers in the regions but lack access to it. So many people would benefit and flourish by receiving these scholarships."
Share this article on:
Related Article

Back to Top