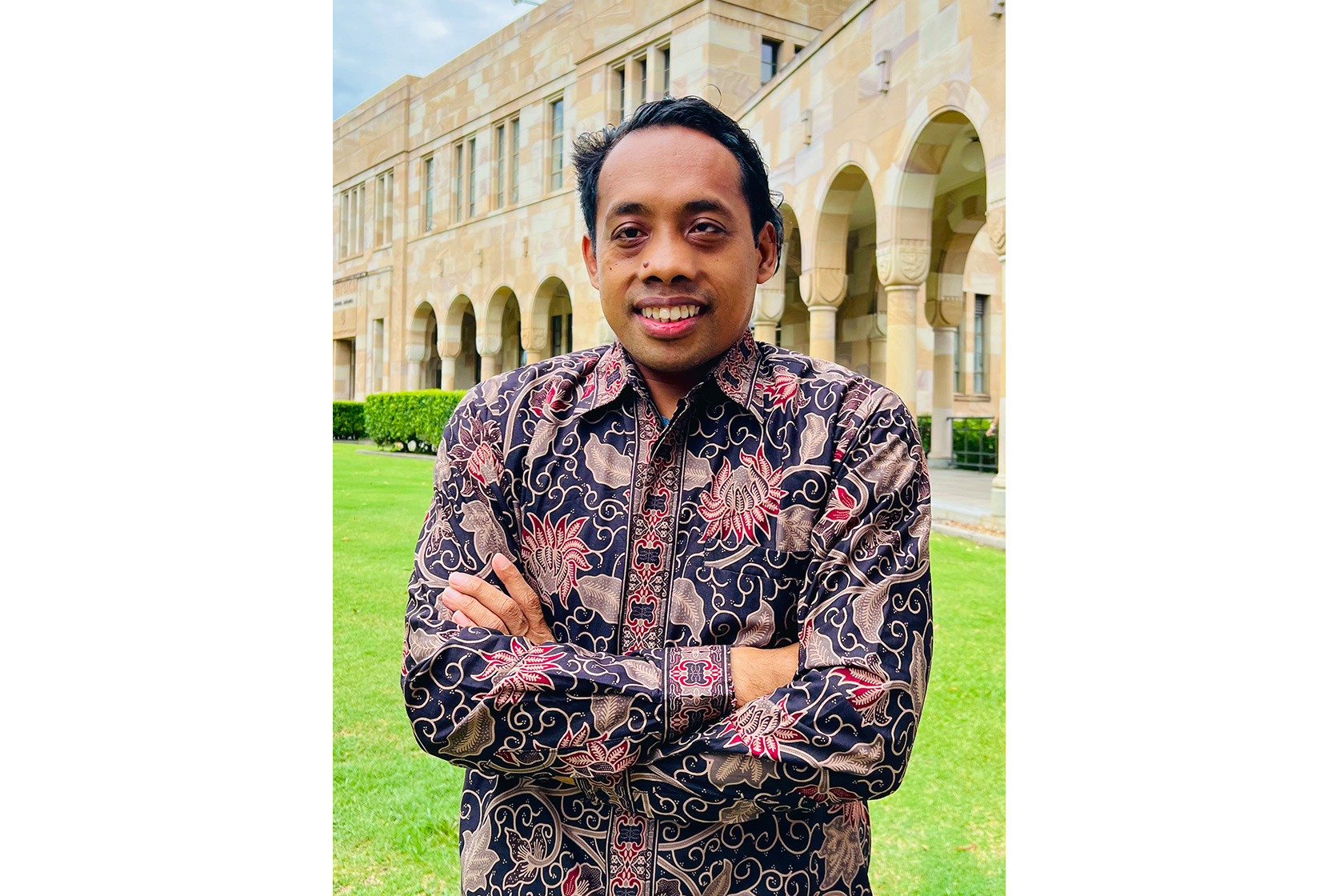 24 Feb 2023
Wellem Anselmus Teniwut and the Pursuit to Improve the Livelihood of Fisherfolks in Remote Island through Supply Chain Solutions
When Wellem Anselmus Teniwut received an Australia Awards Scholarship in 2021, he was determined to pursue doctoral research to help improve the livelihood of the fisherfolks in his hometown, Kei Islands, in the southeastern part of Maluku province.
Behind the postcard-perfect picture of pristine white beaches and vast stretches of the clear turquoise ocean is a population facing an endless cycle of poverty. Despite the islands' abundance of marine resources, fisherfolks live from hand to mouth.
The remote islands, which are closer to Australia's Darwin than Indonesia's capital of Jakarta, are not serviced by large container vessels. It is difficult and expensive for the fisherfolks to sell their marine catch to key markets, such as the cities of Ambon in Maluku and Surabaya in East Java, according to Wellem, or Willy, as he is affectionately called.
"The transportation problem is compounded by the absence of public cold storage on the islands to keep the marine goods fresh until the shipping time. They only make enough money to pay their debts and cover their living expenses because their sea catch fetches much lower prices," said Willy, who is currently pursuing his PhD at the University of Queensland, Brisbane.
Because of the mounting challenges, the number of fisherfolks is dwindling although 98 per cent of 189 villages in Kei are located in coastal areas. Many of the fisherfolks live below the poverty line. Data from the National Development Financial Controller (BPKP) in 2021 showed that about 23.26 per cent of the population in Tual, the biggest city in the islands, were classified as poor.
Another 2021 data from Statistics Indonesia revealed that 22.73 per cent of the 128,000 people in Southeast Maluku Regency, which includes Kei islands, lived in poverty. The figure is more than twice the national poverty rate.
"I want to develop supply chain policies that will help fishermen to ship their fish quickly, at a high quality and a reasonable price," said Willy, a researcher and a lecturer at Tual State Fisheries Polytechnic in Langgur, Kei Islands.
Overcoming Challenges in an Inclusive Environment
Willy is passionate about education, partly because of his physical condition. Blind in one eye and having a limb deformity, the 37-year-old man is comfortable with the fact that in education, intellectual ability is far superior to physical ability.
His late father, an educator on village agriculture and fishery, encouraged him to pursue higher education overseas.
"My father used to tell everyone he met that I would one-day study in the United States, Australia, Japan, or New Zealand. It gave me more conviction to pursue overseas education," said Willy.
Graduating from Bogor Agricultural Institute (IPB) and the Islamic University of Indonesia for his bachelor's degree in economics and a masters degree in management, respectively, Willy applied for the Australia Awards Scholarships during the early days of the COVID-19 pandemic in 2020. For him, the most difficult part of the long process of obtaining the scholarship was the English proficiency tests.
"Unlike other applicants from Java or other provinces, I had never taken up formal English proficiency lessons, such as TOEFL or IELTS, because there is no English course in Kei. But I managed to get a good score," said Willy, who became the first lecturer to work in Kei, who has studied abroad.
Living in a remote place did not deter him from being a prolific academician whose works have been published in 30 prominent scientific journals from 2015 to 2021. Between 2016 to 2021, he won 13 research grants, including a fellowship grant from the Conservation Strategy Fund (CSF). He has produced more than ten intellectual property rights.
He is one of the lecturers with the best performance in the past three years in eastern Indonesia based on the Ministry of Education and Culture's Science and Technology Index (SINTA).
Now that he lives in Brisbane, Willy feels at ease because of the city's welcoming and inclusive attitude toward people with disabilities.
"The people here are very friendly and don't think my physical disability is peculiar. Back home, people stared at me as I walked," he recalled, adding that public infrastructure in the Australian city is accessible to people with disabilities.
Building Agricultural Supply Chain Centre
Willy became interested in the issue of agriculture and fishery following the drop in seaweed production in Kei Islands after the boom from 2008 to 2013. Once the main seaweed-producing region in Indonesia, the Islands saw seaweed prices plummet due to oversupply and middlemen who disrupted the supply chain.
"When the seaweed boom faded, that was when we were aware of the importance of supply chain," he said.
Wily still has four years to complete his studies, but he has made plans for when he returns home to Kei. He plans to improve the smart government application called 'SIBANGUNGKAN' that he developed for five years before studying in Australia. The application guides the Maluku Tenggara Regency administration to develop the fishery sector.
"I have handed the web-based spatial application to the administration for free. I still want to improve the application, for example, to enable the mapping of seaweed farms in Kei," Willy explained.
But his ultimate dream is to set up a centre of excellence to increase research on supply and value chain in agriculture and marine commodities. He hopes the networking he builds from studying in Australia will help him realise his dream.
"From my experience, having such a centre will make applying for grants and collaboration easier. We can find more solutions by involving more people. I want my knowledge to impact the lives of the Kei people," he asserted.
Share this article on:
Related Article

Back to Top