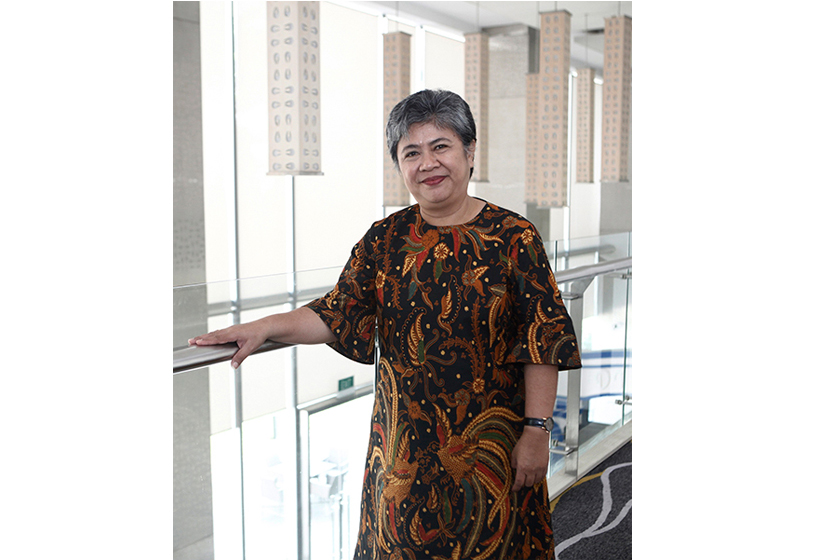 13 Mar 2019
Financial logbooks create a path to financial literacy for fishermen in Ambon
For the first time in their lives, small-scale fishermen in four villages across Ambon are realising the benefit of keeping a financial logbook for their livelihood through a program developed by Yolanda Apituley, a lecturer at the Faculty of Fisheries and Marine Science at Universitas Pattimura. Utilising funds from the Australian Government through the Alumni Grant Scheme and from the Marine and Fisheries Office of the Province of Maluku, Yolanda and three of her fellow lecturers mentored fishermen in the villages of Laha, Hatiwe Besar, Tial and Hutumuri on how to use a financial logbook, and in turn, opened the fishermen's minds to financial literacy.
Prior to this program, small-scale fishermen in these villages didn't record their daily business revenue and expenses, focusing more on cash profit. "They assume that if they earn cash from selling the fish they caught, their business is profitable," Yolanda, who earned her Master's in Agricultural and Rural Development from the University of Western Sydney under an Australia Awards Scholarship, said.
This assumption gives a false sense of security as it doesn't consider fuel or labour costs, including either that of the fishermen themselves or of their wives and daughters, who sell the catch. Fishing is also seasonal––there is no guarantee the fishermen will come home with a catch. When they do manage to catch some fish, if the fish don't sell well, the fishermen prefer to sell their catch below market price in order to avoid the cost of storing the remaining fish.
"The fishermen are also generally consumptive, spending money on things they don't really need when they have the cash," Yolanda added. As they don't set aside savings, most borrow money from loan sharks during famine, getting into debt. It is a vicious cycle that Yolanda and her team are attempting to break.
"Keeping financial records would enable a fisherman to see whether his or her business is viable and profitable, and how much net profit is made," Yolanda explained. "It is not only important from a business and decision-making standpoint, it is also important for their daily lives and commitments. Regularly recording their finances would enable them to develop good financial management habits, indirectly increasing the family's welfare and economy, and even that of the community," Yolanda elaborated.
Yolanda and her team sat down with the Marine and Fisheries Office of the Province of Maluku to determine which villages to include in the Training and Mentoring Small-scale Fishermen in Ambon Island in Using Financial Logbookprogram, and settled on Laha, Hatiwe Besar, Tial and Hutumuri, as these villages supply most of the fish markets in Ambon.
In October 2018, Yolanda and her team approached the village and religious leaders to socialise the program, realising that the fishermen and their families would be more receptive if the team approached the leaders first. "The three villages where the village leaders participated proactively by extending a formal invitation to the fishermen and giving a phone call reminder saw a great turnout," Yolanda enthused.
Ninety people—twenty per cent of them women—joined the first phase of the program: training on how to maintain a financial logbook. During the second phase of the program—mentoring—Yolanda and her team assisted the participants in calculating their income and correcting their logbooks.
"The fishermen and fishmongers came to realise that cash profit does not necessarily equal net profit. At the beginning, they often forgot to track their expenses and thought they had made a huge profit. After being reminded of the expenses, they see the profit dwindling," Yolanda said. "Having to jot down detailed expenses when catching and selling the fish, they were able to calculate the actual profit or loss," she added.
Participants in the mentoring phase fluctuated between 34 to 53 people each month, which Yolanda attributed to the participants preferring immediate results. Some of the fishermen and their families also have some trouble reading and writing which may affect continued participation.
Despite this, it is heartening to see that there are others who expressed interest in joining the program after hearing about it through word-of-mouth. "Even though they had not attended the earlier training phase, we still accepted them into the program, running partial training and mentoring concurrently," Yolanda explained.
Meanwhile, to combat the monotony, Yolanda engaged participants in discussions on challenges they face in fishing and marketing. This opportunity brought up discussions on fishing gear, marketing, and even gender issues. "If we know of a solution, we'd immediately offer it to them. If not, we would discuss it with experts first," Yolanda said.
"Aside from teaching them how to keep a financial logbook, we also suggested the fishermen and fishmongers to save at least 10% of their daily net profit," she said. Almost all of the participants followed the advice and are reaping the benefit—on days they aren't able to catch any fish, they are able to dig into their savings to buy rice and other daily staples.
In February 2019, the team invited a state-owned bank to present an information session on the terms and conditions and mechanisms in applying for a business loan. "While the bank doesn't request a financial logbook as requirement for a loan application, a logbook would help the bank in making a decision on whether to offer the loan and for how much," Yolanda said. Some female fishmongers have expressed interest in applying for a loan to expand their businesses.
It is Yolanda's hope that the program can be rolled out across other small businesses, as these businesses rarely record their revenue and expenditure. "Agriculture and fisheries are key aspects of this province. If we can roll this program out, more and more fishermen, farmers, and their families stand to reap benefit from it."
Share this article on:
Related Article

Back to Top