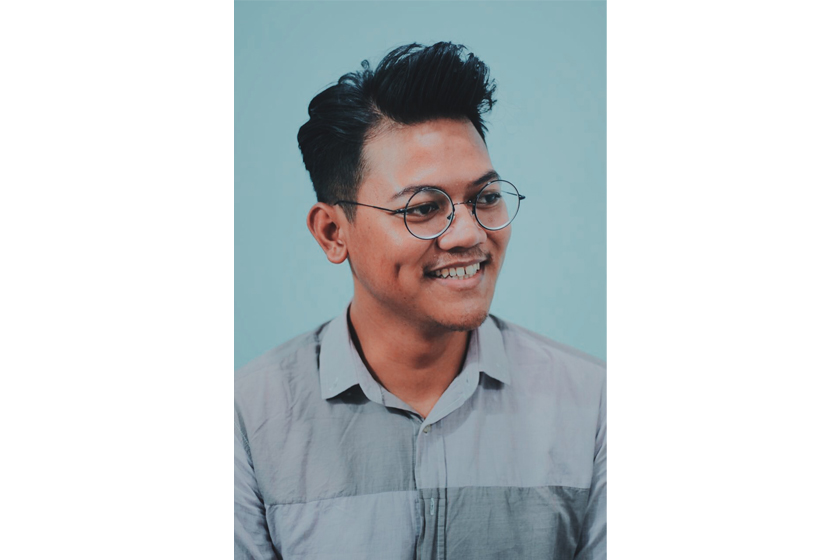 29 Jan 2022
Gema Gumelar Promotes Mental Health Recovery Through Community-Based Systems
When mental health activist Gema Gumelar spent a year in Adelaide participating in the Australia Awards Fellowship on Community Mental Health in 2018, he noticed that the city did not have any dedicated psychiatric hospitals.
Instead, people in South Australia's capital city can access mental health support from public and private hospitals, community-based health centres and support groups, which reduces the stigma of mental ill-health.
"This is to show that mental disorders are common diseases and mainstream. People with mental illness are not people outside the mainstream who have to be separated," said Gema, who is the Director of the West Java Branch of the Indonesia Community Care for Schizophrenia Foundation, known locally as KPSI, which promotes and educates the public about mental illness.
The mental health system in Adelaide was in contrast with Indonesia, where psychiatric hospitals and a medical approach are the centres of the country's mental health program. Some psychiatric hospitals are tucked away in remote areas, which alienates people with mental ill-health and amplifies stigma.
"Even when I was little, I often heard people say, 'if you are naughty, you will be taken to the psychiatric hospital.' So psychiatric hospitals are viewed as a 'punishment', and people who come out of there are seen as 'inmates,'" said Gema, who majored in psychology for his undergraduate degree at the General Achmad Yani University in Cimahi.
Fighting stigma
Fighting stigma is one of the biggest challenges in tackling mental health in Indonesia. Stigma compounded with poor access to mental health facilities causes mistreatment of people with mental illness. For example, the practice of shackling (known locally as 'pasung') or locking up people with mental illness in confined and inhumane conditions is still rampant among low-income families.
According to data from the Health Ministry, there were 450,000 people with severe mental illness in Indonesia in 2018 or 7 per 1,000 families. Of these, 70,000 were in West Java, according to the ministry's data. The data also suggested 14% of families who had a family member with a mental health condition shackled or locked them up for life.
Gema's fellowship at Flinders University, Adelaide titled "Supporting West Java's Non-Government Organisations to Address Mental Health Stigma and Pasung," was an opportunity to reflect on the condition of mental health care in Indonesia. Particularly, in his home base of West Java province.
With new knowledge and experience from the fellowship in Adelaide, Gema started a community-based mental health program. KERSAJIWA - an abbreviation of "Kelurahan Siaga Aktif Jiwa" or the sub-district community empowerment for mental health movement - promotes a community-based rehabilitation program. Working with primary health care centres or Puskesmas, KERSAJIWA trains community members, volunteers or cadres to be Ranger Keswa (Rangers of Mental Health), and local administrators in neighbourhood or community units and village officials to screen and assess people with mental illness.
"For example, when a person with a mental illness flies into a rage, they will not be immediately taken to a psychiatric hospital. Instead, community members who have received training can assess first whether the person needs medical assistance or not. So, we involve the community in the person's recovery process," said Gema, adding that the community-based approach is also in line with the World Health Organization (WHO) recommendation on mental health care.
KERSAJIWA is currently run in Kiaracondong and Buah Batu subdistricts in Bandung City. However, training and other activities, such as offline counselling for 1,020 people under KPSI's outreach program and caregivers, have been temporarily suspended during the coronavirus pandemic.
Role of NGOs
In the public sector, Gema has also been involved in drafting regional and national public policies on the mental health system, including the passing of West Java Provincial Bylaw No. 5/2018 on mental health care.
West Java became the first province to initiate a mental health care bylaw. The bylaw regulates the community's involvement in community-based promotion, prevention, treatment, and rehabilitation programs.
Gema's involvement in making bylaws on mental health triggered his interest in learning more about the role of non-government organisations in public policy reform. In 2020, he was selected to participate in Australia Awards Short Course on the Role of Disabled People's Organisations in the Implementation of Policy Reform at the University of Sydney.
During the short course, Gema learned how to draft policy at an organisational, regional, and national level.
"I learned to do research, assessment, pitching, approaching, doing advocacy on policy, and changing policy. It helps me when I approach key parties when doing advocacy or changing a policy," Gema said.
Returning from Sydney, Gema used lessons from the short course when he drafted Bandung Regent Bylaw No. 92/2020 on the Prevention of Mental Health Disorders. His organisation also partnered with organisations of people with disabilities that deal with non-mental health issues. He is involved in discussions on policies for people with disabilities, such as inclusivity in the workforce, and drafting a mayoral regulation on disability to follow up on the Bandung City Disability Regional Regulation (PERDA Kota Bandung No. 15 Tahun 2019 tentang Pelindungan dan Pemenuhan Hak Penyandang Disabilitas).
"I have recruited a person with physical disability that I knew from a fellow participant in the short course," he added.
Halfway house
When Gema was young, he often saw his mother, an elementary school teacher, helping people with mental ill-health in his neighbourhood.
"Whenever our neighbours met a person with a mental disorder, they would call my mother. She would bathe them, give them clean clothes and take the person to a psychiatric hospital or return the person to their family," Gema said.
This childhood experience contributed to shaping his mindset and work on the community's role in mental health care. For the mid-term and long-term, Gema and his organisation, KASIH RUMALA Group, which is a partnership of KPSI and RUMALA Foundation, plans to set up a halfway house and home-care services programme.
The concept is also taken from his experience of studying in Australia. The halfway house will be a temporary shelter for people who have just left psychiatric hospitals before they return to their families or their communities. In the halfway house, people will receive rehabilitation and training to adapt to life outside of the hospital.
"It is hoped that when the people return home, they are empowered and productive. We would also continue to accompany them. In addition, we connect people living with mental illness with their family and society," said Gema.
He hoped that community-based mental health care would continue to progress and become widespread in the future.
"If we grow a community-based system in mental health recovery, it will spark awareness among the society that people with mental illness can recover," said Gema. "That being a person with a mental illness is not the end of the world. They can still be involved in community activities."
Share this article on:
Related Article

Back to Top