05 Sep 2017
Wheelchair Backpackers Hit the Slopes at Thredbo
Not content to stay put in Adelaide during the 2017 mid-year break, Cucu Saidah and husband Faisal Rusdi got their wheelchairs into motion and headed out on a nine-day "backpacker" holiday with the clear goal of experiencing snow at Mount Thredbo in Australia's Snowy Mountains.
As an Australia Awards in Indonesia student at Flinders University, studying a Master of Public Administration, Cucu believes her role in Australia is to go beyond the academic environment, getting out in the community with husband Faisal, meeting people from all walks of life and talking to them about life as persons with a disability. Cucu and Faisal are both wheelchair users and get around Adelaide using mostly public transport.
They took use of public transport to the next level, however, when they put together a nine-day "backpacker" trip in July 2017, involving travel from Adelaide to Melbourne, then onto Sydney and Canberra with the final goal of the trip to experience snow at Mount Thredbo. The arrangements for the trip were challenging, with airlines either unable to take both wheelchairs or unable to manage the associated logistics of getting Cucu and Faisal on and off the aircraft. Travelling by train from Adelaide to Sydney was not an option either as the rail company could not accommodate the request for Cucu and Faisal to sit in their wheelchairs while on board the train. The last transport option was to travel by bus from Adelaide to Melbourne and by train from Melbourne to Sydney.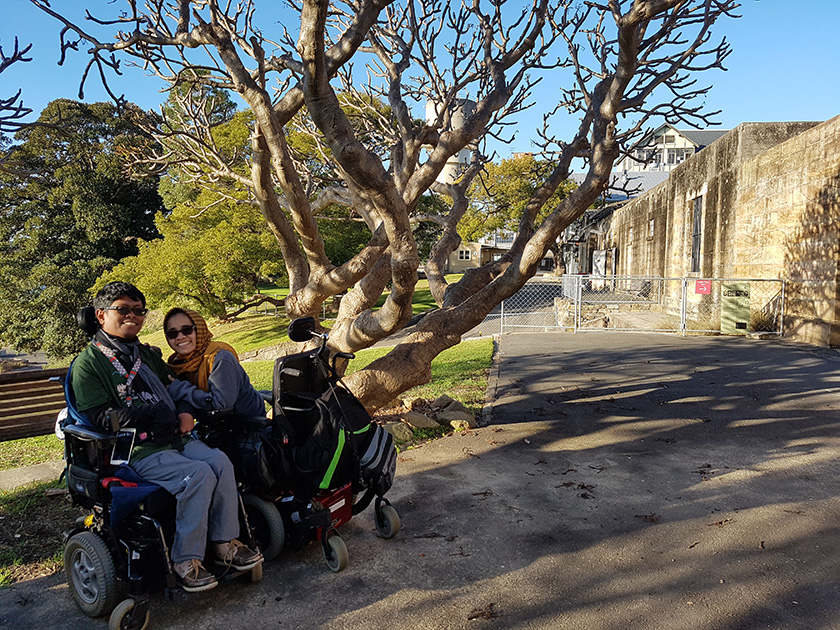 It was a long journey - 11 hours and 50 minutes from Adelaide to Melbourne by bus, then after an overnighter in Melbourne, 11 hours and 23 minutes from Melbourne to Sydney by train. Unlike the bus from Adelaide to Melbourne, the train from Melbourne to Sydney was excellent, with helpful staff and space for wheelchair passengers and with toilet wheelchair access. Finding affordable accommodation with wheelchair access was not easy either. Most affordable accommodation was backpacker style without wheelchair access, however eventually Cucu and Faisal found a budget hotel with wheelchair access, although it was more expensive than the backpacker option.
Travelling to Canberra provided an opportunity to explore the national capital before heading onto Thredbo where a day of fun on the slopes included "snow tubing" – exhausting activity but something that neither of them had done before and were unlikely to experience in Indonesia.
Cucu and Faisal look back on their journey as one that enriched their experience and knowledge of Australia. Spending so many hours on public transport meant lots of interaction with people from different cultures, and at each destination they met friends and renewed connections. Cucu also documented the different kinds of public transportation available in the cities, noting the best examples as a reference point for Indonesia. Cucu's overall impression after their experience is that disability advocacy is never ending. While public facilities for people with a disability in Australia are improving all the time, Cucu feels that changing the attitude of the general public has a way to go. Their travels highlighted quite a few barriers for them to overcome, however what they wanted to show fellow Australia Awards students and the community as a whole that there are opportunities to be explored and that no matter who you are, you can achieve your goal. Cucu concludes by saying, "of course, knowing your rights is the foundation to the fight against prejudice".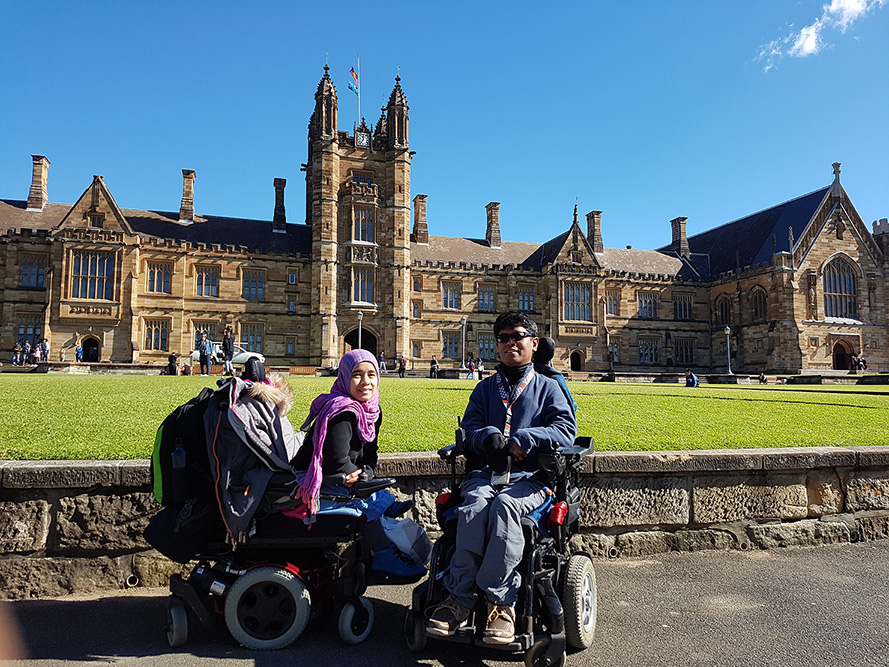 Share this article on:
Related Article

Back to Top