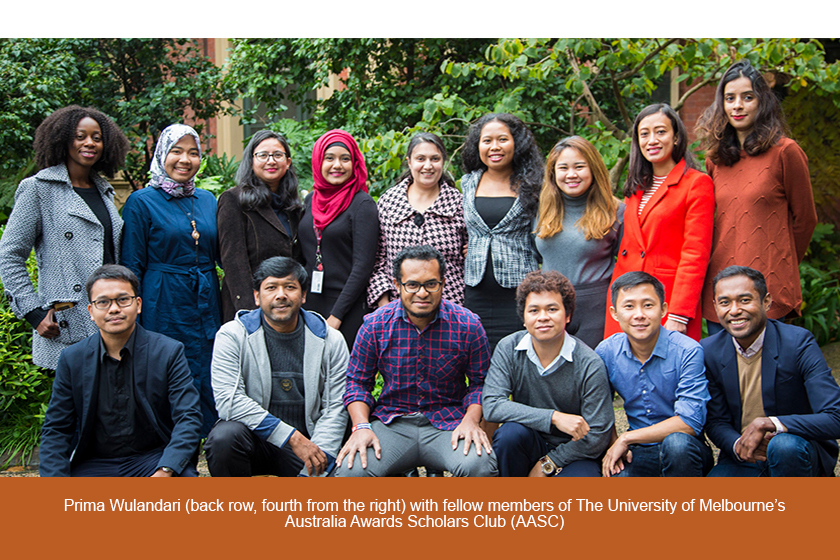 24 Aug 2018
Prima Wulandari: Extending her awards experience in Australia
By Prima Wulandari
I have been involved actively in the Australia Awards Scholars Club (AASC) during my PhD study at the University of Melbourne over the past two years. At this moment there are more than 300 Australia awardees from 29 different countries studying at the University of Melbourne.
As the President of AASC for two consecutive terms (2016-2017 and 2017-2018), I have helped to organise more than 60 activities ranging from social and cultural events, peer supports, trips to explore Victoria, semester bash, academic discussions, networking events and more. In the events, we have always promoted the core values of community, learning, diversity, and volunteerism. AASC provides opportunities to give back to the student community through fun events, giving its members networking opportunities and offering them a chance to have meaningful engagements with their peers from different countries.
Taking an active role as a President to represent Australia Awardees in Melbourne has allowed me to gain broader networking experience and make connections with Australians and people of different backgrounds. As such, I have been invited to attend the International Women's Day breakfast, Meet Australia's Ambassador event, DFAT's Foreign Policy White Paper launch, and several networking events with the City of Melbourne, DFAT Victoria and The University of Melbourne.
I've learnt several lessons based on my experience with AASC too:
1. Build positive engagement
In order to grow strong engagements in the club, we need to build a friendly and helpful space first. The willingness to listen and understand the problems faced by International students with diverse backgrounds has been effective approach to develop high level engagements in many of our events. As many of our events are organised on a voluntary basis, it is my role to keep spirits up, and that begins with an appreciation for the hard work from our committee.
2. Develop healthy lines of communication
As a leader, I realise the responsibility to having to lead by example such as punctuality, commitment and honesty as a key value. By emphasising these standards, and displaying them myself, often times I found that my team will follow suit. I have also learned that being honest about our mistakes and emphasise on the learning aspect of it, but still try to instil a positive energy by making it a point to crack jokes, have also contributed to create a happy and healthy space where everyone in the team look forward to working in, rather than dreading it.
3. Delegating with trust
Being the leader of the club, I learn to delegate tasks by identifying what each team member enjoys doing most. I found that the more I show trust, the more thought and effort is put into it. On the other hand, it also free up your time to focus on the higher level tasks, that could not be delegated, such as looking for funding for our organisation while making connections.
To share the knowledge and experiences with others, to be actively involved in community activities, and developing models to support my community are an important part of who I am. This kind of engagement has given me the opportunity to enhance my interpersonal skills and to bring a more dynamic perspective of people unlike myself into any academic, social or professional situation which allow me to learn a lot from it.
The story is originally published on Australia Global Alumni website: https://globalalumni.gov.au/AustraliaAwards/News/Details?ArticleId=2896
Share this article on:
Related Article

Back to Top