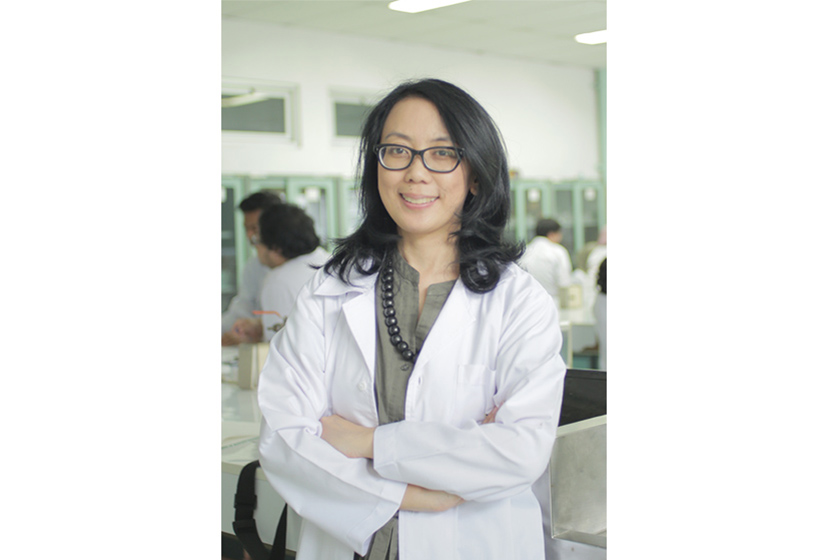 16 Oct 2018
'The Banana Lady' encouraging a new generation of women in STEM
For Dr Fenny M. Dwivany, speaking to a group of elementary school children about her work as a scientist is just as important as a keynote speech to an international scientific conference.
Affectionately called "The Banana Lady" for her research interest in bananas, Fenny believes that encouraging future generations to work in Science, Technology, Engineering and Mathematics (STEM) should start from a tender age.
Fenny highlighted the issue of how women scientists can serve as role models for the younger generations and increase the number of women in STEM, at the TED-Inspired presentation: "Cracking the Code of Women in STEM: Where are tomorrow's women leaders in science," at the Australian Embassy in Jakarta on 18 October 2018.
"The young generation needs a role model to look up and to inspire them. To show that women who work in STEM can be equal with men at work and in other aspects," said Fenny, who won the International L'Oreal-UNESCO for Women in Science Fellowship in 2007 for her groundbreaking research on the technology to slow down the process of ripening in bananas.
STEM remains a male-dominated area. Even more than a century after Marie Curie won the Nobel Prize in 1903 and 1911, the number of women working as researchers hasn't climbed to equal the number of male scientists. So far only 51 women have been awarded by the Nobel Prize between 1901 and 2018, according to the Nobel Prize website.
According to the World Economic Forum's Global Gender Gap Report 2017, women tend to be underrepresented in the fields of engineering, manufacturing, and construction as well as the information, communication, and technology fields. Women only make up 25% and 27% respectively in the energy and mining industry and the software and IT industry, the report shows.
At the Bandung Institute of Technology (ITB) in West Java, where Fenny works as an associate professor at the School for Life Science and Technology, the conditions are no different. Female lecturers and researchers only make up 28% of total lecturers working at the prestigious institute, according to Fenny.
Fenny attributes the poor representation of women in STEM to the fact that in many countries, including in Indonesia, women are traditionally expected to juggle their career with domestic work. This reduces the number of working women, including in STEM.
Secondly, when choosing fields of study, more men pursue studies in STEM than women, Fenny said. This is reflected in the population of students at ITB. Female students account for 40% of total students at ITB, while male students take up the remaining 60%.
The limited number of women working in the STEM industries also means there are few female role models for young women to draw inspiration.
Fenny's father and aunties who work as scientists were the role models who shaped her choice to become a scientist. Fenny hopes her activities with young students can inspire more girls to choose careers as researchers, narrowing the gender gap in STEM.
With her colleagues from Forum Peneliti Muda (ForMIND), a group of young Indonesian scientists that she co-founded in 2013, Fenny visits elementary schools to introduce their work in science. She's always excited when the children say they want to become scientists at the end of her visit.
"We're often invited to elementary schools for career day programs, which introduce various professions to children," said Fenny. "It is cute because after the event, students who previously wanted to become doctors or other professions, switch to becoming researchers."
Fenny, who earned her PhD from the University of Melbourne under Australia Awards Scholarships, believes that women have what it takes to become leaders in STEM. And her accolades back this up. Three years after winning the L'Oreal-UNESCO award, Fenny won the Australian Endeavour Award in 2010 and the Schlumberger Foundation Faculty of the Future in 2011. With both awards, she was able to pursue her post-doctoral studies in Australia with her main research interest in post-harvest technology for bananas.
With her unusual research interest in bananas, her family's favourite fruit, Fenny has broken barriers in STEM. She was drawn to research post-harvest technology after noticing the quality of bananas sold by street vendors was not as good as those in supermarkets.
Her team, the Banana Group, focuses on genetic diversity, diseases, and fruit ripening. The group has been working with Indonesian National Institute of Aeronautics and Space (LAPAN) and the Japan Aerospace Exploration Agency (JAXA) since 2007. In 2011, the collaboration successfully sent Indonesian tomato seeds to International Space Station as part of Space Seeds for Asian Future program. The Space Biology Mission was Indonesia's first space biology experiment.
Speaking from her experience, Fenny suggests women researchers focus on uncommon topics in order to expand their careers. "Women in Indonesia and in the world have the ability and the opportunity to become leaders in STEM as long as they focus on their fields," Fenny said.
Share this article on:
Related Article

Back to Top