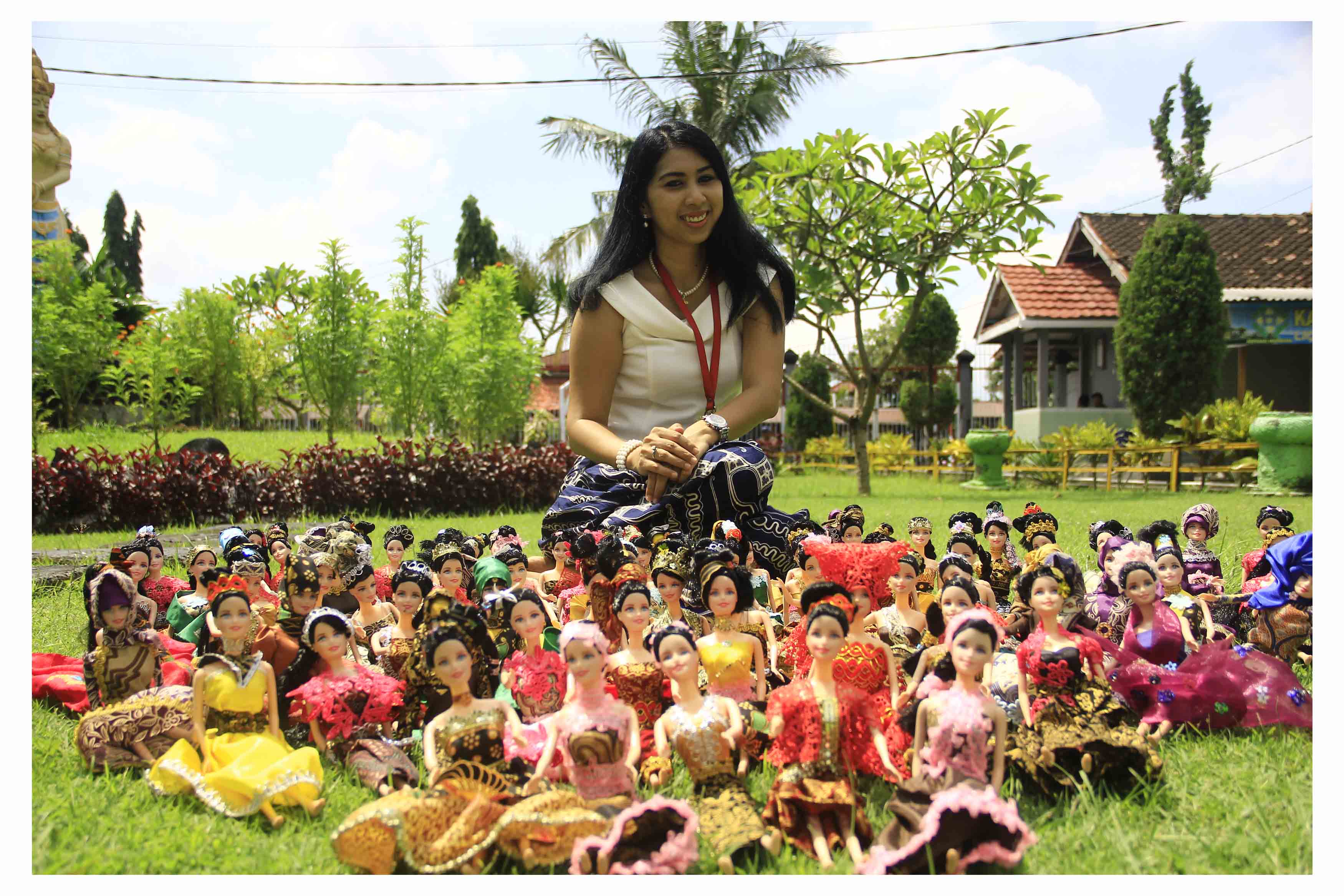 18 Feb 2020
Batik wearing dolls: a symbol of hope for female inmates
For women incarcerated in Jakarta, Batam and Bali, a dollmaking project has provided tools to deal with stress and trauma, and boosted their confidence and self-esteem. Batik Girl is a program that teaches female inmates to sew batik doll dresses, and gives them a way to earn income while serving their sentences.
Batik Girl is one of many initiatives run by the Cinderella Indonesia Foundation (www.cinderellaindonesia.com), an organisation that aims to empower women and children of lower socio-economic background in a safe and encouraging environment. Batik Girl is funded through grants such as the Australian Government's Alumni Grant Scheme, and its One Friend, One Doll donation campaign, where buyers purchase a doll that is donated to a child in need.
Lusia Efriani Kiroyan, or Lusi for short, who founded the Cinderella Indonesia Foundation in 2012 and participated in the Australia Indonesia Muslim Exchange Program the same year, was concerned about the future of these inmates.
"Around 80% of these women are in prison because of drug use and drug dealing. About 60% of these are single moms. Without proper rehabilitation programs, they would have a hard time adjusting when they are released from prison. I want to provide them with the skills and confidence they need when they re-join their family and community," said Lusi, who was awarded the International Alliance for Women's World of Difference 100 Award in 2012.
Remarkably, no two dolls are the same.
"We specifically ask the inmates to create one-of-a-kind dolls. This encourages them to be creative instead of creating the dolls like an assembly line. It is a form of art therapy," explained Lusi. "What's more, this encourages communication amongst the inmates as they need to find out what others are working on to avoid producing the same dolls."
In late 2017 – early 2018, the Alumni Grant Scheme funded a three-day workshop for 40 women inmates in Bali and the production of 500 dolls. The workshop included sessions on entrepreneurship, positive mindset, inner peace, motivation, financial education, and sewing. The Scheme also funded a Batik Girl Roadshow to show the dolls from the workshop to an audience of 100 community members in Melbourne and Darwin.
However, with support from third parties such as Bank Mandiri and friends in Australia during the roadshow, the program soon expanded.
The number of inmates participating in the workshop in Bali increased from 40 to 50. The workshop was also extended to a further 50 women inmates in Batam. The additional support and donations also enabled Batik Girl to double its production to 1,000 dolls and showcase the dolls in Sydney. The roadshow reached 200 people and was covered by media including the Australian Broadcasting Corporation (ABC), the Special Broadcasting Service (SBS), and Radio Kita.
The workshop in Bali was made possible by a connection with Pastor Christie Buckingham of the Bayside Church in Melbourne. It wasn't the first time Lusi had reached out to the network she had built in previous programs. Her mentor at the Conference of Australian and Indonesian Youth (CAUSINDY), was Andre Omer Siregar, then Indonesian Consul to Darwin. The link paved way for the Indonesian Consulate's support during the 2018 Roadshow.
Other supporters included Google Asia Pacific, the Women's Federation for World Peace Australia's New South Wales Chapter, the Islamic Museum of Australia, the Indonesia Australia Community Darwin, and the Bendigo Australia Indonesia Klub (BAIK).
The roadshow also enabled Lusi to reach out new networking opportunities in Australia, including the Mayor of Bendigo and the local government in Ballarat. Lusi also made contact with Charles Darwin University and Monash University.
The Cinderella Indonesia Foundation, together with La Trobe University and the Indonesian Diaspora Network in Melbourne, also developed a volunteering holiday initiative. Six students from La Trobe University visited Batam, assisting with the Batik Girl program and staying with a Muslim host family for seven days. The program was funded by the Cinderella Indonesia Foundation, the Indonesian Diaspora Network, and Universitas Riau Kepulauan (UNRIKA).
The program left a big impression on the students.
As one La Trobe University volunteer said, "I think that Cinderella Indonesia and the Batik Girl program are important to sustain because a majority of women in prisons are there for drug related charges and the Batik Girl program provides them with jobs and skills that they would not be able to get otherwise."
The self-funded first Batik Girl workshop in 2013 saw 20 inmates produce 300 dolls. The fabric came from donated dresses, and friends delivered the dolls when travelling to other cities. Now, the program produces up to 2,000 batik dresses for dolls annually.
In 2016, the Cinderella Indonesia Foundation launched the Batik Girl for Indonesia campaign, donating 1,000 dolls to hospitals and orphanages in 10 provinces, including Papua. In 2017, it launched the Batik Girl for ASEAN long-term campaign, aiming to donate 10,000 batik-wearing dolls to children with cancer and disabilities across Southeast Asia. So far, the dolls have been donated to hospitals and organisations in Singapore, Malaysia, Brunei and Myanmar, personally delivered by Lusi and her friends.
To date, the Cinderella Indonesia Foundation has given assistance to 1,030 female inmates, 1,000 children with cancer, and hundreds of refugee children and children living in the streets.
Photos courtesy of the Cinderella Indonesia Foundation.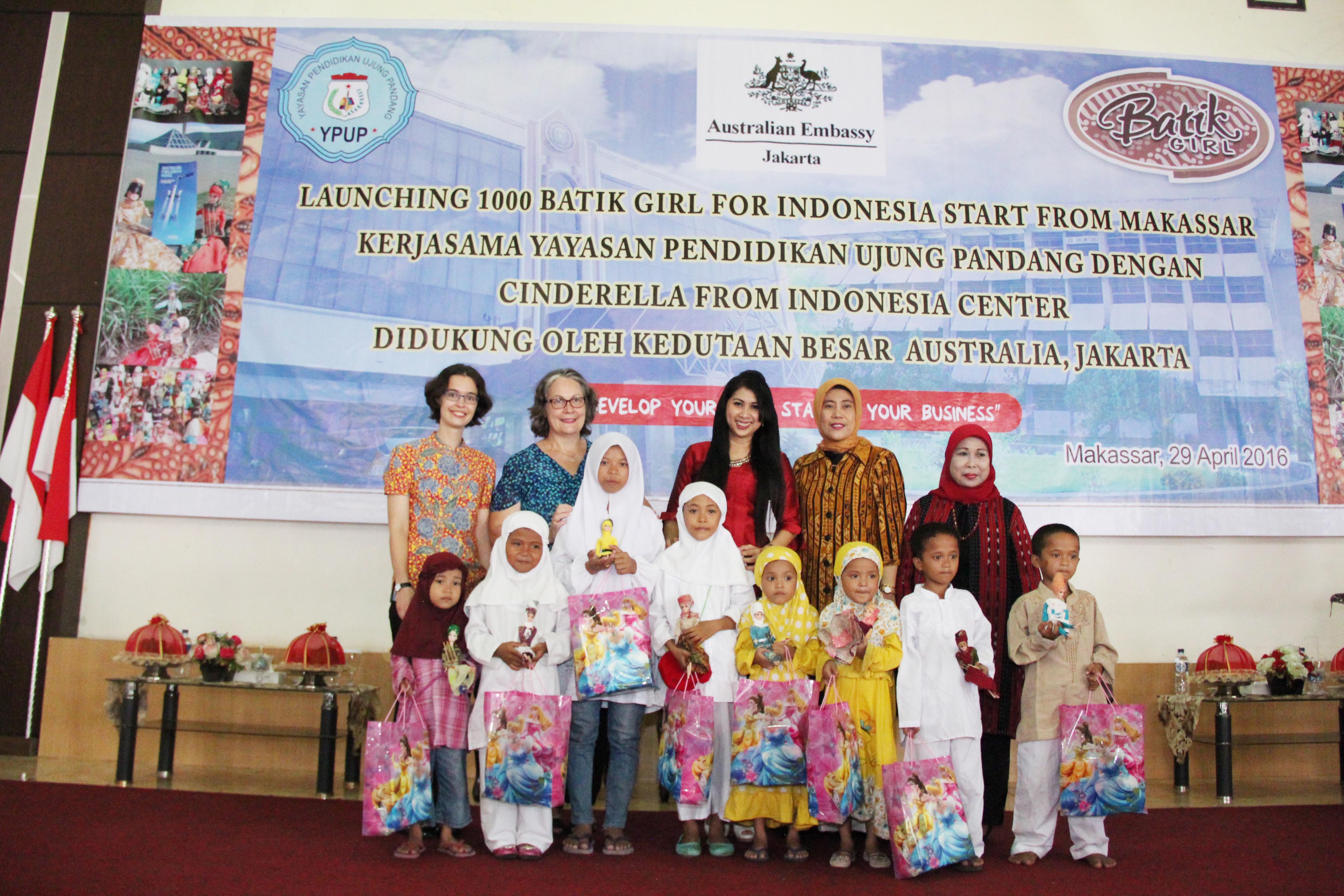 Share this article on:
Related Article

Back to Top