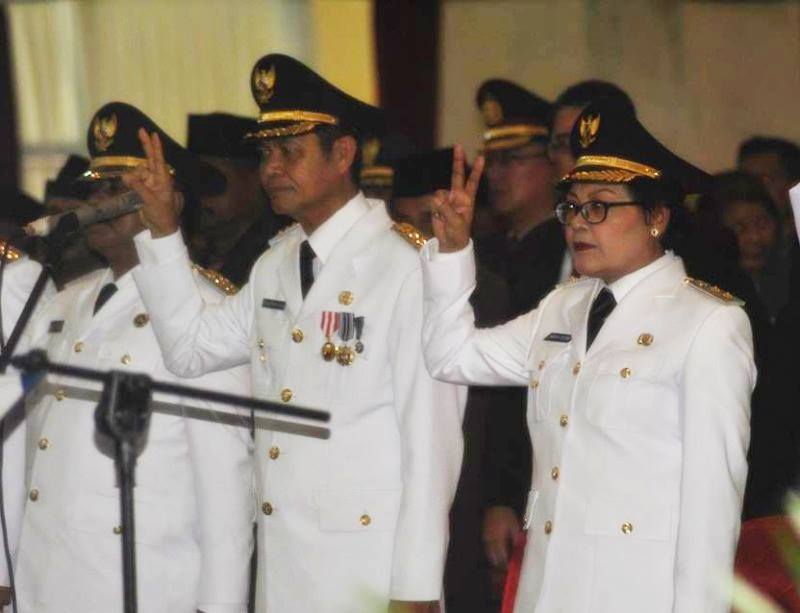 21 Apr 2016
Contributing the Extra Mile for the People of West-Manggarai
When Dr Maria Geong was sworn in as Vice Regent of West Manggarai in early 2016, she broke gender barriers as the first female to hold such position in the East Nusa Tenggara province.
This would not be the first time Dr Maria Geong has trail-blazed the way for women's empowerment in eastern Indonesia. Prior to the start of her political career, Dr Maria Geong served as Head of the Animal Health and Veterinary Public Health Division of the East Nusa Tenggara Animal Husbandry Service, in a region where most of the women work as farmers.
Dr Maria Geong's determination to improve the lives of women in East Nusa Tenggara and her love for her region are what drove her. When she returned to Indonesia after obtaining her PhD in Veterinary Biomedical Science from Murdoch University under an Australia Awards Scholarships, she was advised to relocate to major cities where prospects are brighter for people with her qualifications. She even received numerous job offers. Yet, she refused.
East Nusa Tenggara, famous for its enchanting beaches and diverse culture, also ranks third in deep-rooted poverty amongst provinces in Indonesia. "I wanted to return and serve the community of East Nusa Tenggara. There were still so many things I could do for the East Nusa Tenggara Animal Husbandry Service," Dr Maria said.
The love Dr Maria Geong has for the region is also the reason she made the switch into politics. In her previous position, she was able to give input to policy makers—in one instance resulting in the decline of rabies cases in the region—but she wanted to make a bigger impact as the one making those policies. "One has to contribute the extra mile for the good of the people," she said.
One of her biggest dreams for the Regency is to establish an international research centre for the Komodo dragon, which inhabits an island in West Manggarai and is one of the new seven wonders of nature announced in 2011. "I realise that such an endeavour would flourish if we establish research collaborations with neighbouring countries such as Australia," she said.
When asked whether the veterinary to political fields is too much of a jump, she was quick to reply, "On the contrary. Being Vice Regent does not diminish my role as an animal health expert. I see both roles as complementary."
She further explained that most of West Manggarai revolves around agriculture and animal husbandry. The knowledge she gained during her studies are very relevant to her current position, helping her make informed decisions for West Manggarai—not only in relation to animal health, but even more so, in relation to the larger issue of ecohealth.
"The knowledge and skills I have as an animal health expert will never disappear. It is a part of me," she said. And so is her love for West Manggarai.
Share this article on:
Related Article

Back to Top