Reach for the Stars: A Nobel Laureate Talks on the Importance of Science in COVID-19
Reach for the Stars: A Nobel Laureate Talks on the Importance of Science in COVID-19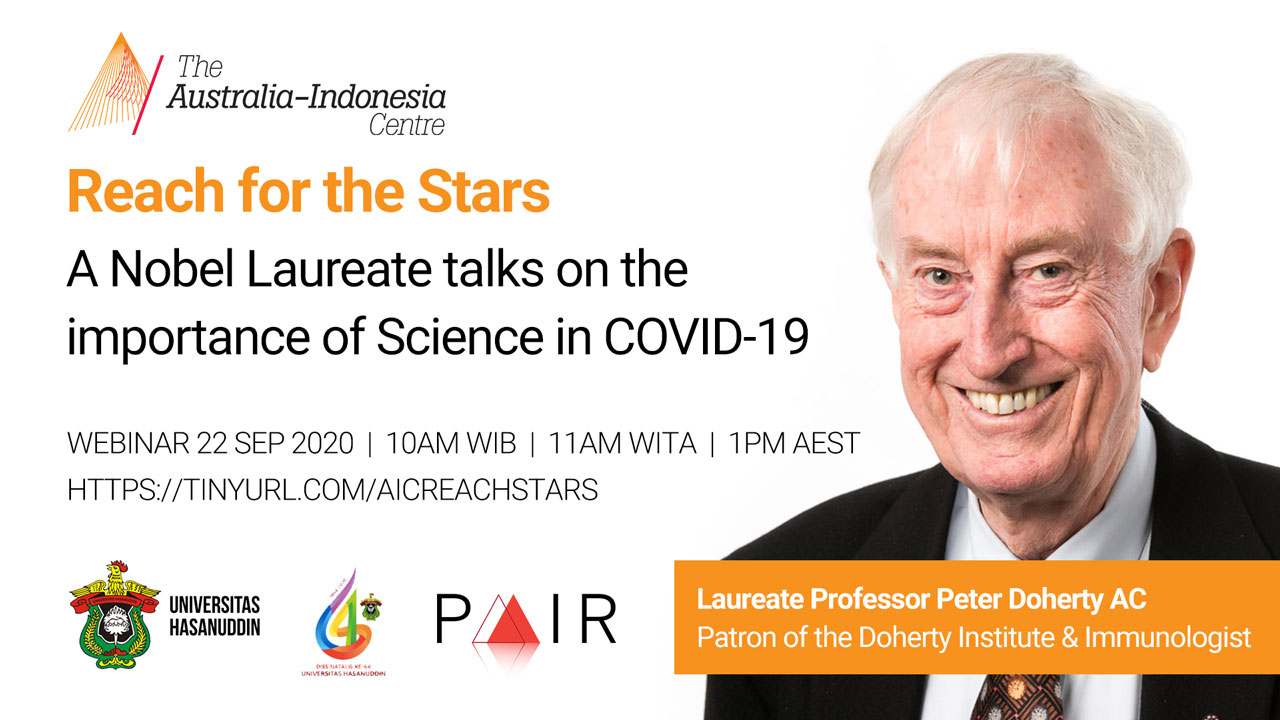 AIC's Partnership for Australia-Indonesia Research (PAIR), in collaboration with AIC partner Universitas Hasanuddin (UNHAS) School of Graduate Studies, are proud to present an inspirational dialogue on the vital role of science in tackling COVID-19, as part of the 64th UNHAS Dies Natalis (anniversary celebration) – on Wednesday, 22 September 2020 at 10.00 AM WIB / 01.00 PM AEST.
In the first hour, Nobel Laureate Professor Peter Doherty will discuss the interdisciplinary impact of the coronavirus across immunology, sociology and ecology with two eminent scientists from Universitas Hasanuddin - Professor Dwia Aries Tina Pulubuhu (Rector and sociologist), and Professor Jamaluddin Jompa (Professor in Marine Ecology & Management and Dean of the Graduate School).
In the second hour, renowned biologist and geneticist Professor Sangkot Marzuki AM (former President of the Indonesian Academy of Sciences and Eijkman Institute for Molecular Biology) and Professor Dr Irawan Yusuf (former Dean of the Faculty of Medicine of Universitas Hasanuddin) will continue the conversation in Indonesian.
Register here to join the webinar.