ATN 5th Annual - Inspiring International Research Excellence Symposium
ATN 5th Annual - Inspiring International Research Excellence Symposium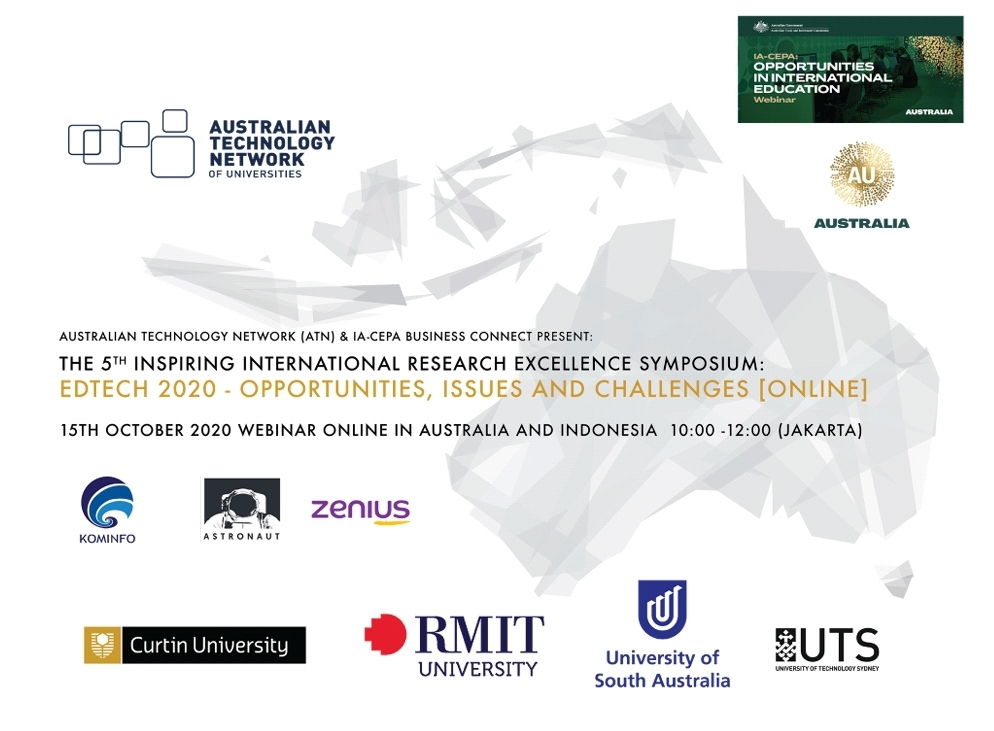 Australian Technology Network (ATN) Indonesia and IA-CEPA Business Connect presents the 5th Annual Inspiring International Research Excellence Symposium: EdTech 2020 – Opportunities, Issues and Challenges for the New Normal on Thursday, 15 October 2020 at 10:00 – 12.00 WIB.
The goal of this symposium is to gather a community of academics, technologists, education administrators, and researchers to discuss and learn about the issues and challenges that have confronted Australia and Indonesia, as we all responded to the global pandemic with educational technology solutions. This event will also explore opportunities to collaborate to ensure meeting the challenges and future of teaching and learning in a world that has changed.
Technology industry, graduate research candidates, vocational education and training (VET) sector, teaching and learning leaders, university technology leaders, and K-12 educators are encouraged to participate in this important and timely discussion.
Below are the keynote presenters:
Brad Birt: Director, Learning Partnerships in the Office of the DVC Academic - Curtin University, Perth
Professor Shane Dawson: Executive Dean, UniSA Education Futures - University of South Australia (UniSA), Adelaide
Professor Shona Leitch: ADVC, Quality and Enhancement - Royal Melbourne Institute of Technology (RMIT), Melbourne
Professor Lori Lockyer: Dean, Graduate Research School & Core Member, STEM Education Futures - University Technology Sydney (UTS)
Dr Dedy Permadi: Expert Staff Member on Digital and Human Resource - Ministry of Communication and Information Technology Indonesia
Tantia Dian Permata Indah: Chief Operating Officer (COO) - Zenius
Nigel Hembrow: Chief Executive Officer & Co-Founder - Astronaut
For more information and to register, please visit this link.