Recorded Webinar: Road to IDF 2021 – Prospects for Economic Recovery in the National Automotive Industry Sector
Recorded Webinar: Road to IDF 2021 – Prospects for Economic Recovery in the National Automotive Industry Sector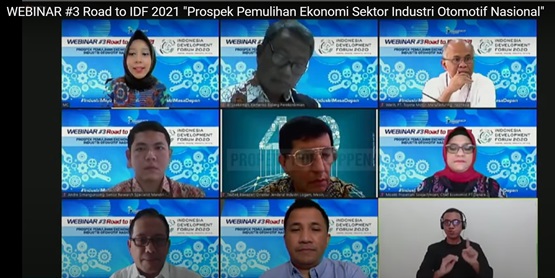 Watch this recorded webinar by the Ministry of National Development Planning/Bappenas – aiming to map the impact of the COVID-19 pandemic in the national automotive industry sector and the recovery efforts in the sector.
The COVID-19 pandemic has caused an economic slowdown in various aspects including the national automotive industry sector. Public consumption, which has fallen by more than 5%, has contributed to decreased car sales, which have reached their lowest value in recent years.
The government has made efforts to deal with the impact of the pandemic in the national manufacturing sector, which includes the national automotive industry sector. However, these various stimulus schemes need to be evaluated, especially in terms of the intervention coverage, policy design, and implementation plans to ensure the stimulus plan is right on target.
To discuss the above issues, the Bappenas presented the third Road to Indonesia Development Forum (IDF) Webinar with the topic "Prospects for Economic Recovery in the National Automotive Industry Sector", featuring experts such as:
Taufiek Bawazier ,(Ministry of Industry)
Susiwijono Moegiarso (Coordinating Ministry for Economic Affairs)
Warih Andang Tjahjono (PT Toyota Motor Manufacturing Indonesia)
Andre Simangunsong (Senior Research Specialist, Mandiri Institute)
Watch here.