National Webinar to Commemorate the Youth Pledge Day: Seize Opportunities, Dare to Take Risks, and Care (of Your Surroundings)
National Webinar to Commemorate the Youth Pledge Day: Seize Opportunities, Dare to Take Risks, and Care (of Your Surroundings)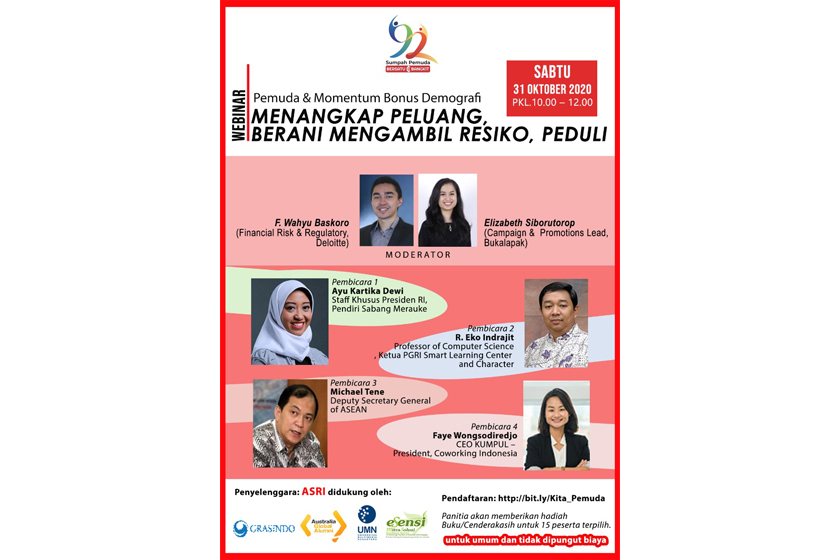 Join this live webinar – organised by ASRI, and supported by Grasindo, Australia Global Alumni, Multimedia Nusantara University, and Essence Mitra Solusi on Saturday, 31 October 2020 at 10.00 AM – 12.00 PM WIB, to commemorate the Youth Pledge Day (Hari Sumpah Pemuda).
In 2030-2040 Indonesia will enter the productive age economic growth phase, namely the Demographic Bonus. This momentum is very important and becomes a serious challenge for the Indonesian nation.
The speakers in this webinar – listed below, will share real tips and practices to seize opportunities and win the global competition:
Ayu Kartika Dewi (Special Staff to the President of the Republic of Indonesia), will talk about "Becoming a Hero for Yourself"
R Eko Indrajit (Professor of Computer Science), will talk about "Youth Representation of the New Face of Indonesia"
Michael Tene (Deputy Secretary-General of ASEAN), will talk about "Youth as Indonesian Peace Ambassador"
Faye Wongsodiredjo (CEO KUMPUL & President of Coworking Indonesia), will talk about "Strategies to Welcome Opportunities, Be Competitive and Make Connections"
This webinar will be moderated by F Wahyu Baskoro (Financial Risk & Regulatory, Deloitte) and Elizabeth Siborutorop (Campaign & Promotions Lead, Bukalapak) – and there will be books and souvenirs for the best participants.
Register here.