Indonesia Graduate Lecture Series by the University of Melbourne
Indonesia Graduate Lecture Series by the University of Melbourne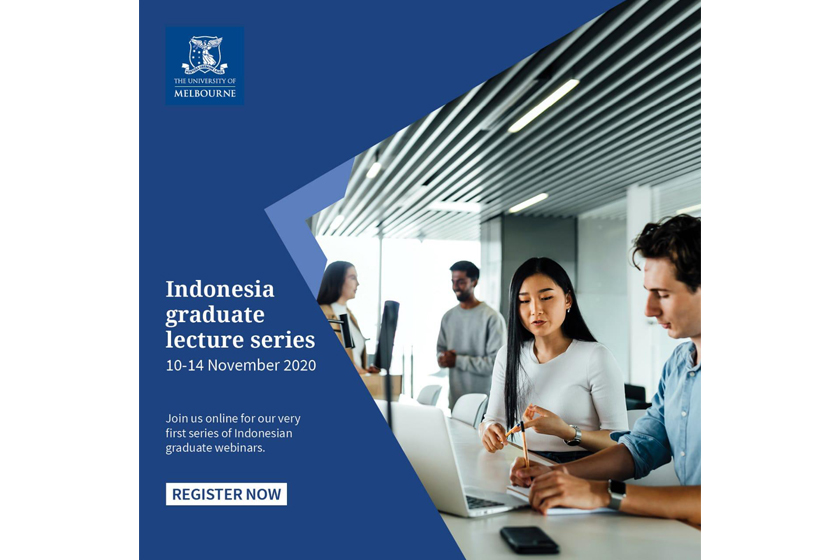 Join the very first Indonesia graduate lecture series held by the University of Melbourne, from 10 – 14 November 2020.
Thought leaders from the Melbourne Business School; Melbourne School of Engineering; Faculty of Medicine, Dentistry and Health Sciences; and the Faculty of Science will discuss a range of topics from digital innovations and organisations, through to the other 21st century pandemics.
This is a graduate event series that specifically designed for Indonesian public audiences. The series consists of lectures by The University of Melbourne lecturers. There will be several notable alumni or current students from Indonesia who will be sharing their experiences as well, including:
Willix Halim, Chief Operating Officer at Indonesia's largest e-commerce marketplace Bukalapak. Graduated from the University of Melbourne with a Bachelor of Engineering (Hons) (Mechatronics) and a Bachelor of Computer Science (2009).
Lasti Hardiani, Senior Manager, Driver Operations at GOJEK. Graduated from the University of Melbourne with a Master of Information Systems (2010).
Dr. Fenny Martha Dwivany, Institut Teknologi Bandung
Kusuma Aji Nugraha, Badan Pendidikan dan Pelatihan Keuangan, Kementerian Keuangan, alumni Master of Management (2020), FETA - Ministry of Finance scholarship recipient.
Rocky Reinaldo, current student Master of International Business and Australia Awards Scholarship recipient.
Andrey Orlando Asian Gultom, current student Master of Management (Accounting & Finance) and LPDP scholarship recipient.
Liza Pratiwi, MD, MPH alumni, Lead Strategist for Indonesian Adolescent Health Association; National Commission for Tobacco Control; Consultant for The Bureau of International Cooperation of the Ministry of Health of the Republic of Indonesia
Zulfikar Ihyauddin, MD Master of Public Health student at The University of Melbourne Liaison Officer and Human Resources Director of Yayasan Capella Project Indonesia
Click here to see details of each lecture and to register – and feel free to forward this invitation to your contacts if they are interested to join the session.