CUACI & QUIC Learning Session – Sustainable Energy for All: The Indonesia Renewables Outlook 2021
CUACI & QUIC Learning Session – Sustainable Energy for All: The Indonesia Renewables Outlook 2021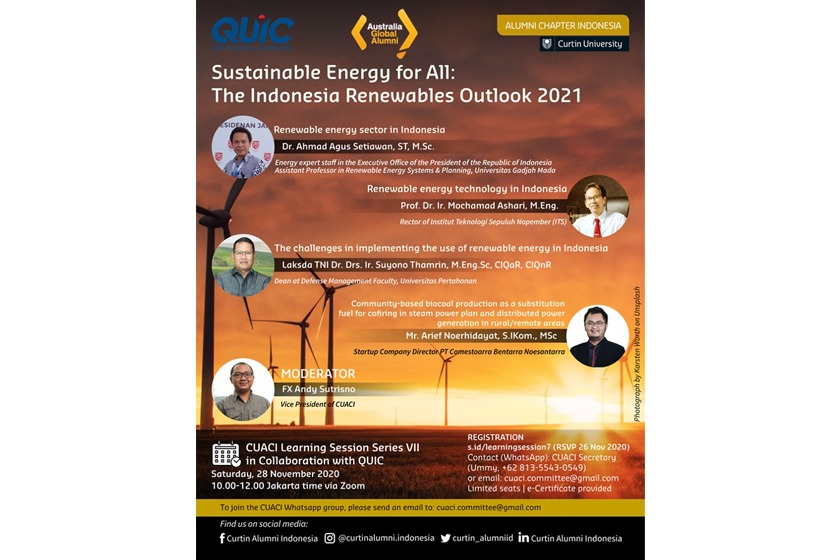 The Curtin University Alumni Chapter Indonesia (CUACI) in collaboration with Queensland University of Technology Indonesia Community (QUIC) will be holding a webinar titled "Sustainable Energy for All: The Indonesia Renewables Outlook 2021" on Saturday, 28 November 2020, at 10.00 AM – 12.15 PM WIB via Zoom.
Below is the list of speakers and their topics:
Prof. Dr. Ir. Mochamad Ashari, M.Eng (Rector of the Institut Teknologi Sepuluh Nopember Surabaya) – Renewable Energy Technology in Indonesia
Dr. Ahmad Agus Setiawan, ST, MSc (Energy expert staff in the Executive Office of the President of the Republic of Indonesia, Assistant Professor in Renewable Energy Systems & Planning, Universitas Gadjah Mada) – Renewable Energy Sector in Indonesia
Laksda TNI Dr. Drs. Ir. Suyono Thamrin, M.Eng.Sc, CIQaR, COQnR (Dean at Defense Management Faculty, Defence University) – The challenges in implementing the use of renewable energy in Indonesia
Mr. Arief Noerhidayat, S.IKom., MSc (Startup Company Director PT Comestoarra Bentarra Noesantarra, recipient of Australia Awards in Indonesia's Short Term Award: Renewable Energy Technologies Short Course in Perth, Australia, held by Murdoch University (2019) – Community based biocoal production as a substitution fuel for cofiring in steam power plan and distributed power generation in rural/remote areas.
The webinar will be moderated by FX Andy Sutrisno, Vice President of CUACI – and there will be e-Certificates for paricipants.
Register here by 26 November 2020.
For more information, please contact Ms Ummy, at cuaci.committee@gmail.com, or +6281355430549.
Seats are limited.