Urban Research Forum November 2020: Urban Heritage Conservation and Regeneration in Indonesia
Urban Research Forum November 2020: Urban Heritage Conservation and Regeneration in Indonesia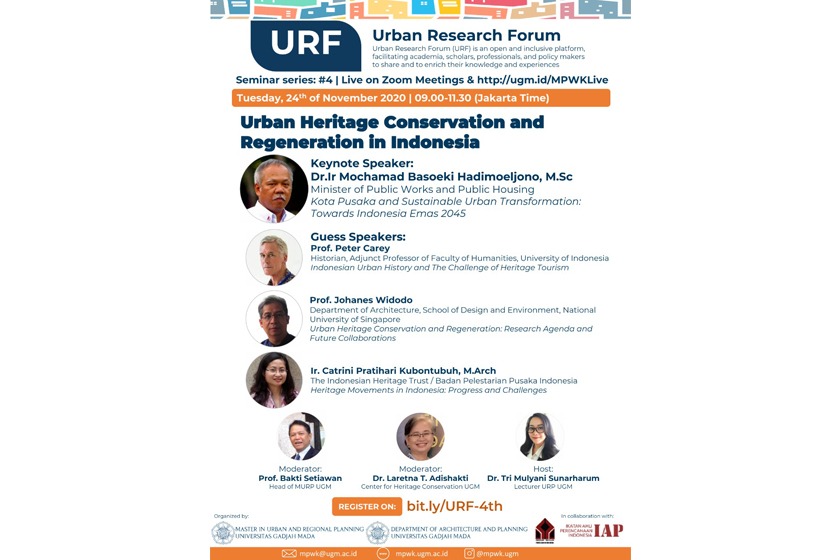 The Master of Urban and Regional Planning, Department of Architecture and Planning, Universitas Gadjah Mada (UGM) will be organising the 4th Urban Research Forum (URF) – an open and inclusive platform, facilitating academia, scholars, professionals, and policy makers to share and to enrich their knowledge and experiences, dedicated to promote Sustainable Urban Transformation in Indonesia: Towards Indonesia Emas 2045. The topic for this session is "Urban Heritage Conservation and Regeneration in Indonesia", and it will be held on Tuesday, 24 November 2020, at 09.00 AM – 12.00 PM WIB – hosted by OzAlum Dr Tri Mulyani Sunarharum, S.T. (Lecturer of Department of Architecture and Planning UGM).
Below are the speakers:
Dr Ir Mochamad Basoeki Hadimoeljono, M.Sc – Minister of Public Works and Public Housing
Peter Carey – Historian
Prof Johannes Widodo – Department of Architecture, School of Design and Environment, National University of Singapore
Ir Catrini Pratihari Kubontubuh, M.Arch – Badan Pelestarian Pusaka Indonesia (BPPI)
Register here.
This webinar is free. Please reach out to the below contacts for more information:
Indah +62 812-2693-133 (WhatsApp chat only)
Eko +62 812-2693-142 (WhatsApp chat only)