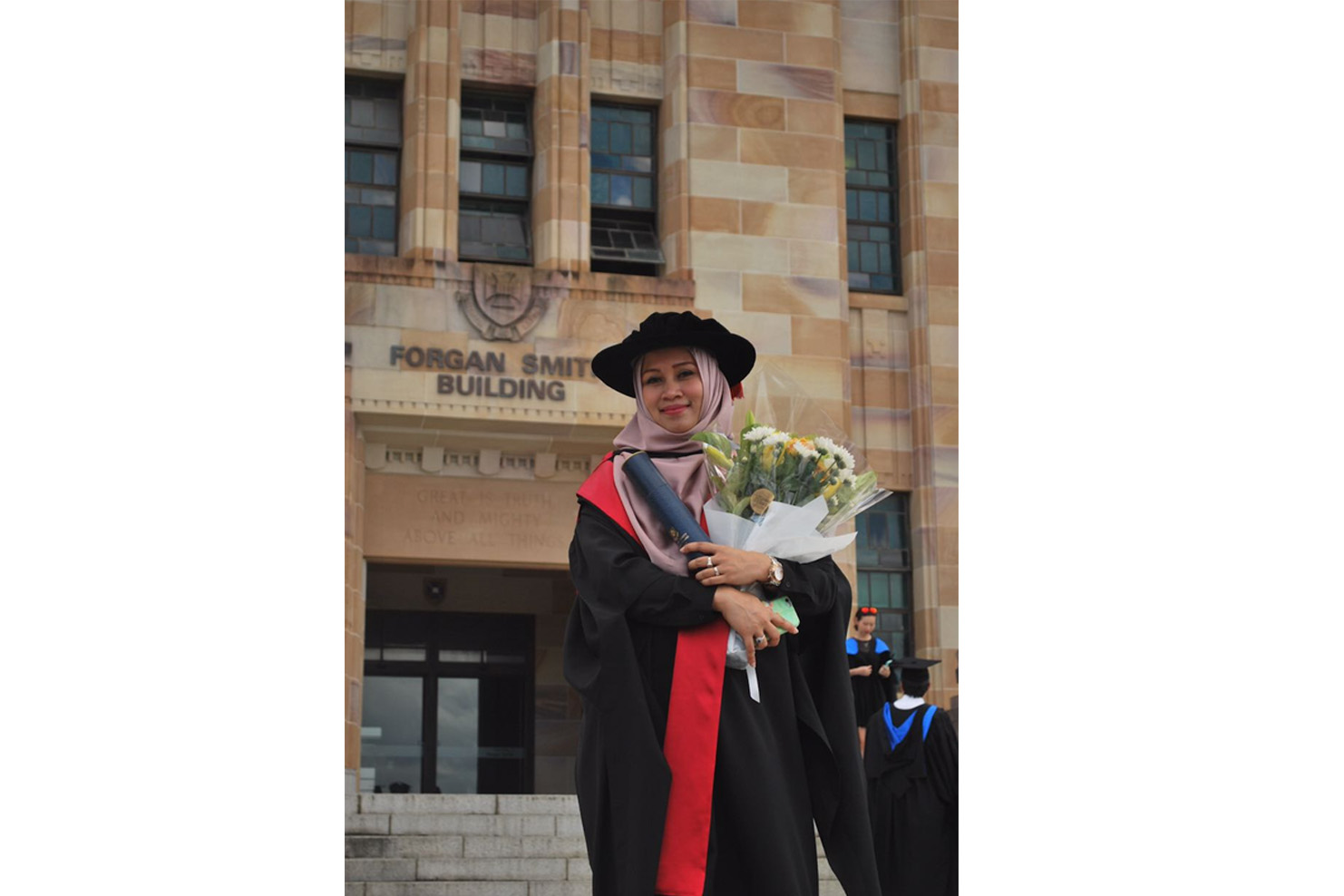 04 Apr 2017
Surf's Up in West Sumatra!
With some of the best surf breaks in the world and so many exciting nature destinations to explore, West Sumatra is looking to Australia for lessons in sustainable ecotourism.
One figure behind this push is University of Queensland graduate Sari Lenggogeni, 37. In 2014, with a grant from the Indonesian Ministry of Education and Higher Education, Sari completed her doctorate in Tourism Marketing.
"West Sumatra is popular among Australians as an adventure destination," Sari said. "Mentawai has some of the best surf in the world. There are many areas that have potential as tourist destinations."
Sari hopes Australia will trigger expansion of the tourism market, for instance by improving accessibility with direct flights to West Sumatra.
"We are now developing ecotourism, back to nature," she said. "We can learn from Australia in this sector. Most Australian tourists spend a short time in Padang and go directly to Mentawai. We want to be able to offer more."
Sari arrived in Queensland in January 2011, at the height of the flood disaster. She was into her third trimester of pregnancy and gave birth to her first child in Australia.
After returning from Australia, Sari, originally from West Sumatra, worked a lot on government projects, and is currently drafting regional regulations for West Sumatra's promising halal tourist sector.
At the end of 2016, West Sumatra won three of Indonesia's 12 awards in the World Halal Tourism Awards in Abu Dhabi, United Arab Emirates.
At the national level, Sari was part of the advisory group that drafted Indonesia's 2016-2025 tourism roadmap for President Joko Widodo, who has made tourism a priority area.
Indonesia is targeting a massive increase in foreign tourist visits, aiming for 20 million visitors by 2019. To fast track this target, and since it takes a long time to build infrastructure, Sari's group proposed to focus on already established areas, such as Jakarta and Surabaya.
At a ministerial level meeting of the Indian Ocean Rim Association (IORA) in Padang in 2015, Sari was invited into the expert team when Australia's Foreign Minister Julie Bishop visited. The regional forum has 21 member states including Indonesia and Australia.
As IORA members with a common vision in the development of the maritime and tourism sectors, Sari hopes Australia can further help Indonesia in developing sustainable tourism. Last year, Indonesia added Australia to the list of countries visa-free, a move that was praised by Australia.
With the Presidential Advisory Group, Sari is preparing tourism designated areas, land protection and schemes to invite more investors into the tourism sector.
Sari began her career in tourism in 2001, when she won a regional talent contest, Uda-Uni Padangpariaman, and became tourism ambassador for West Sumatra. She continued her master's degree in marketing and business management before returning to tourism for her doctorate.
She started lecturing at the University of Andalas in Padang in 2006, but at the same time made a significant contribution to tourism by helping the governor prepare the province medium-term plan for the tourism sector in West Sumatra.
Sari founded and later was appointed as Director of the Centre for Tourism, Cultural and Creative Economy at University of Andalas. To realise her vision she worked with communities to establish cooperatives and responsible tourism projects.
Share this article on:
Related Article

Back to Top