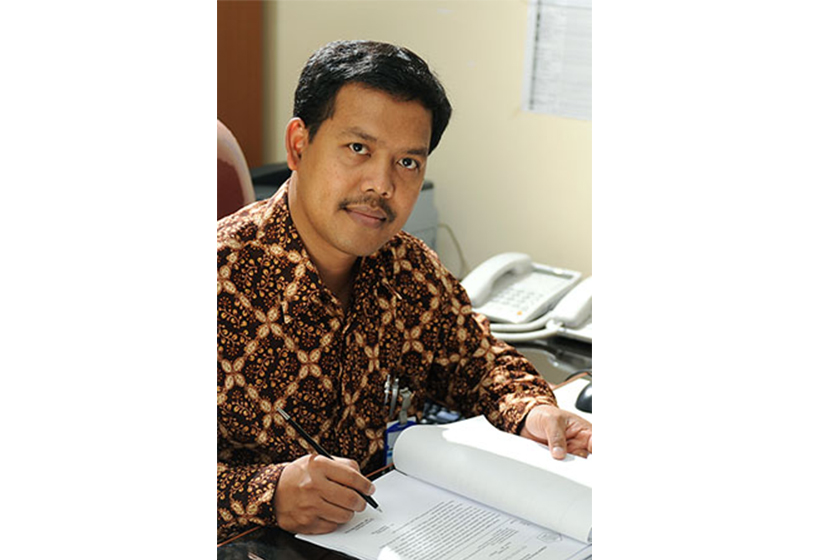 12 Apr 2016
From Journal Editing to Representing National Interests at World Forums on Green Economy and at G20
After finishing his Masters in Economics in the United States, Syurkani was offered to apply for an Australian Development Scholarship to further his studies by his institution, the Fiscal Policy Office (FPO), then known as Badan Pengkajian Ekonomi, Keuangan dan Kerjasama Internasional (BAPEKKI, the Agency for Economic Research and International Cooperation). Taking into consideration that few people at BAPEKKI are versed in international capital flow, Syurkani chose to focus his PhD in that field. He later attained his PhD in Macroeconomics with a concentration in monetary policy issues from Victoria University in 2009.
Apart from Syurkani's current position as Head of G20 Division and a Deputy Director at the Center for Climate Change Financing and Multilateral Policy, Fiscal Policy Office, he also serves as journal editor in a team of six for two national journals published by the Ministry of Finance: the Economy and Financial Review and the Journal of Economy and Monetary. Part of his responsibilities as editor is to manage issues relating to research, audit the content of the journals and increase the capacity of the researchers and the quality of the journals.
In February 2010, Syurkani participated as one of the key speakers in the development plenary session of the Green Growth Strategy Meeting held in Paris. This meeting was organized by OECD (the Organization for Economic Co-operation and Development) to ensure that green growth policy recommendations are relevant to each respective country's needs. This event brought together policymakers and experts across OECD and partner countries, as well as a range of stakeholders from international organizations, businesses and civil society. The purpose of the meeting was to review OECD's latest work on the Strategy's Synthesis Report and to seek feedback to ensure that it is a genuinely useful tool to support countries' transition to greener economies.
In his presentation, Syurkani presented two subjects. Firstly, "inclusive policy". Syurkani suggested that when OECD develops its green growth strategy, it should include the perspective and interest of non-member countries. Syurkani mentioned that there is a significant number of people in developing countries that still rely on natural resources such as wood for their source of energy instead of kerosene, and that this needs to be taken into consideration.
Secondly, Syurkani presented what he dubs as "the new middle income family" factor. It is presumed to be a common phenomenon among developing countries including Indonesia that each year, along with the improvement of economic welfare, new middle income families emerge. As a consequence, these families are eager to spend their money on luxuries items which could affect the implementation of green growth strategy and needs to be factored in establishing relevant green growth policy recommendations.
Based on these suggestions, OECD has developed a comprehensive synthesis report on green growth that incorporates the interest of developing countries, in particular the emerging market economies with a significant portion of new middle income families as part of the policy consideration.
In his capacity as the Head of G20 Division at the Fiscal Policy Office, Syurkani frequently represents the Ministry of Finance at various G20 meetings both at technical and ministerial levels, including as a member of Indonesian delegation to the G20 Summit in Cannes, France, in November 2011. In this role, Syurkani manages and maintains Indonesia's active participation in the G20 process including the preparation of Indonesia's interventions for the G20 ministerial and leaders meetings.
Share this article on:
Related Article

Back to Top