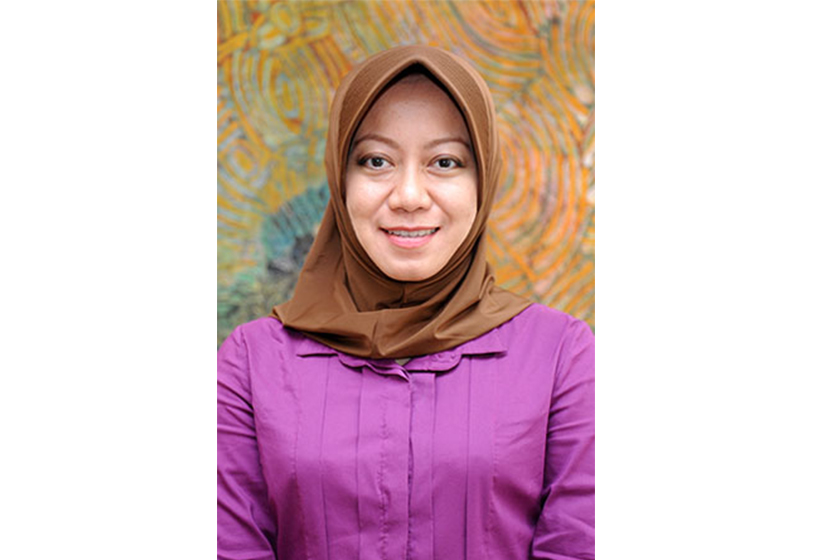 22 Mar 2016
Psychology, Software Piracy and a Concern for Cancer Patients
While Laila Refiana Said currently serves as lecturer at both the Faculty of Economics and Business at Universitas Lambung Mangkurat, as well as Sekolah Tinggi Ilmu Ekonomi Indonesia Banjarmasin (STIEI Banjarmasin, the Indonesian School of Economics), her background rests in psychology.
Laila's reason for applying for undergraduate studies at the Faculty of Psychology, Universitas Gadjah Mada in Yogyakarta was simple.
"When I was in elementary school, my parents had requested a psychologist to determine my IQ and I distinctly recall despising the know-it-all psychologist for dismissing me as a child'. At that point Laila recalls her interest in psychology commenced and she became determined to be able to provide a better service than she had experienced.
Further explaining the apparent divergence into economics, Laila explained that her lecturers advised her that many industrial organisation's positions dealing with human resources training and management are filled by economic management graduates, rather than psychology graduates.
This revelation prompted Laila to further her studies at Universitas Indonesia, graduating in 2000 with a Masters in Management from the Faculty of Economics. The combination of her undergraduate studies in psychology and postgraduate studies in economics gave Laila an edge as an Australia Awards Scholarship recipient during the completion of her PhD thesis at the University of Western Australia in 2006. Laila studied the behavioural intention of university students in obeying copyright laws in Indonesia. The research tested the influence of attitude, subjective norm and perceived behavioural control toward behavioural intention.
Laila identified Professor Dick Mizersky, the Chair in Marketing, Department of Information and Marketing at the University of Western Australia, as being a very strong influence in the skills and knowledge she acquired and credited him with the suggestion of co-supervision from the Law School such was the relevance of the proposed research.
Laila later surmised that at the time, there was a perceived notion amongst many Indonesian students that pirated computer software carried the same quality as original software. Laila argued that it wasn't so much that students refused to buy original software (in many cases students didn't even identify quality as an issue between pirated and original software) but it was more a case of limited access to original software and its unaffordable price.
Laila is confident that the future is looking brighter. "The laws concerning software piracy are becoming increasingly known and it is much more common for vendors to offer special discounted prices for students - access and price is becoming less of a key issue."
However Laila concedes that the temptation for many cash-strapped students and many others for that matter to used pirated software, is not going to go away soon. An ongoing an concerted effort is required by all parties, universities in particular to encourage students to be aware of copyright law.
Laila's other activities include her role as General Secretary of the Foundation that established STIEI, as well as Deputy Secretary General and Assistant Director in Collaboration and Advocacy at the Indonesian National Council on Social Welfare, INCSW). The organization is designated by the Minister of Social Affairs as coordinator of social welfare organizations at the national level.
In addition, Laila was also active as member of the South Kalimantan Psychology Council for the 2010-2014 term, and extendedinput regarding the profession and in determining issues that touch on the code of ethics and standardization of psychologists' practices.
Another issue close to Laila's heart is evident in her involvement with Yayasan Kanker Indonesia, the Indonesian Cancer Foundation. While at first she was invited to join the organization by a staff member of the South Kalimantan branch, the root of her involvement stemmed from her childhood experience. "A neighbour of mine passed away due to breast cancer. I strive to balance my life between work and charity, and seeing how much my neighbour and her family went through has made the cause a dear one to me."
Some people say that most childhood experience help shape a person's future. "That adage certainly rings true in my case," Laila smiled.
Share this article on:
Related Article

Back to Top