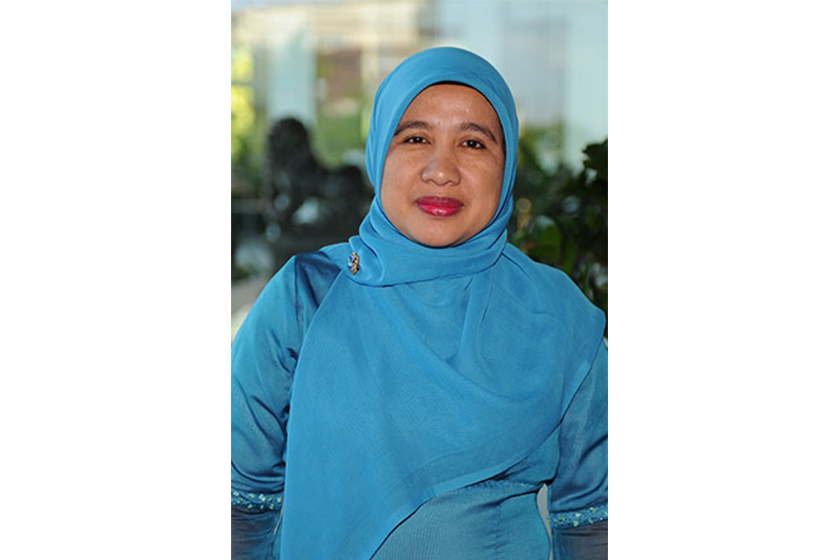 19 Mar 2016
A Grandfather's Last Request
Rohani Ambo Rappe (PhD in Marine Ecology, University of Newcastle) had not planned a course of study leading to marine ecology. "No matter the cost, you have to become a medical doctor," Rohani quoted her grandfather. "I wanted to fulfil that request. He was the one who kept pushing me in my studies."
Her grandfather's support carried even more weight when one takes her family's view on education into consideration. "Because of our environment and living conditions, while not against it, the rest of my family doesn't particularly regard higher education as a must. As long as you have sufficient education to make a living, it's good enough for them. My grandfather was the only one who championed higher education," Rohani reminisced.
Rohani's grandfather passed away at her second year of senior high school. Upon graduation with merit, her father had prepared a job opening for Rohani, but she heard of a test-exempt program for students of merit offered by the Department of Fisheries at Universitas Hasanuddin in Makassar, South Sulawesi. "I applied for the program, all the while also applying for medical school. Needless to say, I was accepted into the Department of Fisheries and was declined by the school of medicine. I took it to mean that I was meant to be studying fisheries," Rohani recalled.
Her parents, seeing her determination and the fact that she was accepted for the test-exempt program, fully supported her education from then on. When she graduated with First Class Honours in 1992, Rohani was offered position as lecturer within the Marine Science Study Program at Universitas Hasanuddin. She accepted. Rohani went on to pursue her Masters in Marine Ecology from the Bogor Agricultural Institution (IPB), graduating in 1998. Thus began Rohani's journey to her PhD studies in Australia.
"When one studies marine ecology, one inadvertently begins to learn about oneself. Ecology teaches us the mutual relationship between living creatures and their environment, as well as relationships among the living organisms themselves," Rohani explained. Rohani is also of a strong opinion that as lecturer, one is committed to further one's own potential to the highest degree possible. "This personal view of mine is what prompted me to apply for an Australia Awards Scholarship to pursue my PhD in Marine Ecology. I wanted to be able to transfer even more knowledge to my students."
Rohani felt that her Australia Awards experience certainly exceeded her expectation. "I am now able to improve the quality of my research and publication, and can guide my students to do the same."
"The teaching and learning experience between my students and I has definitely benefited tremendously from my Australia Awards Scholarship," Rohani smiled. In 2015, Rohani was awarded Oustanding Lecturer by her university.
Aside from serving as Senior Lecturer at Universitas Hasanuddin, Rohani—who became Professor on 1 July 2014—currently also serves as Head of the International Reputation Unit at the Faculty of Marine and Fisheries. Up until 2015, she served as Head of the Marine Ecology Laboratory and as Department Secretary at the Department of Marine Science, Universitas Hasanuddin.
As for her grandfather's request, "Despite not becoming a medical doctor, I am glad to have fulfilled another of his wishes, earning the highest degree possible in my field, in this case a PhD in Marine Ecology from the University of Newcastle."
Share this article on:
Related Article

Back to Top