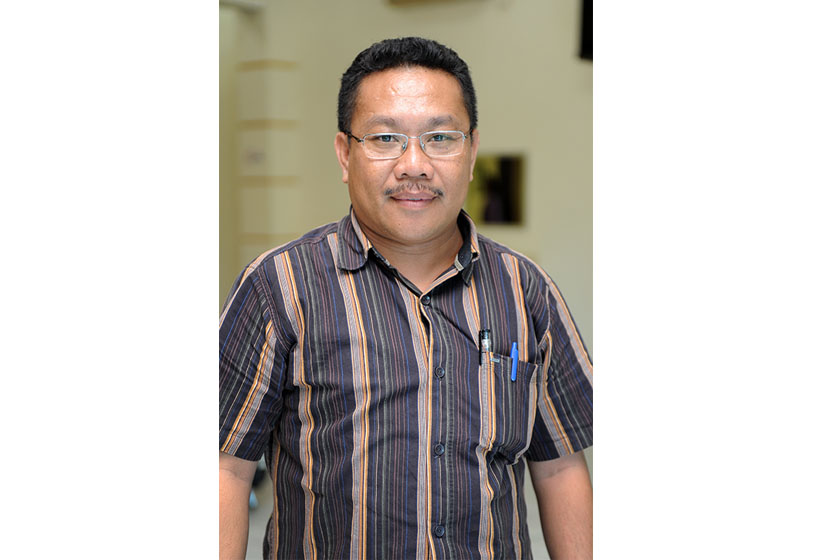 18 Mar 2016
Liquid Smoke in the Production of Sei Smoked Meat
Max Arthur Julian Supit, lecturer at Kupang State Agricultural Polytechnic, has always been passionate in improving the potential of local products. With a Bachelor in Animal Production from Nusa Cendana University in Kupang, East Nusa Tenggara, Max was keen to look further into the production of sei, the smoked meat delicacy of the region.
"In fact, I specifically proposed the study of liquid smoke application in the production of sei as my thesis when I applied for an Australian Development Scholarship in 2004. I wanted to explore alternative production methods compared to the traditional use of wood."
Traditionally, sei is smoked using kesambi wood and leaves. "The traditional method uses a large number of woods. On the other hand, we can produce one litre of liquid smoke using only three kilograms of wood. This amount of liquid smoke can be used for approximately three months of sei production with a daily output of roughly 10 kilograms of sei," Max added.
Since graduating from the University of Newcastle with a Master in Food Technology in 2006, Max has looked into the potential use of industrial waste – namely industries using wood as their main material – in the production of sei. "I'm hoping that this will repurpose materials. Sawdust waste is used to produce liquid smoke and in turn, liquid smoke is used to produce sei meat. The goal is to closely replicate the taste and aroma of traditionally produced sei," Max explained.
"It is quite difficult to produce the exact same sensory attributes as traditional sei since the types of wood used to produce liquid smoke are different. If we could find a way to maintain the distinct flavour of sei while helping preserve the environment, that would be such a tremendous achievement," Max enthused.
Max has expanded his research to include food safety aspects of sei production. With a HiLink community service grant from the Indonesian Directorate General of Higher Education, in September 2010 Max began assessing the nitrite residue content of sei. "We were glad to find during the first phase of the research that the level of nitrite are still within safe human consumption limits," Max added.
Max currently also serves as local coordinator in NPT/IDN 249 SIM4P, a Netherland grant project that aims to improve the management capacity of four polytechnics in East Indonesia, including the Kupang State Agricultural Polytechnic.
Coordinating the NPT/IDN 249 SIM4P project at the local level requires considerable skills, many of which Max attributed to his Australia Awards experience. "My management and communication skills have improved tremendously, and have proven useful in organizing the grant project."
The result of his graduate thesis itself did not lie in waste. With grants from the Indonesian Directorate General of Higher Education, Max disseminated his findings to aid local producers of sei. "I am also pursuing collaboration with the local government through the Municipal Ministry of Industry and Trade to publicise the use of liquid smoke."
"I wish to contribute to the improvement of the delicacy I grew up with and love so much and in turn, help the local producers to increase their livelihood," Max concluded.
Share this article on:
Related Article

Back to Top