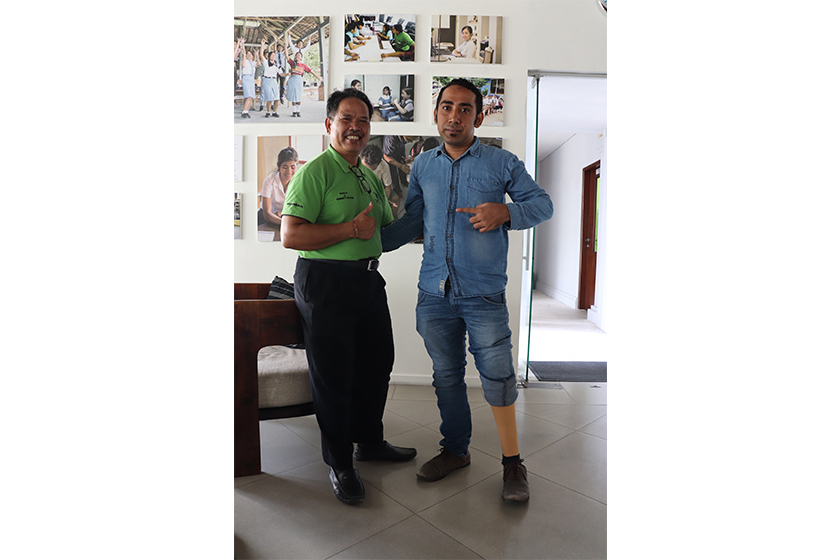 10 Dec 2019
A prosthetic paving the way to a future partnership
When Amrullah contacted Australia Awards in Indonesia for assistance in obtaining a leg prosthetic to replace his broken one, he did not expect to also meet a future mentor in I Nengah Latra, a fellow Australia Awards scholar.
Amrullah, who had been working at a legal aid institute in Mataram, Lombok, is pursuing a Masters in Law, the same field that Latra studied in 2012.
Latra is co-founder and Director of the Indonesian Centre of Empowerment for People with Disabilities in Bali (Pusat Pemberdayaan Penyandang Disabilitas Indonesia, or PUSPADI Bali), a non-governmental organisation supporting people with disabilities in Bali and Eastern Indonesia.
PUSPADI Bali has assisted people with disabilities in Lombok since 2013, and after the recent earthquake, found 53 people in need of prosthetics, including Amrullah.
In April 2019, Latra approached the Australian Embassy and received funding for materials to make the prosthetics. It wasn't until Australia Awards in Indonesia contacted Latra to help Amrullah that both Australia Awards scholars connected.
Amrullah is especially excited about his new prosthetic leg from PUSPADI Bali. "It is the most comfortable prosthetic I've ever worn. It is so light and I am able to move around faster. Not having to worry about logistics will enable me to focus more on my studies," he said enthusiastically.
Latra was equally delighted to hear that the prosthetic fits Amrullah so well. Latra attributes this to good practice at PUSPADI Bali, where the prosthetics are made by people with physical disabilities, so they have an understanding of what it is like to wear one.
According to Latra, there aren't yet many people fighting for the rights of people with disabilities who have disabilities themselves, either due to limited skill sets, lack of access to education, or lack of awareness on existing laws pertaining to disability.
Amrullah agrees about the importance of people with disabilities being involved in decision making. "The involvement of people with disabilities in policymaking is very important as it usually doesn't take into account a person with disabilities' perspective," he said.
According to Amrullah, legal aid organisations that focus on the needs of people with disabilities are rare in West Nusa Tenggara, where he is from. "I want to establish a legal aid institute that prioritises people with disabilities in East Lombok Regency, which covers a vast area and has a large population," said Amrullah, who lost his left leg in an electrical accident when he was ten years old.
"I want to reach out to people with disabilities regarding accessibility. I am lucky to still have access to education, college. There are many people with disabilities who aren't aware of what is available, especially in relation to law," said Amrullah, who is also an alumnus of the English Language Training Assistance, which assists potential Australia Awards Scholarships applicants whose English language levels are slightly below the level required.
Just as Amrullah realised that many people with disabilities of lower economic income in West Nusa Tenggara have limited access to services, Latra saw the same situation in Bali and its surrounding areas. According to Latra, when PUSPADI Bali was established in 1999, there were limited resources available.
In 2015, Latra, who has limited mobility in his left hand after suffering burns when he was 19 years old, participated in an assessment and accessibility program between Flinders University's Disability and Community Inclusion Unit and the Indonesian Ministry of Social Affairs, under an Australia Awards Fellowship. In 2016, he participated in the Australia Awards short course on Organisational Leadership and Management Practices for Disabled People's Organisations, facilitated by the Sydney Southeast Asia Centre at the University of Sydney.
Latra kept in touch with Flinders University, collaborating with its Disability and Community Inclusion Unit, who sent their students to PUSPADI Bali for 3-5 week field internships as part of the New Colombo Plan program. At PUSPADI Bali, the students learned about the increasing need for more high-quality support for people with disabilities in a developing country.
It is a cause Latra has fought for years. After the accident that fused his arm to his torso, Latra spent two years in isolation before a field worker from the Yakkum Rehabilitation Center in Yogyakarta convinced him to move to Central Java for training. A corrective surgery helped increase Latra's mobility and his experience inspired him to work with the Yakkum Rehabilitation Center for ten years before establishing PUSPADI Bali.
"To date, PUSPADI Bali has assisted 6,230 people with physical disabilities from East Java to East Nusa Tenggara. The number is almost double the total of people we assisted up to 2014, which was 3,296 people with physical disabilities," said Latra. He believes the exponential impact was due to the knowledge he gained during his Australia Awards Fellowship studies in 2015.
PUSPADI Bali provides assistance for people with disabilities through four programs, including prosthetic and orthotic services, advocacy, skills training to enter the workforce and access to wheelchairs, in collaboration with UCP Wheels for Humanity, spearheaded by Dheni Fidiyahfika, an Australia Awards Scholarships alumna.
Amrullah and Latra have not only bonded over their passion to fight for the rights of people with disabilities, but also over the fact that both are recipients of Australian Government funded scholarships.
"Amrullah is an honest and open person. I feel like I've found a future partner in him," Latra said. "Once Amrullah has completed his studies and gained even more knowledge and experience, I'd have a partner in fighting for the cause of protecting and fulfilling the rights of people with disabilities."
Amrullah is looking forward to help spread the word on what PUSPADI Bali does, looking to connect his friends with disabilities to the organisation. "Latra is a remarkable person and a very welcoming leader. He gave great advice on studying overseas," Amrullah said.
"What a person with disabilities needs most is information and networks. Without these, how can we have accessibility?"
Photo courtesy of Amrullah
Share this article on:
Related Article

Back to Top