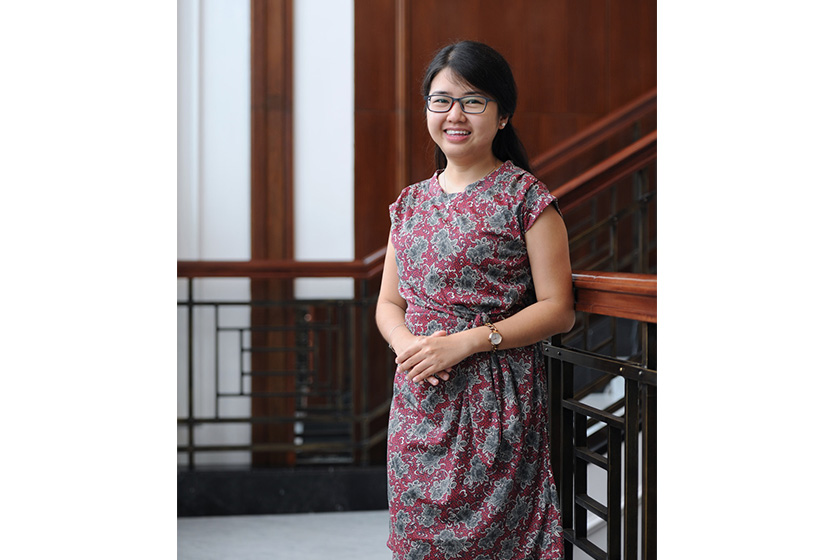 13 Sep 2017
Zukarlita Lim: Taking Presentation Design to the Next Level
The key to a successful pitch is a stand-out presentation.
Australian alumna Zukarlita Lim saw an opportunity to create a technology-driven start-up that designs engaging and memorable presentation slides for its clients, called Doctorslide.com.
Zukarlita, known as Lita, co-founded the start-up in April 2016 with her college mates Henson Leonardy, who led the visual design, and Ryan Hidayat, leading online technology development.
In just over a year, Doctorslide.com already has clients including multinational companies Line Indonesia, Astra International and Abyor International. Currently, around 70 percent of its business focuses on presentation design for company profiles and product introduction, while the remaining 30 percent consists of presentations for internal reports.
Lita, a native of Singkawang in West Kalimantan, sees the niche market as an opportunity to provide solutions for users.
"The first time I thought about the idea was when I was still working at my previous job," said the 26-year-old.
"Creating presentations took a lot of time and often my colleagues said they wished there were some experts to help them create those presentations, and it led me to see that this is actually an untapped market that we can enter."
Indonesian start-ups are rising in line with internet access penetration across the country.
According to the Indonesian Internet Service Providers Association (APJII), the number of Indonesian internet users in 2016 reached 132.7 million from a total population of 256.2 million. The number of smartphone users in the country in the same period reached 63.1 million.
Doctorslide.com offers two levels of service: basic and premium. The basic service provides design only, while premium goes beyond design, including consultation and research. The basic design service costs about 1.2 million rupiah (AU$120) per ten slides and premium is three times higher - 3.6 million rupiah (AU$360) per ten slides.
Earlier this year, Lita was granted an Australia Awards Scholarship for "Taking Business to the Next Level - A course for leaders, entrepreneurs and innovators of technology enabled start-ups". She participated in the two-week course with Queensland University of Technology.
"The recognition that we get from the (short course) networking helped us a lot," Lita said.
"We added a pressroom section to our website. It led one of our clients to use our service because of the rising media coverage we've had."
Lita predicts that in the long-term, the company will opt for crowdsourcing of local graphic designers to support the country's creative industry.
Doctorslide.com plans to offer offline training for design school students who are entering the job market, and a place on Doctorslide.com where they could upload their portfolio.
In the long run, Lita aims to transform the platform into a graphic design marketplace, and hopes to partner with the Indonesian government.
Lita believes there is an incredible pool of design talent in Indonesia, however lack of management remains a hurdle.
"We really believe credibility is everything," she said. "We would like to partner with (the Indonesian) government, especially to nurture the creative ecosystem in Indonesia because many people still outsource designers from other countries."
Take a peek at Doctorslide.com on YouTube: https://www.youtube.com/watch?v=Hnl-9fXrwlI
Share this article on:
Related Article

Back to Top