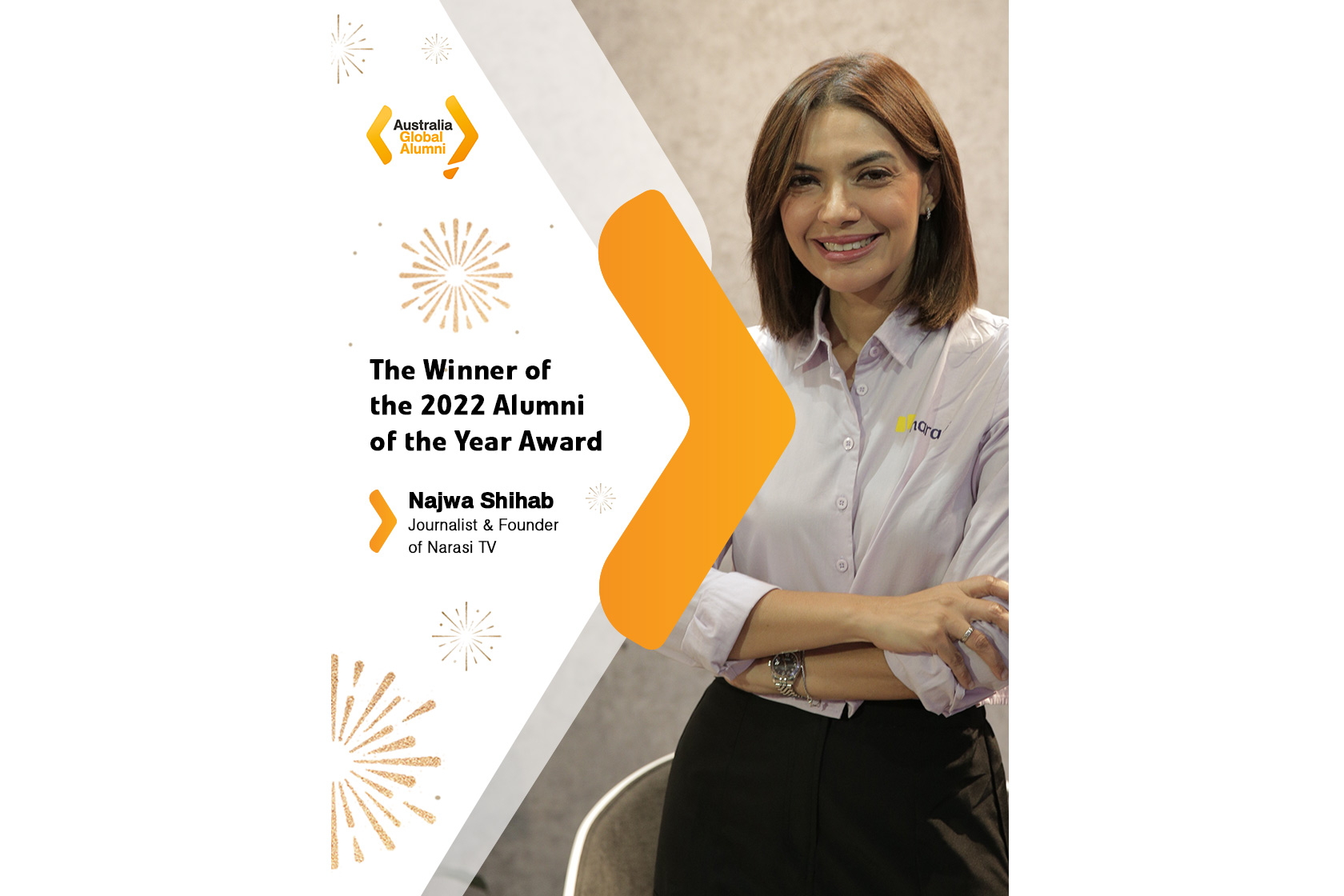 14 Dec 2022
Najwa Shihab and the Quest to Defend the Fourth Pillar of Democracy
Winner of the 2022 Alumni of the Year Award
The Boxing Day tsunami that ravaged Indonesia's westernmost province of Aceh in 2004 was a decisive moment in Najwa Shihab's journalistic career. Working as a young reporter at Metro TV at that time, she stole public attention not only for her intensive and critical reporting, but also for a deeply humane coverage. The entire country shed tears with her as she broke down on live television at one point upon seeing the magnitude of the catastrophe.
For the years that followed, Najwa has been a household name, consistently serving the public with hard-hitting and investigative journalism works. She has covered the country's major stories and interviewed the who's who in Indonesian society, especially in the political landscape.
Now, after a long period as a news anchor, she has moved on to co-found Narasi, an omnichannel news and media company that creates and manages multiple brands and content. She brought along her flagship program on Metro TV, Mata Najwa, which continues to be one of the most influential talk shows, thanks to its smart take on politics and current affairs.
The transition from a news anchor to a media company owner is a journey that requires maturity and shrewdness, according to Najwa.
"Back in Metro TV, I was the Deputy Editor in Chief who oversaw the newsroom and the relationship with the third parties. But owning a media company is a whole new different challenge, with a lot more responsibilities," said the 45-year-old mother of one.
"I often say that my experience in covering politics, war, disaster, and prisons for 16 years seems insignificant compared to becoming an entrepreneur, which is filled with blood, sweat, and tears," she added, laughing.
Amid the challenging times, Najwa is filled with gratitude for receiving the Alumni of the Year Award, which followed the Australian Alumni Awards for Journalism and Media she got in 2010.
"I'm grateful and humbled (for the award). This serves as an additional asset to continue the public service works that I've been doing in the past 22 years," she said.
Network as the Most Valuable Asset
Born in Makassar, South Sulawesi, Najwa comes from a family of Islamic scholars. Her father is celebrated ulema and former Religious Minister, Quraish Shihab, while her uncles, Alwi Shihab and Umar Shihab are former Foreign Affairs Minister and former executive of the Indonesian Ulema Council (MUI), respectively.
Najwa always excelled at school and graduated with a law degree from the University of Indonesia, majoring in litigation. In 2008, she received the Australian Leadership Award and Allison Sudradjat Prize from the Australian Government, to obtain a masters in law from the University of Melbourne. She said the benefit of the scholarship lasts long after she graduated.
"For journalists, a network is the most valuable asset. I gained some of that networks when I studied in Melbourne, as I met so many friends from across the globe, and discussed with professors as well as public officials when I did some reporting there," she said.
"The relationship is well-maintained in both professional and personal capacity. The network that we gain when studying overseas is priceless."
These help her navigate the journalism works that now present more complexity and nuance compared to what it used to, Najwa said.
"The essence of what I do, as with so many other journalists, is echoing public voice. But these days, amid the flood of lies that permeate the air, our jobs are not as simple," she said, referring to hoaxes and the so-called fake news.
"The significant achievement of journalists is where they consistently and with strong determination do their jobs to make sure that public voices are amplified. And how those voices can affect and influence public policy," Najwa asserted.
Finding More Pinnacles to Climb
Throughout her journalistic journey that started in 2000, Najwa has received a number of accolades both in the country and abroad. Apart from numerous awards related to her being a news anchor, she was also named the Young Global Leader by the World Economic Forum in 2011 and the Anti-Corruption Public Figure by the anti-corruption watchdog Indonesia Corruption Watch (ICW) in 2017. The latter was given for her integrity in the fight against corruption, using her power to influence the public through continuous anti-corruption campaigns.
In 2016, Najwa was appointed as the National Reading Ambassador by the Indonesian National Library, promoting reading habits and proficiency in the country.
Amid these stellar accomplishments, Najwa said she still has plenty of dreams, remembering her mother's advice that "if you manage to reach a certain peak, don't roll out the mat and lie around just yet. Find the next peak to climb".
"Personally, I have aspirations about issues that are close to my heart, like gender equality, public literacy, education, and access to justice. I would like to be the estuary of collective efforts to push for the realisation of important agendas in the country," she said.
As for the professional pinnacle, the main one would be developing Narasi, which she established with her two close friends in 2017, into a more influential and impactful media.
"My goal is for Narasi to become the platform for people whose voices have been unheard of. The media that can produce a young generation that is critical, brave, caring, and willing to get their hands dirty. I believe that whatever appears on the screen will transcend time and generation, and will shape the face and personality of the nation," Najwa said.
This is a Herculean task as media across the globe is struggling to survive, to find the right formula to balance idealism and pragmatism.
"People are willing to pay for movie streaming platforms but when they are asked to pay for quality information that can affect their lives, they would say, 'no, information should be free'," Najwa said, laughing.
"But then again, it is our job as journalists to ensure the quality of information, so that people can make the best decisions based on that information. It is the job of the press as the fourth pillar of democracy, to continuously push for the transparency of public officials' accountability, through independent, investigative, serious works. This is our priority in Narasi."
Click the video to watch Najwa's story:
Share this article on:
Related Article

Back to Top