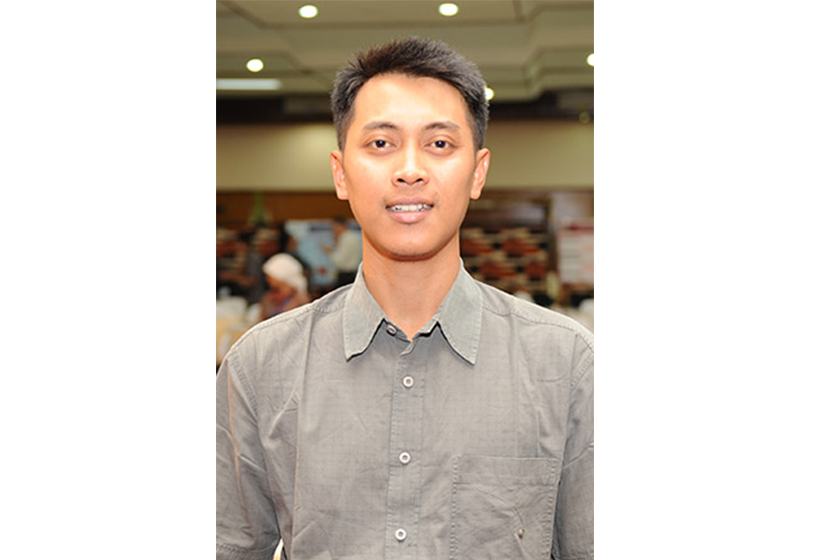 27 Mar 2016
A Love for Biodiversity
Sugeng Budiharta grew up at the slopes of Wilis Mountain, East Java. With uncles serving at the Indonesian State Forestry Company (Perusahaan Hutan Negara Indonesia, Perhutani) and grandfather working in the agriculture industry, Sugeng was no stranger to the field of biodiversity.
"I grew up listening to their discussions at dinner and family events. Even my parents, both elementary school teachers, were assigned to areas surrounded by nature," Sugeng reminisced. "I had wonderful childhood memories of exploring my surroundings, climbing up trees and running across fields."
His love for nature led Sugeng to pursue a degree in forestry at the Bogor Institute of Agriculture. Graduating in 2003, he did not immediately find work in his field of choice. "Some might say it's unfortunate, but I think of it as the opposite. My time at the Bisnis Indonesia business magazine as their money market journalist lent me skills as a writer, something that would prove to be key in my current work," Sugeng opined.
In 2005, Sugeng began working for the Indonesian Institute of Sciences (Lembaga Ilmu Pengetahuan Indonesia, LIPI) as researcher. It was here that Sugeng first heard of the Australian Development Scholarship scheme. Encouraged by his supervisor, he applied for and was granted the scholarship to pursue a Master of Science in Conservation Biology at the University of Queensland in 2008.
"The first few days were the hardest," Sugeng recalled. "My son was only 1.5 years old at the time and I missed my family terribly." Determined to finish his degree, Sugeng stayed in Australia and saved up funds out of his pocket to pay for additional visits back home outside of the allocated reunion funds provided by the Australian Development Scholarship.
Sugeng's hard work and determination paid off. A scientific paper, based on his thesis and co-authored by his supervisor and eight other respected Indonesian botanists, "The Processes that Threaten Indonesian Plants", was published in Oryx, a Cambridge University Press academic journal. Considering the significance of Indonesian biodiversity in the greater scheme of the field, a reviewer noted that "[t]here are few references in the scientific literature on the subject at hand and therefore, this article makes a new contribution."
Sugeng returned to Indonesia in 2009 and became part of a team of researchers at the Purwodadi Botanical Garden – the Indonesian Institute of Sciences, East Java, compiling data on biodiversity and conservation, in particular plant ecosystem. The team continuously edits and updates a list of local East Javanese plants and fruits, rehabilitating those that are in danger of extinction.
"When farmers, plant enthusiasts and policy makers ask us for advice on what to plant and how, we take their environment into consideration and give out appropriate suggestions," Sugeng explained. "We also offer suggestions on these local plants – often times already forgotten by these producers throughout generations."
Sugeng stressed that the book is a team effort. While his skill as a journalist lent Sugeng to be assigned as editor to ensure the book's style of language is easily accessible for the general public, the team work together to compile data and the book is written by the head of team.
"The Australian Development Scholarship has given me the chance to further pursue my love for biodiversity and gain newfound knowledge in the field," Sugeng said.
The book Sugeng and the team at the Indonesian Institute of Sciences is working on has undoubtedly contributed to the conservation of the rich biodiversity of Indonesia.
Share this article on:
Related Article

Back to Top