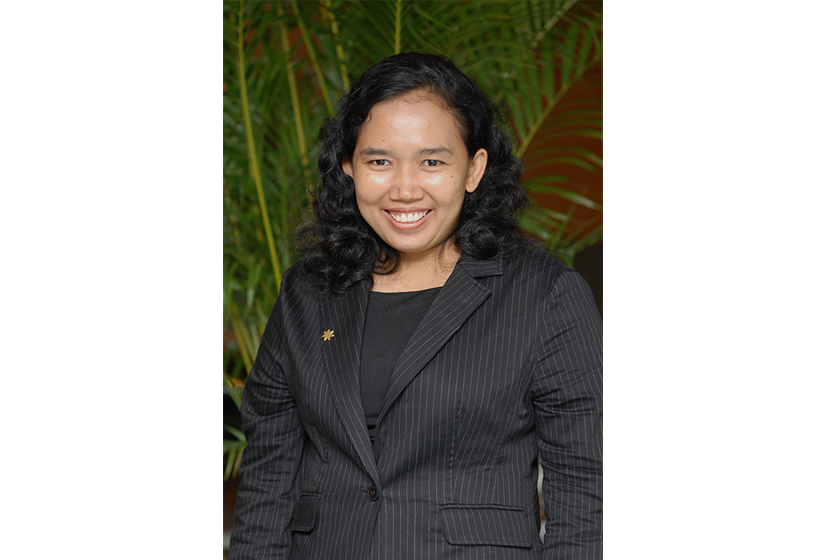 12 Mar 2016
A Researcher with a Heart Set on Good Governance
A desire to improve journalism in Indonesia led to Heni Kurniasih's application for her first Australia Awards Scholarship in 2005.
Heni, who completed her Masters in Development Studies at Melbourne University between 2006 and 2008 and is currently pursuing a PhD in Food and Land Resources at her alma mater, always felt that she could use her journalism skills to advance Indonesian society, but knew that she needed post-graduate studies to give her the necessary skills.
"I was conscious that journalism in Indonesia can be improved, but before I could change anything, I had to improve my own skills," Heni mused. "And the best way to do that was to combine my journalism skills and training with a specific program in development studies."
Born in a small village in Central Java, Heni and her sister grew up in a house where education was valued and respected. Heni's mother, a village head of section, and her father, an elementary school teacher, instilled in their children a love for learning.
"I was pretty good at most subjects at junior and senior high school," Heni said.
"When I was in primary school I first wanted to be an agricultural expert, then an English teacher, then I wished to become a diplomat," Heni smiled. "I suppose in many ways I've stayed in the area of international relations and development."
Heni's first degree was taken at the prestigious Universitas Gadjah Mada, in Yogyakarta, where she majored in Political Science.
Heni then pursued a career as a journalist, working for the national magazine Gatra for more than four years, before being granted her first Australia Awards Scholarship.
In 2006, an article Heni wrote on illegal logging at Betung Kerihun National Park in West Kalimantan claimed second runner up spot at the Developing Asia Journalism Award cosponsored by Manila-based ADB and the Asian Development Bank Institute in Tokyo.
"I loved acquiring new skills and experiences when I studied in Australia," Heni said.
"I didn't really have very good research skills before; it made a difference to have such a good supervisor for my thesis –which was on the topic of water privatisation in Jakarta. Needless to say, during my studies in Australia, my interest became more focused toward issues of development, environment and governance."
Heni greatly values her membership with the Alumni Reference Group (ARG), as it allows her to encourage support for better networking between current students and alumni.
After returning from her studies at Melbourne University, Heni worked with the Australia Indonesia Governance Research Partnership (AIGRP) program.
Heni was also a participant in both the 2008 (Bogor) and 2009 (Tokyo) Climate Change Leadership training program held by Climate Champion British Council. In addition, Heni attended the Conference of Parties 14 in Poznan in 2008. Organised by the United Nations Framework Convention on Climate Change, the annual Conference of Parties serves as a negotiation platform for various nations to draft international policies to resolve issues pertaining to climate change.
Heni encourages new Australia Awards students to be open-minded to their new environment and culture, and to be prepared and ready to acquire new knowledge.
"Just make the most of every opportunity," she adviced.
In 2011, Heni was granted her second Australia Awards Scholarship to pursue an interdisciplinary doctoral study on community-based natural resources management in its relation to climate change adaptation, seen through the socio-political economy lense.
"I still have that childhood dream to return to my hometown and help people there. May be I could use my expertise to support local government there. I'm aiming to make that dream come true," Heni smiled.
While pursuing her PhD in Australia, Heni continues to help conduct research on governance and social in an informal capacity as a fellow with SMERU—an independent Indonesian institution for research and public policy studies.
Share this article on:
Related Article

Back to Top