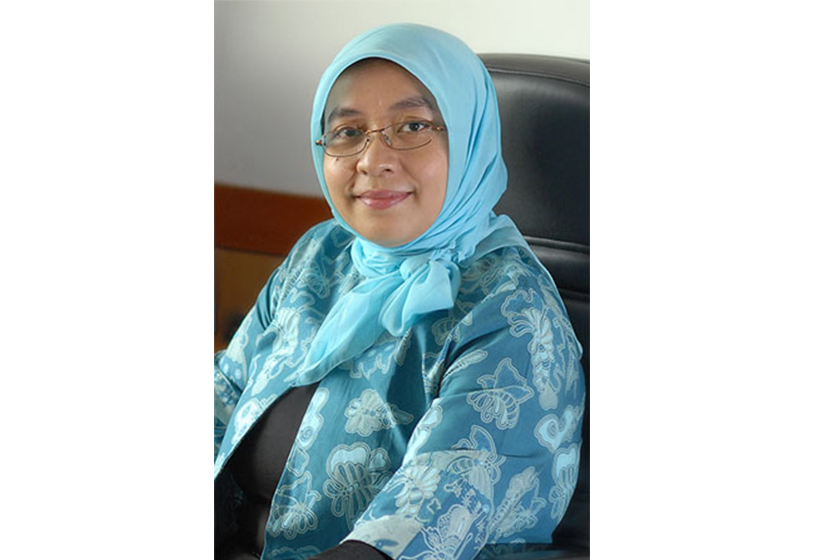 17 Apr 2016
A Bright Future for more Efficient Audits
Ria Anugriani has served at the Audit Board of the Republic of Indonesia (Badan Pemeriksa Keuangan Republik Indonesia, BPK RI) since 1996. She had applied for the Australian International Development Assistance Bureau scholarship in 1997 but was declined. "I tried again for the Australian Development Scholarship in 1998 and out of four candidates from the agency, was the only one selected," Ria recalled. "I purposely chose to pursue a Master's in Information System at the University of New South Wales because I strongly believed that the studying the subject would help me contribute more to the agency," Ria added.
At first, Ria faced language barrier obstacles. "I arranged for a peer to continuously converse in English and practice with," Ria said. "Knowing that my family back home is cheering me on also strengthened my resolve to finish my studies to the best of my abilities."
During her Australia Awards experience, Ria became more independent and full of initiatives. She was given an assignment that required her to conduct extensive research and to peruse numerous journals that improved her critical thinking skills. During her second semester, as part of a team of four, Ria incorporated her work experience at the Audit Board to write a paper that later was awarded first prize as Best Result Paper by the Sydney Chapter of ISACA, an auditor association.
Upon her return, Ria imparted her newly gained knowledge to her colleagues. In 2007, Ria passed the secondment programme from the Australian Government - Government Partnership Fund to work at the Australia National Audit Office (ANAO) for seven months. During her time there, Ria learnt the Australia National Audit Office financial audit methodologies and conducted financial audit on two Australian government entities, Department of Health and Ageing (DoHA) and the National Health and Medical Research Council (NHMRC). Ria acted as leader of the other six secondees from Indonesia and was responsible to ensure they understood risk based audit methodology, planning, implementation and reporting. "I also conducted training need assessment for my sub-ordinates to enable them to learn more during this secondment program at the Australia National Audit Office," Ria elaborated.
As the conclusion of this secondment program, Ria gave a presentation on what she has learnt during the program for the top-level management at the Audit Board of the Republic of Indonesia. Ria proposed recommendations that the Agency should develop a methodology on risk based financial audit report, to generate a pilot project on this matter and to strengthen the roles of the research and development unit and training centre.
Based on her recommendation, the pilot project is being implemented with the technical assistance from the Australia National Audit Office to ensure that the methodology they have used is being implemented properly. "Risk based financial audit is very helpful for the Audit Financial Agency since the Agency has limited resources of auditors. With this method, auditors could focus on examining high risk accounts instead of also having to do the broad audit," Ria explained. Other outputs in 2008 include the generation of an audit manual and its technical guidance to implement this audit based on the assistance from the Australia National Audit Office.
In 2008, Ria conducted a supervisory visit to Canberra for a week to oversee the second batch of auditors from the Audit Financial Agency who joined the secondment program to work at the Australia National Audit Office for performance audit. During this visit Ria also held discussions with those in managerial position in regards to the secondees' performance and to learn of the methodology of entity performance audit from planning, implementation, and audit strategy.
Upon Ria's return, she is involved in a performance audit capacity building project to create training modules and methodologies. "One of the methodologies was on how to ensure risk mapping as a pre-assessment activity in effort to create awareness on risk analysis in regards to an entity's performance," Ria explained.
During the past six months, Ria has gradually contributed more in the strategic aspect instead of the technical. Her current position also provide Ria opportunities to build relationships with foreign entities, especially in developing studies on methodologies, quality insurance and audit activities. "I had the chance to participate as team member in implementing a handbook on quality insurance on performance audit published by the International Organization of Supreme Audit Institutions (INTOSAI)," Ria explained by way of an example.
Ria is currently involved with the electronic audit project of the Audit Financial Agency of the Republic of Indonesia. The project will establish a synergy between the Audit Financial Agency and investigators. E-audit will aid auditors of the Audit Financial Agency to access investigation data, enabling them to conduct a thorough and effective examination. The pilot implementation of this program is carried out through the 2011 financial report examination. "The master's degree I acquired while in Australia has certainly provided me with the knowledge I need to successfully conduct this pivotal e-audit project," Ria added.
Ria still maintains contact with colleagues at the Australia National Audit Office, both for personal and knowledge sharing on through email.
Share this article on:
Related Article

Back to Top